Commonwealth Games 2014: The Glasgow kiss is redefined by a city that has embraced the Games with gusto
Sun shines on an international gathering that caps a transformation from its dark days in the Eighties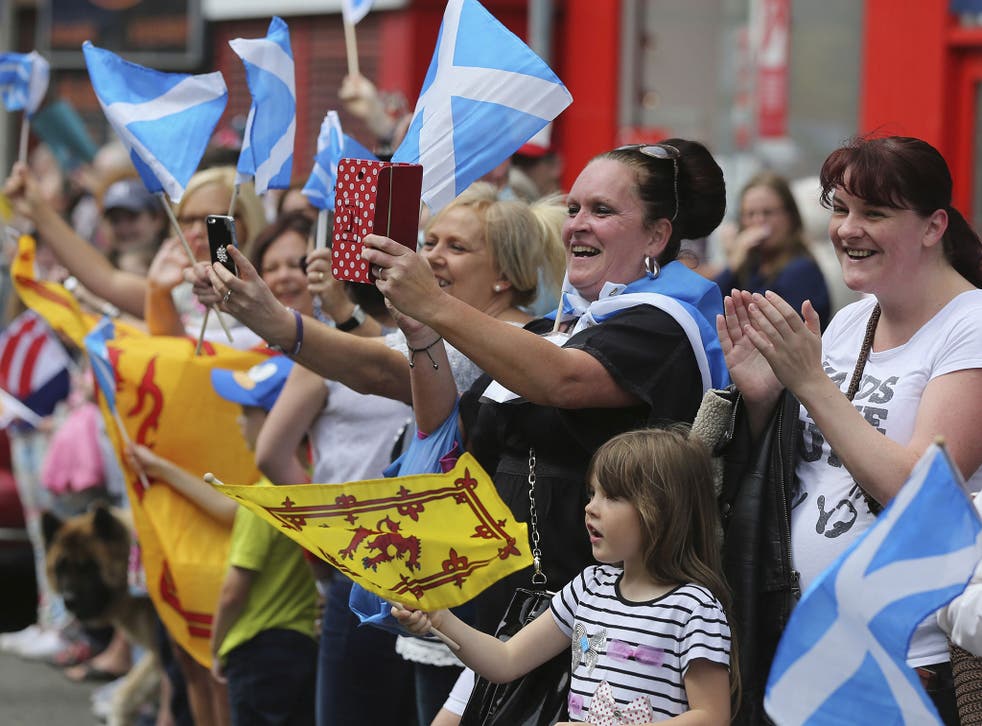 It has been a week all about overturning perceptions of Glasgow. A city whose uncompromising audiences were long regarded as a comedian's graveyard has forged a reputation for warm, open armed welcome.
Talk of intolerance – sexual and religious – has been publicly challenged in a stage managed gay kiss beamed to a billion-strong TV audience at the opening ceremony, a camp prelude to the sound of God Save the Queen resonating around Celtic Park.
No one dare mention the independence referendum out loud whilst Scotland's athletes have struck Gold right on cue. And then, of course, there has been the extraordinary weather.
Basking in the sun at Glasgow Green, which has become a live fan zone with a rolling programme of sport, music and entertainment for the 11 day duration of the Games, groups of young people, families and couples were soaking up the atmosphere yesterday.
Lucy Pritchard, 29, an HR manager from Frimley, Surrey, said she and her friends were only dimly aware that Glasgow had once had something of a reputation.
"I think I have heard my parents mention it but a lot of people said to me that Glasgow has had a lot of regeneration and improvement and walking through the shopping area is brilliant. Everyone is really friendly," she said.
Commonwealth Games 2014 - In pictures

Show all 61
De-industrialisation hit the second city of empire hard. Since the nadir in the early 1980s the tide has turned, helped by similarly bold top-down events to the Commonwealth Games, notably the 1988 Garden Festival and the 1990 European City of Culture.
Recent years have seen more than £6 billion of public and private investment in the city although deep pockets of deprivation and ill health remain. Organisers, backed by a tub thumping national media, can barely conceal their glee at how things are working out.
Gordon Matheson leader of Glasgow City Council is riding high. "We were planning to put on the best Commonwealth Games there has ever been and it has got off to a start that has exceeded our expectations," he said.
A further 350,000 tickets have been sold for this weekend and 95 per cent of seats are sold out. The city is buzzing.
"The opening ceremony was wonderfully well received but we made some serious points. John Barrowman redefined the Glasgow kiss and the England team were welcomed with the Hampden roar. No one needed to tell the audience to stand for the Queen," he added.
The long term legacy will be felt in the deprived east of the city where most of the new venues have been in use for some time. "We are building venues for the people of Glasgow and we are lending them to the world's elite athletes," he said.
Strolling into the beer garden at Glasgow Green John Griffiths, 72, from Swansea is a veteran of international athletic meetings since Edmonton 2001.
"So far it's very good. The people are very friendly and very knowledgeable about their city and about the events. I think they have gone a bit over the top with the security and the hotels have too with their prices.
"I paid £135 for a season ticket at the Moscow World Championships and it is £600 here but I think a lot of people will want to come back after being here," he said.
Register for free to continue reading
Registration is a free and easy way to support our truly independent journalism
By registering, you will also enjoy limited access to Premium articles, exclusive newsletters, commenting, and virtual events with our leading journalists
Already have an account? sign in
Register for free to continue reading
Registration is a free and easy way to support our truly independent journalism
By registering, you will also enjoy limited access to Premium articles, exclusive newsletters, commenting, and virtual events with our leading journalists
Already have an account? sign in
Join our new commenting forum
Join thought-provoking conversations, follow other Independent readers and see their replies