Commonwealth Games 2018: Tracey Neville lives dream through her players as England reach first final
England fought from behind to beat Jamaica in dramatic circumstances as Jo Harten's last-gasp goal sealed a 56-55 victory to spark wild celebrations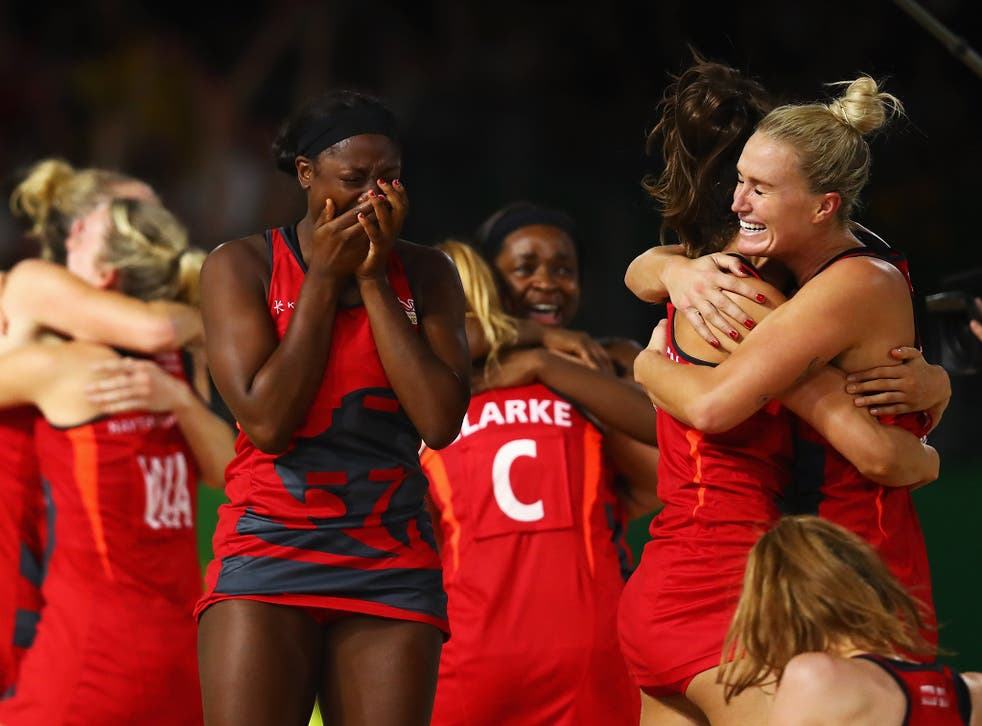 England's netballers reached a first Commonwealth Games final in the most dramatic of circumstances as Jo Harten netted a last-gasp goal to seal a 56-55 comeback victory over Jamaica.
Eight-time Olympic champion Usain Bolt watched on as 6ft 5in goal shooter Jhaniele Fowler-Reid's inspired shooting propelled Jamaica into a formidable six-goal half-time lead.
Tracey Neville's side chipped away at the deficit, with Helen Housby shooting well and Geva Mentor and Eboni Beckford-Chambers in defence forcing Fowler-Reid into rare missed shots. She missed three in the whole game, scoring 47.
Housby netted to level at 50-50 with six minutes remaining, but England needed to keep up the intensity.
Jamaica levelled at 55-all with 25 seconds remaining. England used the clock, Housby missed, but Harten kept her composure to spark jubilant celebrations.
After semi-final defeats in all five previous editions of the Commonwealth Games in which netball has been included, with three bronze medals, England finally have a shot at gold.
England will face hosts Australia in the final after their 65-44 win over New Zealand.
"What a comeback for our girls," Neville, a Commonwealth bronze medallist in 1998, said.
"I just said to them now: as a player I only dreamed to be in this situation, but I was never good enough. It's great to live my dream through these and they've just done so well."
At world and Commonwealth level, England had lost 17 of their last 18 semi-finals - the exception in 1975 when they won World Cup silver - but this team has the chance to move on.
Neville, sister of former England footballers Gary and Phil, was frustrated by "silly errors" in the first half and made tactical and personnel changes to wrest the initiative back in England's favour.
Harten was one of those dropped to the bench and she had to watch for much of the contest, as Housby and Natalie Haythornthwaite's movement stretched Jamaica, before being reintroduced.
"We were debating whether to put her on or not," Neville added.
"And just that experience, that extra height in the circle and she shoots the winning goal."
Harten said: "That is a routine shot you do again and again in practice and matches. I've probably done it thousands and thousands of times but that's the most important shot of my career.
"There wasn't time to be nervous or think about what it meant. When I think now what it means to the sport and everyone, I'm just shaking.
"This is everything to this team, we've never been to a final, we've lost too many close matches like that in the past. We just have a belief that anything is possible."
Mentor described marking Fowler-Reid as "impossible", but praised her team-mates.
Mentor, at her fifth Games, said: "This is massive. Each game we take we try to tick off another box and this is a major box to tick."
And Neville insisted the whole England squad, known as the Roses, was required in the victory.
"We know as an England team we're probably never going to beat them with seven players," she added.
"We said we're 12 Roses. And 12 roses, you love 12 roses and they go to infinity."
PA
Join our new commenting forum
Join thought-provoking conversations, follow other Independent readers and see their replies