Alastair Cook could quit if Kevin Pietersen is called up by England again
South African born batsman is looking increasingly likely to return to the fold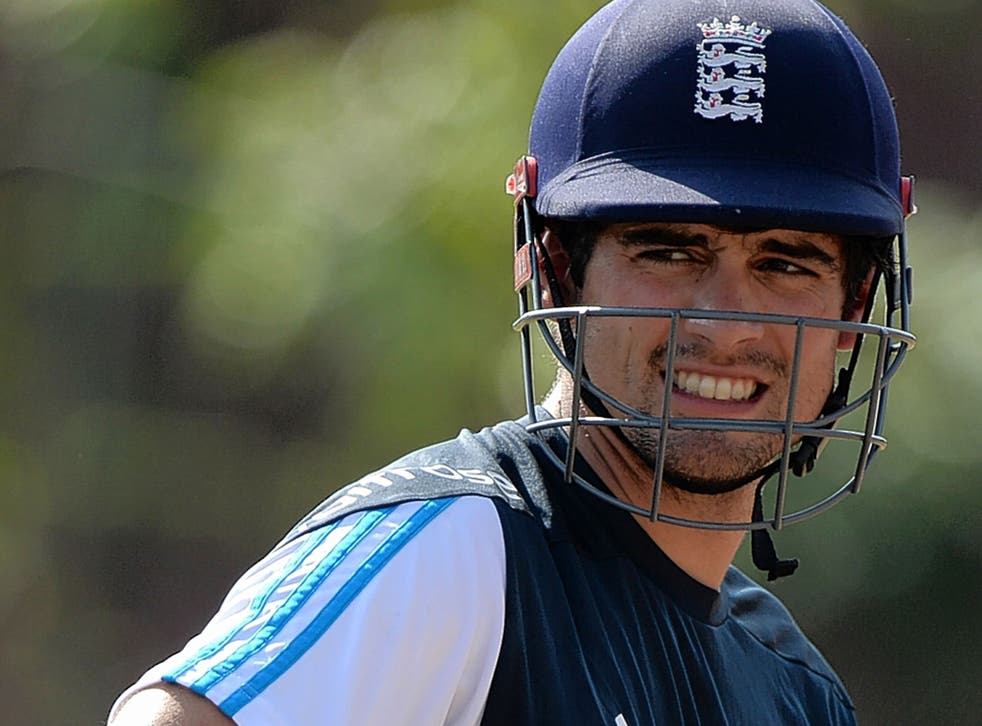 English cricket officials fear Alastair Cook might stand down as captain if Kevin Pietersen is given another chance in the Test team.
ietersen secured release from his £250,000 contract with Indian Premier League side Sunrisers Hyderabad on Tuesday, meaning he is free to play in England from the start of the season. He is set to sign for Surrey imminently.
After his initial conversations with the incoming chairman of the England and Wales Cricket Board, Colin Graves, and other board members Pietersen is thought to have been certain he would have a fair opportunity of an England return if he scored heavily in the Second Division of the County Championship. Surrey's first match is on 19 April at Glamorgan.
He expects no guarantees, but Pietersen hopes to receive similar encouragement when he meets Graves and the new chief executive, Tom Harrison, face to face next month.
"My focus is now very much on the upcoming season in England and I'm absolutely determined to score as many runs as possible," Pietersen said yesterday.
"I've never made any secret of my overwhelming desire to once again represent England and I'm going to do everything in my power to earn a recall.
"To once again put on that England shirt would be a privilege and an honour, but now I have to focus on performing domestically and give myself the best possible chance of meriting selection."
Cook made his feelings clear last week when he questioned the decision to sack him as one-day captain less than two months before the World Cup.
It is also understood that senior England players were puzzled by the way the team's managing director, Paul Downton, handled Pietersen's removal from the team in February 2014, even though they agreed with the decision. It is fair to say that Graves and Harrison have also had questions to ask about Downton's record in the job.
The new men were hugely disappointed in England's World Cup performances and seemed to have an appetite for change, making coach Peter Moores, head selector James Whitaker and Downton particularly vulnerable.
ECB officials said privately last week that the policy towards Pietersen had not changed. That is an odd claim indeed. Whereas Clarke, Downton and Whitaker had exiled Pietersen definitively, Graves and Harrison are prepared to talk to him – and when they meet, it is unlikely they will be discussing the weather. So it looks contradictory to say the position on Pietersen remains the same.
It is possible, though, that the new power base underestimated the resistance to change at Lord's. After a turbulent year in English cricket, there is little appetite for the upheaval that Pietersen's return would bring.
Rather than try to make changes quickly, it appears Graves, who is due to start work on 15 May, is now happy to watch and wait.
Register for free to continue reading
Registration is a free and easy way to support our truly independent journalism
By registering, you will also enjoy limited access to Premium articles, exclusive newsletters, commenting, and virtual events with our leading journalists
Already have an account? sign in
Register for free to continue reading
Registration is a free and easy way to support our truly independent journalism
By registering, you will also enjoy limited access to Premium articles, exclusive newsletters, commenting, and virtual events with our leading journalists
Already have an account? sign in
Join our new commenting forum
Join thought-provoking conversations, follow other Independent readers and see their replies