Alastair Cook isn't to blame for England's dreadful tour of India, but a resignation still looms large in the new year
Cook took the brunt of the blame for the 4-0 series thrashing but a number of ill-advised decisions before the tour proved costly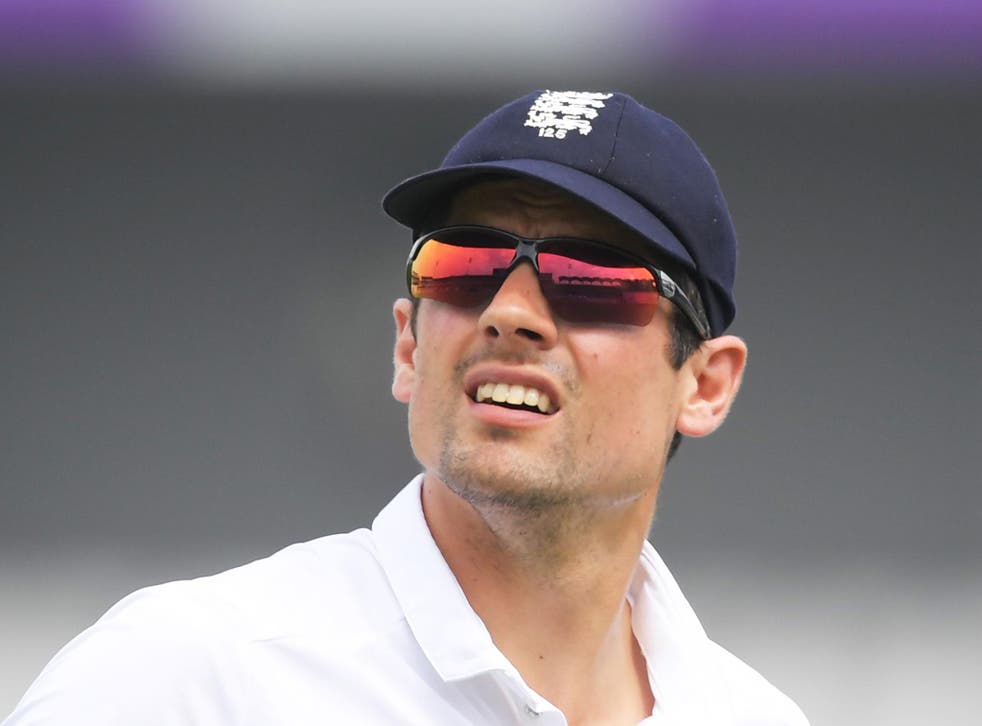 In The Captain Myth, Richard Gillis shows how the captain's impact in the Ryder Cup is hugely overstated. Retrospective narratives are constructed to explain how decisions taken by the winning or losing captain led inexorably to victory or defeat, when really they tend to matter little.
For English cricket, this analysis is pertinent now. Alastair Cook's leadership ranks a long way down the reasons for England's evisceration in India. While Cook's captaincy seemed deeply underwhelming, his greatest flaw was simply that he did not have Ravi Ashwin and Ravindra Jadeja. The salient truth is that, in these conditions, India are utterly supreme: since the start of 2013, they have won 16 of 18 home Tests, losing none.
And yet, for all India's brilliance, England did not give themselves the best possible chance in the series. That much is clear just from the ludicrous schedule: seven Test matches, across Bangladesh and India, in eight weeks, and no warm-up games at all once the Tests had begun.
Throughout the series, England's team selection was botched. They reckoned that their great strength was batting depth, yet England contrived to turn their stable of all-rounders into a weakness. Betraying a lack of confidence in both their batting and bowling, they instead packed both - fielding six bowlers in every Test, with Joe Root's eminently serviceable offspin left largely unused, and batting Adil Rashid, who has ten first-class centuries, as low as number ten. As a result of the surfeit of bowling options, Cook was repeatedly left with an unwanted spare part: Zafar Ansari was barely used in the second Test, Gareth Batty in the third, and Chris Woakes bowled only a solitary over while England toiled throughout the third day in Mumbai.
If five bowlers are not enough, the sixth is unlikely to make any difference. With Moeen Ali and Ben Stokes certainties to play, England would have been better-served picking the three best bowlers alongside them - not those, like Ansari and Liam Dawson, selected in large part for their batting - which would have freed them up to select an extra batsman. That could have been Sam Billings, regarded as the best player of spin in England beyond those in the Test side - and, crucially, a right-hander.
Knowing Ashwin's superlative record against left-handers, it was curious that England did not tailor their selection more to combatting him; oddly, the mantra of 'horses for courses' in bowling rarely applies to batting. And lugging around three players - the struggling left-handers Gary Ballance and Ben Duckett, and the quick Steven Finn - who were effectively unselectable by the last three Tests was perverse. Rather than treating the touring squad as a fixed entity, as it was in days when replacements literally had to be summoned by boat, England should have been more flexible, selecting in-form players from the Lions squad, in the UAE, and sending unused players there to find form. It was instructive that the two injury replacements, Dawson and Keaton Jennings, both performed well, benefiting from their recent experience of competitive cricket.
England also suffered from the absence of a permanent specialist spin bowling coach. After the series defeat, Cook noted that Ali and Rashid performed far better when Saqlain Mushtaq was on hand as a consultant; he left before the final two Tests. It is time for spin bowling - and surely fielding and wicketkeeping too, areas in which England also made avoidable errors - to be treated with the respect it deserves and get a full-time specialist coach.
The lack of a full-time spin coach - which renders spinners "third-class citizens", as Graeme Swann recently lamented - is emblematic of something deeper: the neglect paid to spin bowling. This manifests itself in pitches that seam too much, the distrust of captains for young spinners, and the concentration of County Championship cricket at the edges of the summer. To the ECB's credit, the changes to the toss last season, giving visiting captains the automatic right to bowl first, brought spinners more into the game. But the creation of a new franchise T20 tournament risks further moving Championship matches to the edge of the season, undermining attempts to develop spin bowling.
English spin bowling has also been hampered by the historic marginalisation of British Asians in English cricket. In 2014, 30% of recreational players in the country were British Asian but only 6% of first-class players were. That three of England's four spinners in their original touring squad were British Asian shows how better nurturing this huge pool of talent could leave English cricket far better off.
A structure that has hindered England's development of spin bowling has also damaged their batsmen, who very seldom face high-quality spin bowling from both ends in county cricket. This must change if England are ever to have a sustained period as world number one: four of the top nine Test nations in the world are from Asia, and Caribbean pitches are increasingly sub-continental too.
As England left India reflecting on a couple of worthy additions to their greatest hits compilation of collapses - they lost 6-15 in both their innings defeats - their own flaws could not obscure the majesty of India's displays. The nation has always had a huge population imbued with love of cricket. Now these strengths are being married with supreme athleticism, embodied by Virat Kohli's magnetism in the field, and vastly improved scouting to unearth talent beyond the country's urban centres. It all points to India's stint as Test number one being a long one, especially as Kohli is creating a new culture of interest in the longest format.
And while England certainly did not lose the series because of Cook, after 59 Tests as leader - Michael Atherton, Nasser Hussain, Michael Vaughan and Andrew Strauss, the four previous longest-serving captains, all departed after between 45 and 52 games - the sense is that he has reached the limit of what he can achieve as captain. The balance of probability points to a resignation at some point in the new year, after his meeting with Andrew Strauss. If Cook does indeed resign, one thought should provide particular solace: never has the 2-1 victory he led England to in India four years ago looked more remarkable.
Join our new commenting forum
Join thought-provoking conversations, follow other Independent readers and see their replies