Alex Hales believes his England ODI status is still at threat despite brilliant 147 at Trent Bridge
Hales helped England wrap up series victory over Australia thanks to a new world record one-day international total of 481 for six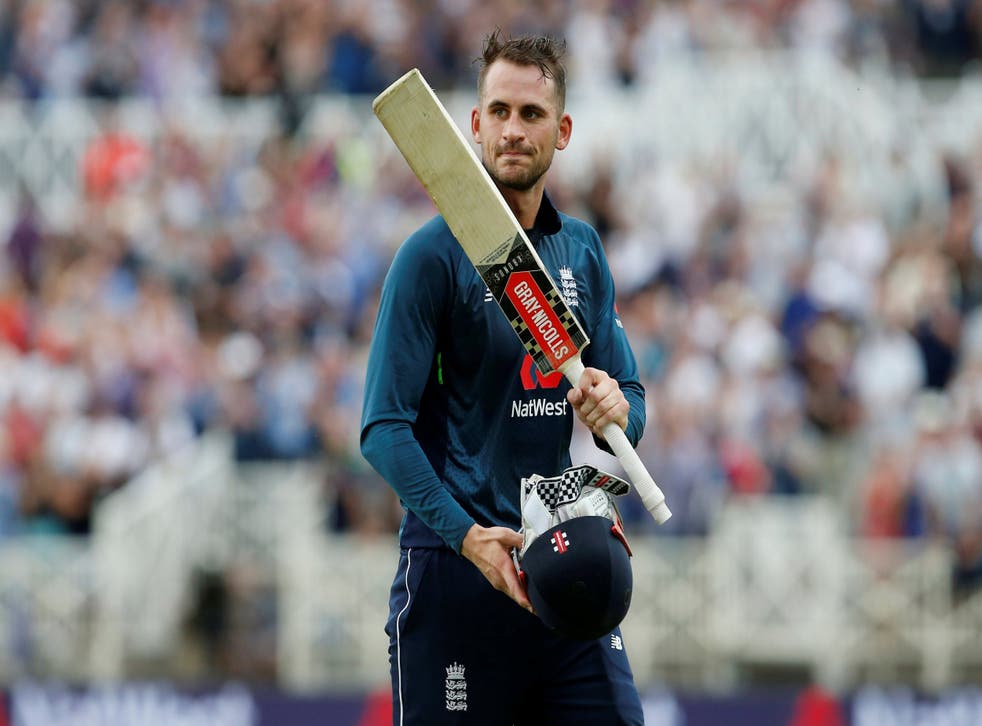 Alex Hales has banked an unforgettable day at Trent Bridge, but knows it has changed nothing yet about his fringe status in England's record-breaking team. Hales used that description himself as he acknowledged on the eve of his brilliant 147 on his home ground that his hold on a top-order spot has become tenuous.
He went on to help England wrap up series victory over Australia thanks to a new world record one-day international total of 481 for six. Yet afterwards, even in the glow of his man-of-the-match contribution to a 242-run trouncing of England's age-old Ashes rivals, he insisted the situation remains as it was.
Hales knows that the brilliant form of England's two incumbent openers Jason Roy and Jonny Bairstow means they have moved ahead of him in the pecking order – and that when key all-rounder Ben Stokes returns soon from his hamstring injury, someone will have to drop out.
He could hardly have stated a more compelling case for continued inclusion at number three than with his 16 fours and five sixes from 92 balls – but there again Bairstow, with just one boundary fewer from the same number of deliveries in his 139, and Roy (82) were hardly slouches either in Nottingham.
"To get a score like that at my home ground and get the record score is one of the days I'll never forget in my life," said Hales. "(But) I don't think my situation has changed much since [before the match] in terms of those two guys being ahead of me.
"You've got Jonny, who's got four hundreds in [six] games – and Jason, when in form, is one of the best players in the world. The situation stays the same for me. I need to keep knocking on the door and scoring as many runs as I can. (This) was one step towards that."
Hales' claims are obvious nonetheless.
"It's a nice problem for the selectors and the coaches to have – a squad as strong as we are at the moment, with the depth we've got, and guys not even in the 15 who are knocking on the door. It's healthy competition, and keeps everybody striving to improve."
Stokes is set to rejoin the squad soon to continue his recovery from a torn left hamstring, and Hales is under no illusion about anyone keeping England's habitual all-round match-winner out of the team once he is fit.
"I think that's the situation I'm in," he added. "It's almost like what Jonny was in for a couple of years. Every time he got a chance, he scored a lot of runs. Every opportunity I get is going to be gold dust moving forward. Stokesy's obviously going to slot back in – he's one of the best all-rounders in the world. (So) I think it's three of us fighting for two spots currently."
A sustained run of form will still keep Hales bang in the reckoning for next year's home World Cup campaign. "Whether or not that changes... a lot can change in a year's time, as we've seen," added the 29-year-old. "I'm just trying to stay confident and see what happens."
PA
Register for free to continue reading
Registration is a free and easy way to support our truly independent journalism
By registering, you will also enjoy limited access to Premium articles, exclusive newsletters, commenting, and virtual events with our leading journalists
Already have an account? sign in
Register for free to continue reading
Registration is a free and easy way to support our truly independent journalism
By registering, you will also enjoy limited access to Premium articles, exclusive newsletters, commenting, and virtual events with our leading journalists
Already have an account? sign in
Join our new commenting forum
Join thought-provoking conversations, follow other Independent readers and see their replies