Alistair Cook should quit as one-day captain, says Graeme Swann
England do not have 'a cat in hell's chance' of winning the World Cup, says retired off-spinner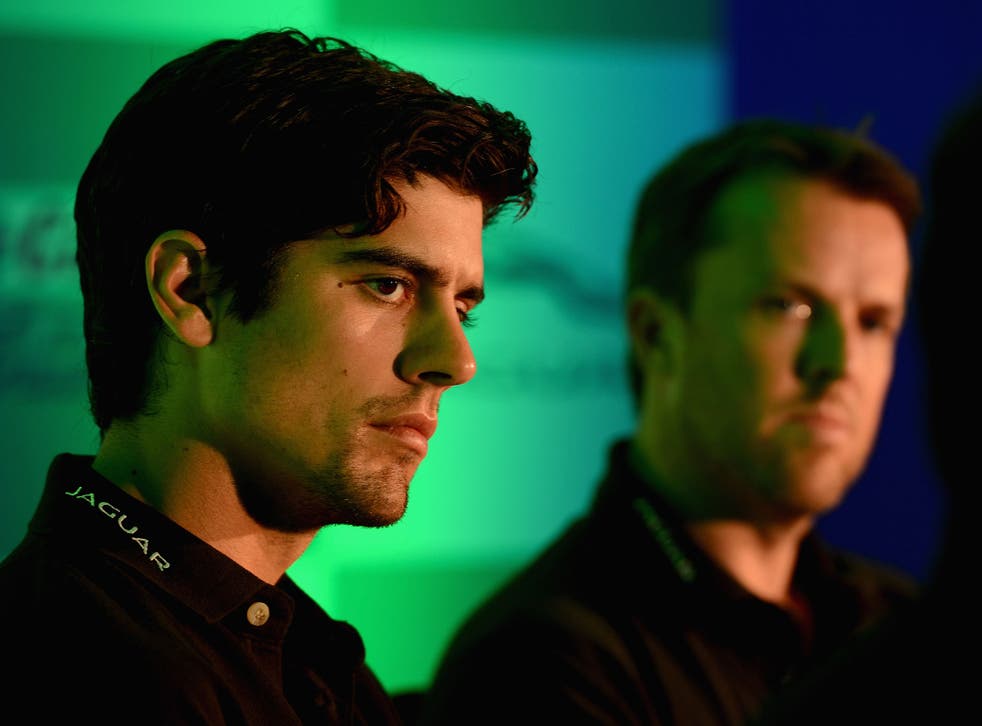 Alastair Cook has been told by one of his best friends in cricket to stand down from the England one-day captaincy because the team do not have "a cat in hell's chance" of winning the World Cup.
Cook will lead England in the 50-over showpiece in Australia and New Zealand in February and March but according to Graeme Swann, the recently retired off-spinner who was a key man in all forms of cricket, he would be better off staying at home. England have never won the World Cup since its inception in 1975.
In an outspoken attack on England's policy of keeping similar squads for Test and one-day cricket, Swann pleaded with his former captain to stick to the longest form of the game.
"I love Alastair Cook dearly but I don't think he should be bothering playing one-day cricket any more," Swann said as rain washed out the first one-day international between England and India at Bristol on Monday. "He doesn't need to. He has proved a very good point as Test captain and he should enjoy that role.
"He is the most stubborn man in the world and he has almost backed himself into a corner where he has got to carry on. Let young people play who want to smash it everywhere and win you the World Cup. I don't think we've got a cat in hell's chance of winning this World Cup but in four years' time we might have a chance.
"That is if we bring in all these young, exciting players, people who have been brought up on one-day cricket and have none of the baggage of the old-fashioned style of cricket we play in that form. We play a 10-years-old game.
"They're some of my best mates but players like Cook, Ian Bell and Gary Ballance are not going to win you a World Cup," Swann added. "Alex Hales is going to win you a World Cup.
"So are [Hampshire batsman] James Vince, [Surrey batsman] Jason Roy, Jos Buttler and Eoin Morgan. They are players I wouldn't want to bowl at.
"We pick one-day teams on Test form. The good Test form in the last three matches of the series against India has made it easier for the selectors to have a more conservative selection than most people want to see."
Hales was due to make his 50-over international debut against India yesterday but no play was possible and the match was abandoned shortly after 1.30pm. Hales will hope for brighter skies for the second game of the five-match series, which takes place in Cardiff tomorrow. Supporters with tickets for the Bristol game can exchange them for free for ones for Cardiff, on a first come, first served basis.
The lack of action in the middle gave Swann and former England captain Michael Vaughan the chance to offer trenchant opinions on the changes the current side need to make in the 50-over game. Both were critical of the exclusion of the Essex all-rounder Ravi Bopara for this series, while backing Morgan to replace Cook as captain in one-day cricket. Vaughan also hinted that nobody in the England set-up was strong enough to advise Cook to step down.
He told BBC Test Match Special: "When you're the England Test captain and you win Ashes series [as Cook did last year], you can do anything you want. You become indispensable and they [the selectors] won't come and knock on your door. Cook will do half a job as a batsman and I don't think he'll win England games as a tactician in one-day cricket."
Swann added: "Even when I played one-day cricket, I never thought we were a dynamic team compared with the sides we were playing against."
Register for free to continue reading
Registration is a free and easy way to support our truly independent journalism
By registering, you will also enjoy limited access to Premium articles, exclusive newsletters, commenting, and virtual events with our leading journalists
Already have an account? sign in
Register for free to continue reading
Registration is a free and easy way to support our truly independent journalism
By registering, you will also enjoy limited access to Premium articles, exclusive newsletters, commenting, and virtual events with our leading journalists
Already have an account? sign in
Join our new commenting forum
Join thought-provoking conversations, follow other Independent readers and see their replies