Anderson and Broad aren't 'greats' – these are the top 20 bowlers ever
Despite nearly a decade of success, England's new ball pair don't stack up against the game's greats.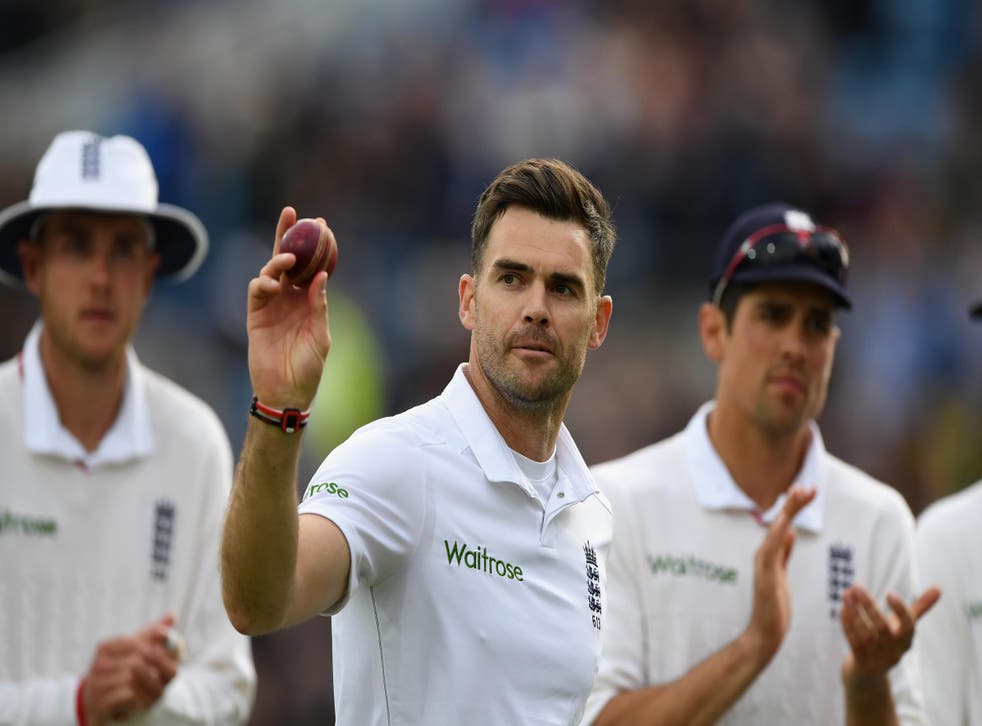 Over the past eight years, Anderson and Broad have become one of the great opening partnerships in Test cricket.
They have spearheaded an attack that's won four of the last Ashes series, and they stand first and third for the most wickets taken in Tests by Englishmen.
But how do they compare to the game's greats? From Pakistan's Wasim and Waqar, to South Africa's Donald and Pollock, Australia's McGrath and Gillespie, or the West Indies' Marshall and Garner, Ambrose and Walsh?
England vs Sri Lanka - Day 3 from Durham
Are they even better than any other English pair? Hoggard and Harmison led England to their first victory in South Africa for forty years in 2004, and beat Warne and McGrath's Australia in 2005.
And what of Gough and Caddick, England's new ball pair in the '90s? Or Fred Trueman, Bob Willis and Ian Botham before them?
The short answer is that they don't compare. They aren't greats. At least, not by any statistic we can measure.
At home, on a swing pitch, and on their day, Anderson and Broad are magicians. Broad's 8-15 in last year's Ashes was as great a spell of bowling as has been bowled. And Anderson has days where Tendulkar, Dravid and Lara would have struggled to play him.
But stats cut through such memories, and when we add up the numbers, neither bowler makes a list of the all-timers.
To come up with the twenty best bowlers ever, I counted up all the Test bowlers since WWII who have taken at least 150 wickets at a strike rate of less than 60 (that's a rate of a wicket at least every ten overs), and ranked them by their averages.
Here's the list.
A bowler's average is the measure of him. It shows how many runs he gives up for each wicket he takes; put another way, it shows how many runs he'd bowl another team out for if he took all ten wickets at his average.
The average of the 20th best bowler? 25.6. Anderson and Broad don't come close. Their averages? 28.5 for Anderson and 28.3 for Broad. Very good, not 'great'.
Waqar Younis and Wasim Akram rank 12th and 13th on the list; both averaged 23.6 with the ball. Imran Khan, who they played with and then succeeded, ranks 10th, with an average of 22.8. All three took between 362 and 414 wickets.
Broad has taken 342, Anderson 447. Their averages may not seem much higher than the Pakistan trio, but a five-run difference is huge: it's the equivalent of fifty runs if a bowler was to bowl out a side.
And Broad and Anderson are a few runs short of every great pair. South Africa's Donald and Pollock averaged 22.3 and 23.1 (and took a very similar tally of wickets: 330 and 421).
While the two greatest Australian seamers, Glenn McGrath and Dennis Lillee, took their wickets at 21.6 and 23.9, and Richard Hadlee, New Zealand's answer to Lillee, took his at 22.3.
Let us not forget the West Indians of the '70s, '80s and '90s: the best bowlers of all time.
Malcolm Marshall took his 376 wickets at an average of just 20.9. Joel Garner, his new ball partner, took his 259 for 21.0. And Curtly Ambrose and Courtney Walsh, their successors, took their 924 combined wickets at averages of 21.0 and 24.4.
Three of their countrymen – Holding, Bishop and Roberts – also make the top 20. West Indies have twice as many top 20 bowlers as any other team.
Anderson and Broad's stats are dragged down by their mediocre records away from home – on dry, hard and hot pitches.
But even their statistics just in England do not match up. Anderson has taken 280 of his wickets on home soil, at a average of 25.9. Broad has taken 216 for 26.1. Those numbers still wouldn't crack the top 20.
As for their records abroad, their averages away from home of 34.9 and 33.9 show their limits as bowlers.
The greatest bowlers ever were as good abroad as at home. Joel Garner had an average of 22.3 at home… and 19.7 abroad, where he, like Malcolm Marshall, took most of his wickets.
Are Broad and Anderson nevertheless England's best ever?
They have significantly better averages than Hoggard (30.5) and Harmison (31.9), as well as Flintoff (33.3), the third-prong of that early-to-mid 2000s attack.
They also probably best Gough (28.4) and Caddick (29.9), although you could argue Gough and Caddick had to face better batsmen.
But it's hard to say they should be England's opening-ball pair when teams are picked for the immortal Test match. Although they played a decade apart, that honour should probably go to Fred Trueman and Bob Willis.
Trueman's bowling average of 21.6 ranks fourth all-time, and first after the West Indian trio of Marshall, Garner and Ambrose. Willis squeaks into the top 20, just ahead of Shane Warne, with his figures of 325 wickets at 25.2 apiece.
Ian Botham, whose wicket tally Anderson has already surpassed and Broad surely will, had a near-identical average to both of them: 28.4. All three also have identical economy rates (3.0 per over) and strike rates (56-57 balls per wicket).
And all three would be in the mix to bowl first change, but statistically none can compete with Trueman and Willis, who both had significantly lower economy rates (2.6 and 2.8) and strike rates (49 and 53).
Yet Anderson and Broad are ranked 3rd and 1st in the world's Test bowling rankings. And that reveals the greatest fact about modern cricket: we are in an era of almost no great bowlers.
The only active player who makes the top 20 all-time is Dale Steyn, currently ranked 5th in the world, but whose strike rate of 42 is the best ever (among those who've taken at least 150 Test wickets). His average of 22.5 ranks 8th all-time.
While he has slipped behind Anderson and Broad in the rankings, he is undeniably a 'great', while they aren't and almost certainly never will be (Anderson is 34 and Broad 30 next month).
Of course, if England had had to play the past decade without them, we would probably have languished as in the '90s, when Australia won eight consecutive Ashes series.
They have been excellent. But while we watch them take four-, five- and ten-wicket hauls against a depleted Sri Lankan side, the stats make you wonder how they would have fared in the '90s, when most of the game's new ball greats were all playing – and would surely have eclipsed them.
Register for free to continue reading
Registration is a free and easy way to support our truly independent journalism
By registering, you will also enjoy limited access to Premium articles, exclusive newsletters, commenting, and virtual events with our leading journalists
Already have an account? sign in
Register for free to continue reading
Registration is a free and easy way to support our truly independent journalism
By registering, you will also enjoy limited access to Premium articles, exclusive newsletters, commenting, and virtual events with our leading journalists
Already have an account? sign in
Join our new commenting forum
Join thought-provoking conversations, follow other Independent readers and see their replies