Andrew Strauss: I heard Alastair Cook's run-out while driving on the A40 and it sounds like he's had a bloody nightmare
Strauss talks to Angus Fraser about his successor as England captain, Alastair Cook, how he is adjusting to life after cricket and gearing up to run the London Marathon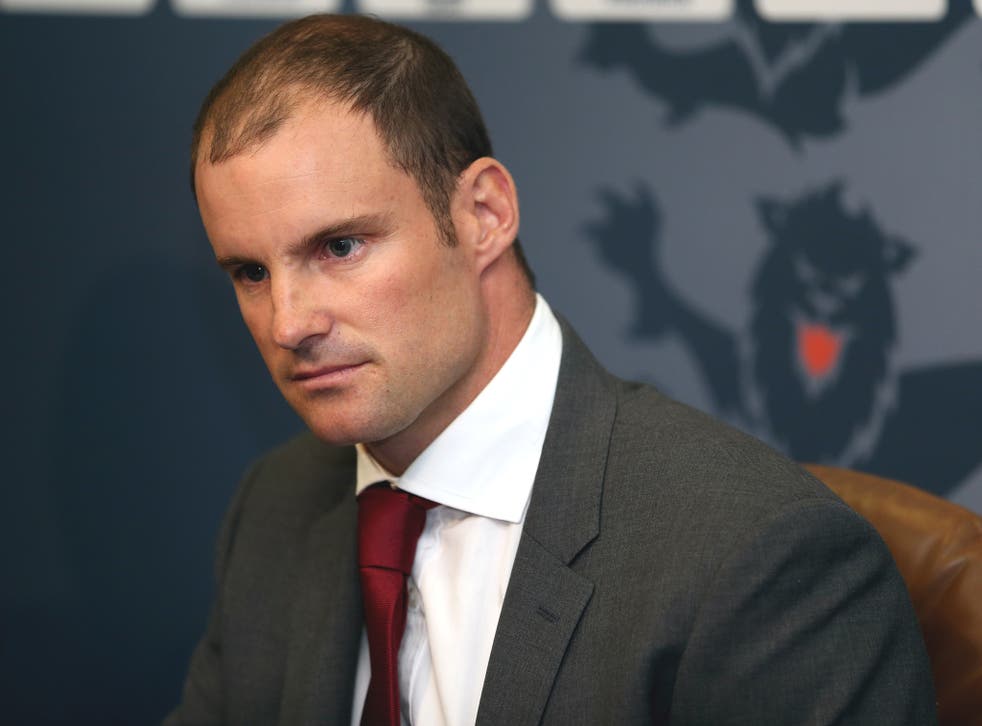 Like many England cricket fans Andrew Strauss has been getting up early this week. But unlike most early risers it was not to turn on the television to watch the remarkable Alastair Cook create another piece of history. Strauss is currently responsible for the school run, though it is hard to believe he gets past the school gates without someone passing comment on the ever-improving performances of the England team in India.
Many international cricketers seem to find it hard to slip into the routine of normal life but the former England captain seemed to be handling the change pretty well when I met him in at Lord's at 8am yesterday morning.
Alastair Cook had just been run out for 190 and as he walked into my office I asked him if he had seen the dismissal. "No," he replied. "I heard it on the radio as I was driving in on the A40 and it sounds like he's had a bloody nightmare." I suggested that I wouldn't mind having the nightmare Cook is currently having – he has scored three hundreds in three Tests and has now scored more Test hundreds (23) than any other England player. Strauss agreed that there are worse things than getting run out for 190.
Since retiring after England's 2012 home Test series against South Africa Strauss has maintained a fairly low profile and seems happy away from the stresses and strains of captaining the national side.
Angus Fraser: How have you found watching a team that was previously yours play in India?
Andrew Strauss: I have found it really interesting. I have not watched every ball but I have watched quite a lot of it. It is a strange sort of mindset because part of you seems so close to it and you are watching it with a semi-captain's eye, imagining what you would do in those sort of circumstances. But part of you also feels a long way away. The game, as is always the case, moves on without you and I am now nothing more than a genuinely interested spectator.
It has been incredible to watch the turnaround in the last Test and a half. Great credit must go to Alastair and the rest of the lads for the way in which they have come back from what happened in Ahmedabad to play so assuredly on a turning pitch in Mumbai and to then do what they seem to be doing now in Kolkata.
AF: Have you ever felt like picking the phone up?
AS: I have sent a few text messages (laughing, realising the irony of his reply) in which I have tried to be supportive. I have close relationships with both Alastair and Andy Flower. We have been through a lot together but I certainly haven't been trying to stick my nose in anything.
AF: Cook has scored three hundreds in three Tests in India and five hundreds in the five Tests he has captained England. Has the fact he has been able to combine captaincy and form so well surprised you?
AS: I am not massively surprised that Alastair has achieved this because when he became one-day captain he transformed his one-day game. Then he went from being a slightly gritty plodder into someone suddenly capable of playing an expansive game.
I think when you take over as captain, mindset-wise, it really helps you. You are obviously determined to lead from the front and to set the right example. You walk a bit taller and you know you are unlikely to be dropped any time soon. It puts you in a good mindset to go out there and to make the most of any good form you have.
He has an incredible temperament for Test cricket. He is very calm. He doesn't look too far ahead. He literally does play the game one ball at a time. He has a great defensive technique and there is no ego to his game. In his batting there is a complete lack of emotion, which is perfect. Underneath there must be a lot of emotion but he allows his mind to control any nerves, frustration or fire in his belly. He will not get carried away and it is great to see him do what he is doing because how you start your reign as captain does have a huge affect on how people view you. That he has performed as he has will set everybody's mind at ease. It shows to everyone that you can compartmentalise and cope with the dual demands of the job.
AF: You opened with him on his debut in Nagpur. Did you then think he would turn out to be this good?
AS: At that stage it was impossible to make those sort of predictions. He had come in with a big reputation. There was a lot of talk about him but he was still a youngster, and youngsters in English cricket tend to be some way from the finished article.
He was confident, talking freely early on in a team meeting in Pakistan about how to play Danish Kaneria. He was impressive right from the start. He was a young guy who knew his mind and wasn't intimidated about being in the England team.
On debut it was a class performance. He did what he is doing now – he took his time, didn't get flustered and worked his way through his gears. It is unusual in English cricket to see someone come in and show they are right for Test cricket from ball one. There are very few who come in at the age of 21 and perform like that. He's 27 now and he will go on, barring injuries, to set a marker in terms of runs scored that will be tough for any Englishman to beat.
AF: I struggle to work Cook out. To me he looks awkward – his head at times falls over, he seems to play around his front pad and often closes the face of his bat. You feel it is just a matter of time before he gets out. But then, four hours later, he is still there unbeaten on 107. He is a remarkable player. What to you is his strongest asset?
AS: His technique is ungainly but effective. The most important thing is finding a way to keep the good balls out. It doesn't really matter where you score your runs as long as you know where you're looking to score. And he does just this. His game has expanded over the years. He used to just punch the ball down the ground and be very strong off his legs. He has always been a fantastic puller and hooker but now he can also drive it through the off-side better and cut the ball well. He plays spin better too. He is more aggressive. He sweeps the ball well and is not afraid to hit the spinners over the top.
Of the players I have played with he is the best at dealing with periods where he doesn't score runs or feeling out of touch. Off the field we all go through periods where we doubt ourselves but on the field he has this sort of serene mindset that is very impressive.
AF: Enough of Cook, what are you up to at the moment?
AS: Post-retirement the plan was always to take a few months off to spend a bit of time at home, to let everything settle and start planning what is next. I am still in that gardening leave stage but in the new year I will be looking to start putting things together, to get my teeth into something. It will be a combination of things to start with – some media work, some cricket administration, as well as looking to develop a business around leadership and management consultancy.
AF: You are now on the International Cricket Council's Cricket Committee; will this be your first taste of cricket administration?
AS: Yes. I have always been quite interested to know how cricket administration really works. I also have some strong views on the state of the game and, hopefully, I can try to influence the way the game goes in the future. It is probably not the only thing that I will do in an administrator capacity but it gives me a nice chance to dip my toe in the water. There are some weighty figures on the ICC cricket committee so it will be great to listen to what they have to say and to learn a thing or two off them.
AF: I gather you are running the London Marathon too. I did it last year – do you think you are determined enough to get round?
AS: Yes, and I hope to beat your time, what was it, five hours? I am doing it for a number of reasons. It is an opportunity to raise funds for the Lord's Taverners, which is a fantastic cricket charity. It is also a mini-challenge. It gets you out of the house during the winter and stops you eating, drinking and [looking across the desk] putting on weight as some former cricketers have done. In a year or two's time I would still like to be able to use the same hole on my belt buckle.
AF: When I retired from cricket I felt the same, in that I wanted to stay in reasonable shape, something as you so kindly highlighted I have failed to do. But to do this I too needed something to aim for. As a sportsman you have a conception of what a day's work is and if it doesn't involve some sort of physical act you have not done anything productive.
AS: Yes, I think so. For the first couple of months after I retired I did very little. For years going to the gym and keeping fit was part of my life, but I was then finding a reason not to do it. The fact I am doing the marathon brings training back to being one of the first things I do and I am happier doing that.
[Again looking at me] You can get caught on a slippery slope if you don't. Being fit keeps you mentally sharper too.
AF: Ruth, your wife, is doing it too?
AS: Yes, it is one of those things they call a "shared experience".
AF: Do you intend to run with her?
AS: Hopefully not. I am hoping to be a little closer to the front of the pack but I'll wait for her at the finishing line. Hopefully. These may be famous last words.
AF: On that note I think we should finish.
Join our new commenting forum
Join thought-provoking conversations, follow other Independent readers and see their replies