Ashes 2013: Stuart Broad can handle being 'hate figure' says captain Alastair Cook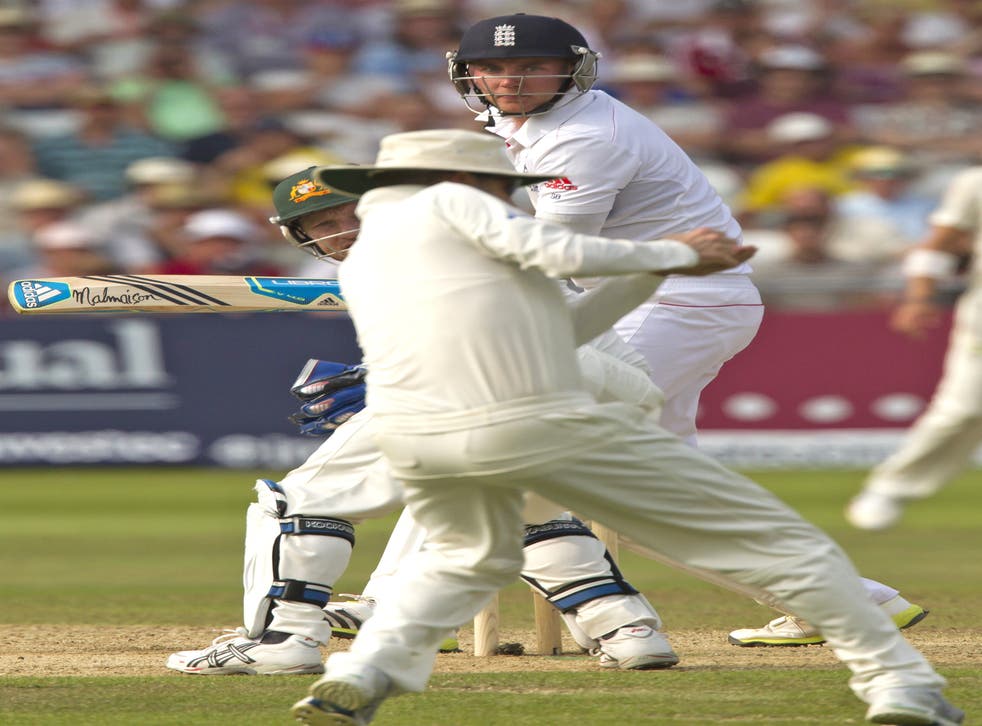 If it starts to get ugly during the second Test, it is probable that the bloke with the baby face will be around. Stuart Broad always seems to be involved when it is all going off out there.
Alastair Cook, England's captain, was obliged to leap to Broad's defence yesterday after his reputation took another nosedive in the first Test. Broad was at the centre of heated debate after he declined to walk in England's second innings when replays showed he had edged the ball.
The fact that probably all 21 of the other players would not have admitted it – umpire Aleem Dar gave him not out – merely accelerated the rush of pundits to the moral high ground. Broad then compounded his felony on the last morning by appearing to waste time just before lunch, removing his boot for running repairs, to try to ensure that England did not have to bowl another over at an Australia side nearing their target.
Cook said: "He has always been a very combative cricketer and that is one of his great strengths. He is a great fighter. I think that is one of the reasons he has been so successful in international cricket.
"What happens off the field, whether you call him a hate figure or whatever, there is always one person on either side – it was Ricky Ponting a few years ago. If it is Broady, it's Broady. He is a fine cricketer and he can deal with anything."
Whether England care that it might affect how they are perceived by supporters and neutral followers is doubtful. They know that what Broad brings to the side seems to make him a more effective cricketer.
He has the happy knack of rising above it, or at least of not being remotely affected. There have been several incidents over the years when he might have handled himself better on the field – the double teapot gesture to team-mates, his occasional gamesmanship towards opponents – but he has remained a feisty competitor.
"Every time he has fought for his place or been under pressure he has always delivered for us," said Cook. "I am very surprised how much controversy it's caused but the most important thing is that both sets of players don't seem too fussed about it."
Broad, who has recovered fully from the blow on the shoulder he took while batting in England's first innings at Trent Bridge, was rampant at Lord's last time out. He dismantled New Zealand's second innings by taking 7 for 44, achieving bounce, movement and pace.
He has made a habit of this sort of spectacular spell throughout his Test career. Cook pointed out that at The Oval in 2009 Australia had reached 72 for 0 when Broad pounced with five quick wickets which helped reduce them to 111 for 7 and eventually to 160 all out.
"That pretty much launched his Test career," said Cook. "I think he wouldn't be half the player he is without that edge he's got. He loves the competition, it brings out the best in him and actually a lot of his spells when he has taken five wickets very quickly have come when England have needed them the most."
Broad will probably open the bowling with Jimmy Anderson for the 30th time. His shoulder injury prevented him taking the new ball in Nottingham. Only Steve Harmison and Matthew Hoggard (33 occasions) and Brian Statham and Fred Trueman (35) have shared the new ball more often for England.
When they gel, England usually win. Broad is likely to become the 15th England bowler to reach 200 Test wickets during the match and if Anderson's potent form continues, Australia will be in trouble.
Cook said: "Jimmy is our best bowler, his record suggests that, and there will be times he is bowled because he is our best bowler, but it is a dangerous thing to take the other guys lightly."
Join our new commenting forum
Join thought-provoking conversations, follow other Independent readers and see their replies