Ashes 2013-14 comment: The case of Jonathan Trott has shone a light on the thug culture of 'sledging'
It was announced that the England batsman would leave the tour due to a stress related illness
Kevin Garside
Monday 25 November 2013 19:00 Comments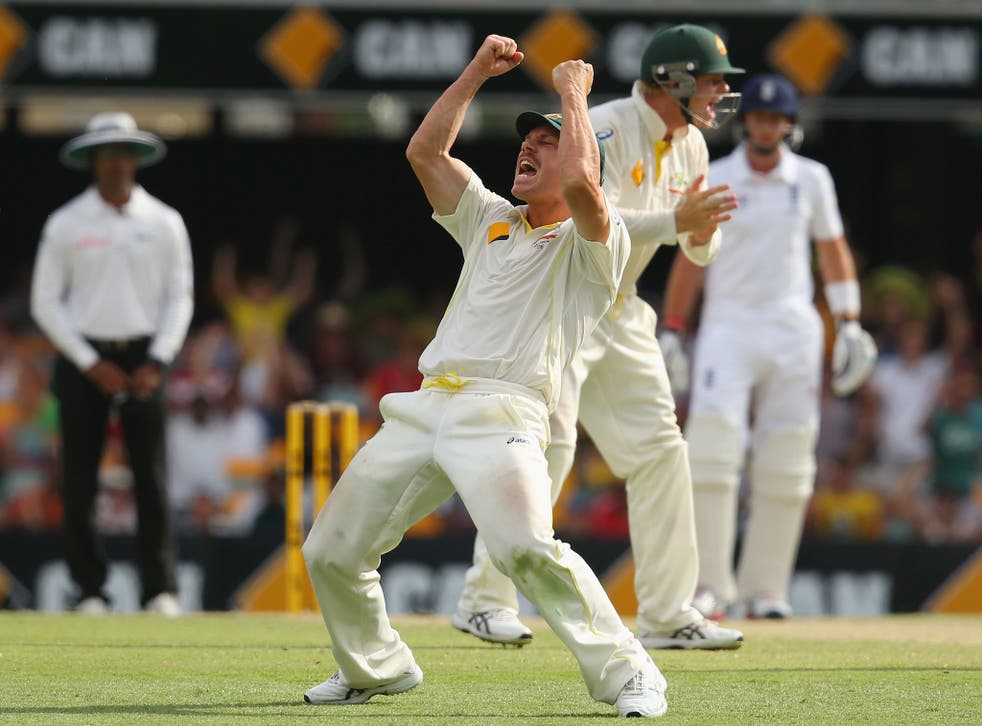 Let's be clear. It was not David Warner's sledging that led to Jonathan Trott's abrupt exit from the Ashes front line. Trott was said to be suffering from stress. So stigmatised is the term "depression" we had to find a polite way of sending Trott home.
Professional athletes are operating in extremis at a level of intensity and scrutiny beyond the comprehension of ordinary folk. Any weakness or frailty, be it technical or mental, is ruthlessly exposed. Some, such as Trott's fellow cricketer Marcus Trescothick and footballer Stan Collymore, have spoken openly about their struggles at the top end of the food chain. The wonder is more sportsmen and women do not suffer a similar unravelling.
Any who has stood on the first tee in the monthly medal and tried to get a shot away under the gaze of playing partners and rivals will know a fraction of what professional sporting pressure is. Any who has walked to the middle in club cricket and taken guard knowing that 11 blokes are making instant judgments about YOU, might at least recognise the potential for trouble.
The comparison is crass, of course, but multiply the intensity by a factor of thousands and you might just be standing at the crease with Trott, who has spent weeks, months, maybe years going round in ever decreasing circles of personal space before this moment of crisis.
The cricketing life imposes its own unique strains given the long stretches in which participants are removed from their domestic setting. Trescothick, who bravely outlined his own despair in his book Coming Back To Me, is the industry expert on dealing with stress and depression on the road.
We should thank the sledgers for bringing into view an illness that afflicts millions and is too often filed and forgotten under the sanitised banner "mental health issue". In the main, the hardened nature of the alpha male protects against the inane chirping of inadequate bullies in the sporting context. Most laugh it off or meet fire with fire. Warner is self-evidently an offensive, boorish creature but is a symptom, not the cause, of cricket's dated attachment to outmoded rules of machismo.
The real courage inheres in Trott, admitting to a condition that carries unacceptable stigma and returning home to fight a battle that for many is never completely won. We wish him well in his struggle. Warner is probably lost to us forever, sledging himself silly in his swamp of incivility.
He wasn't to know that Trott was torn by personal crisis, but at least the England batsman's departure has shone a light on a thug culture that has nothing to do with competitive spirit. Armed with a forthright sense of what so many believe Aussieness to be, Warner felt it acceptable to belittle and embarrass an opponent on the field with the tacit understanding that this falls within the limits of legitimate behaviour.
Warner was the kid who ran around the schoolyard terrorising sensitive souls with cries of "scaredy cat, scaredy cat". That attack on Trott showed he still occupies the same mental space.
Trott was fortunate he didn't take a right hand on the whiskers, which was the fate of Joe Root last summer when Warner waded into the youngster's personal space and punched him in a night spot.
Warner's captain, Michael Clarke, leads by example, threatening to break the arm of opponents out in the middle. Clarke felt the exchange with Jimmy Anderson fell within the parameters of sporting conduct, though he has subsequently been fined 20 per cent of his match fee. That'll cure him. Not. Warner subsequently muttered something of an apology saying he might have gone too far. Perhaps he and Clarke are feeling a little more contrite today.
Register for free to continue reading
Registration is a free and easy way to support our truly independent journalism
By registering, you will also enjoy limited access to Premium articles, exclusive newsletters, commenting, and virtual events with our leading journalists
Already have an account? sign in
Join our new commenting forum
Join thought-provoking conversations, follow other Independent readers and see their replies