Ashes 2013-14: Graeme Swann reveals he retired from England because he no longer thought he was good enough
The spin bowler quit midway through the disastrous tour of Australia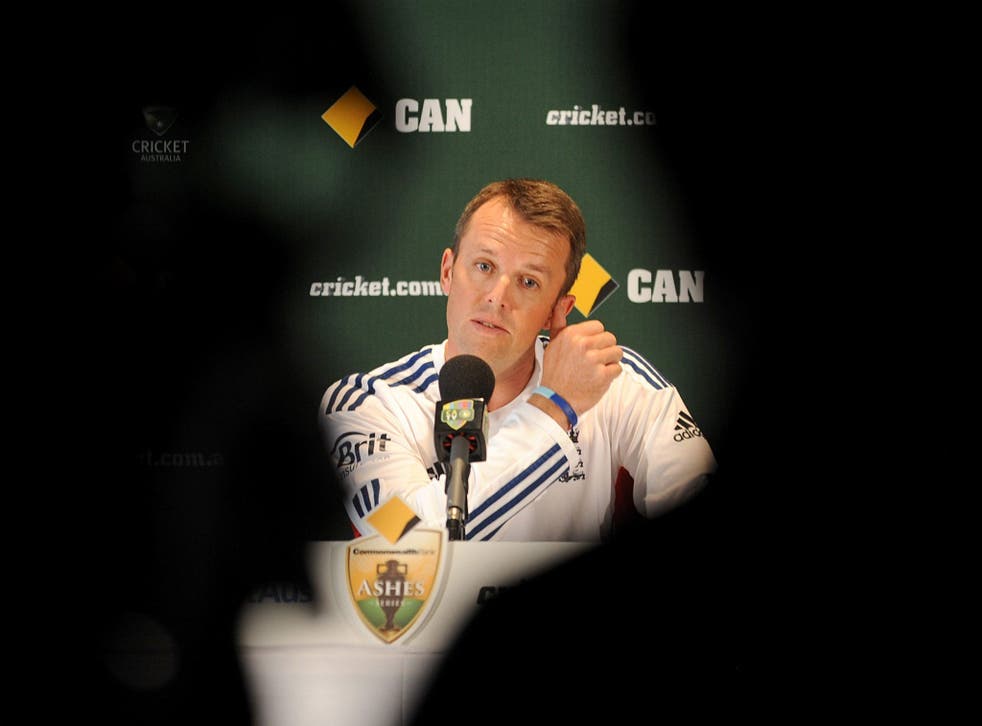 Graeme Swann has defended his decision to leave midway through England's tour of Australia, admitting he could not continue playing because he no longer believed he was good enough.
The spinner faced the wrath of commentators, former players and fans alike when he announced his immediate retirement after England's surrender of the Ashes was confirmed following defeat in the third Test at the Waca.
The tourists went on to suffer a 5-0 whitewash at the hands of the Australians, with Swann's decision to quit all forms of cricket cited by some as a factor in making the tour the worst by an England side in Ashes history.
Swann, speaking on Monday night's Not Just Cricket show on BBC Radio 5 Live, admitted that it looked bad to walk away when he did but could not accept some of the criticism levelled at him.
"I understand the fact that we lost and it looked like I was jumping ship," he said. "I'd have loved to have been part of the last two weeks, but once I said to Andy [Flower, the coach] that I can't do the job, he said, 'Well, we have to get someone else in then'. I can't just stay on holiday for two and a half weeks, ferrying drinks around and patting people on the bum saying, 'Keep going, lads, chins up'. That would be lovely, but to walk away from it all was the hardest thing to do."
The 34-year-old, who is England's sixth-highest wicket-taker with 255 in Tests, said he had expected the captain, Alastair Cook, to drop him for the third Test, such was his poor form going into the match, but having been selected, Swann soon realised in Perth that the game was up.
"It was very hard telling Cooky in the first instance, because he's such a good mate. He spoke to me before the Perth game. He called me downstairs, and I fully expected to be dropped after the way I played in the first two games.
"And I'd come to peace with that, I was fine with it. But he said, 'I need to know you've still got the fire in there, and you can still go out there and really fight for me', and I said, 'Of course I have. I've got the fight, whether I've got the skill any more is another thing, but I'll fight my nuts off for you.'
"After the Perth game, I proved to myself during that game when Shane Watson was hitting it at will for six and I was powerless to stop it, how could I possibly carry on when I know that I can't do the job I'm paid to do any more? Can't put enough spin on the ball to have enough control to worry good batsmen any more.
"So people saying, 'You should definitely have carried on playing', I just don't understand that. If someone has come to the realisation that they're not good enough, why would you want them to keep playing?"
Register for free to continue reading
Registration is a free and easy way to support our truly independent journalism
By registering, you will also enjoy limited access to Premium articles, exclusive newsletters, commenting, and virtual events with our leading journalists
Already have an account? sign in
Register for free to continue reading
Registration is a free and easy way to support our truly independent journalism
By registering, you will also enjoy limited access to Premium articles, exclusive newsletters, commenting, and virtual events with our leading journalists
Already have an account? sign in
Join our new commenting forum
Join thought-provoking conversations, follow other Independent readers and see their replies