Ashes 2013-14: Ian Bell points to Ben Stokes as the sole shining light
England look for the positives as the Ashes slip out of their grasp
Stephen Brenkley
Monday 16 December 2013 19:11 Comments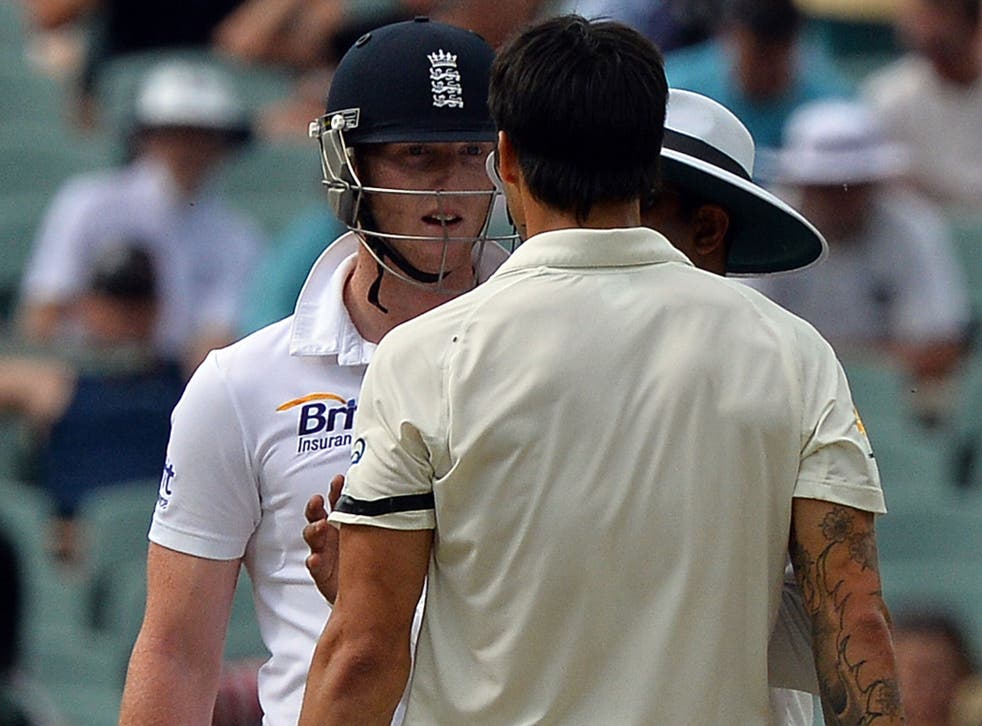 In the darkest hour, England might, just might, have found a glimmer of light. Ben Stokes came on this tour, it was said, to learn the rudiments of Test cricket, to be around the dressing room.
He will leave it as the all-rounder of the present and the future, a future that could extend for a decade. There is much yet to do but what raw material there is to work with.
Stokes stood up to be counted on the fourth day when England were faced with a ludicrously nominal 504 to win and made 72 cleanly struck runs to keep Australia's finest at bay. He came in after Kevin Pietersen and plonked a lofted drive down long on's throat when England were trying to save the match, the series and the Ashes.
Stokes had already shown his willingness for the fray when bowling. He runs in without complaint and with plenty of whizz. In both the matches he has played he has robustly declined to allow the Australians to bully him.
With Ian Bell for a few overs in the afternoon he was briefly commanding. Coming after the deprivations of the morning, when England were battered from pillar to post and back again, it was almost heartening.
"He has a massive future ahead of him," said Bell. "The way he can play quick bowling and the way he can hit down the ground and his attitude with the ball. You never see him moan about anything, just gets on with it, runs in all day. He has shown what he can do with the bat and it's exciting. Ben's a quality player and impressed from the first net I saw him in at the Waca when we arrived. He took on all our quicks with the hook shot."
But the advent of Stokes, if that is what this is, amounts for now to mere compensation amid considerable wreckage. England at least have offered no excuses for their abjectness and Bell was especially candid after his innings of 60.
"Australia have been fantastic in all departments," he said. "They have batted better than us, bowled better, and fielded better. I don't think we have shown anyone the cricket we can play. We know what quality there is in our dressing room but we just haven't been able to get it out."
Explanations aplenty will be sought in the next few days because the margin between the sides has grown. England began this series as short-priced favourites. "You can train as hard as you want but sometimes it just doesn't happen," Bell said. "It's not through lack of desire, hunger and fight. We have spoken about it. We haven't got big first-innings scores for a while now."
On Pietersen's dismissal, Bell added: "Kevin will be as frustrated as anyone. But I'd rather have him in my team than play against him. OK, he might do that every so often – but he wins you a game from nowhere as well.
"We're doing everything we possibly can to get back to the good habits we used to have because we're not going to win much Test cricket without it. We have got some new guys in the top six and it's going to take a bit of time for them to settle but all we can do is keep going." The only place England keep going at the moment is disaster.
Register for free to continue reading
Registration is a free and easy way to support our truly independent journalism
By registering, you will also enjoy limited access to Premium articles, exclusive newsletters, commenting, and virtual events with our leading journalists
Already have an account? sign in
Join our new commenting forum
Join thought-provoking conversations, follow other Independent readers and see their replies