Ashes 2015: 'Alastair Cook was far too defensive - we certainly won't do that,' says Steve Smith
Australian batsman targets England captain after scoring his first century at Lord's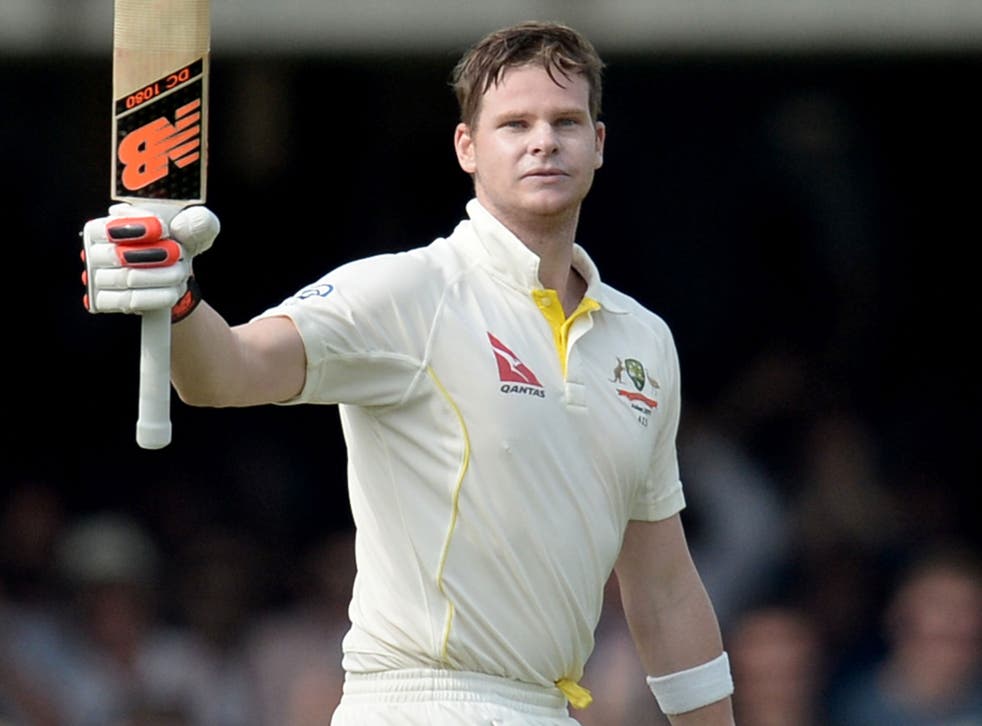 Steve Smith celebrated his first Lord's century with a huge swipe at England captain Alastair Cook after one of England's worst days with the ball in recent Ashes cricket.
The unbroken stand of 259 between Smith and Chris Rogers is Australia's best in Tests in this country since 1997. As is their habit, the tourists did not miss the chance to revel in their success and will be aiming for a total in excess of 600 that could knock the stuffing out of England.
After finishing unbeaten on 129, Smith turned his fire on Cook. If the latter is thinking of extending another invitation to the opposition to share post-match drinks, he might reconsider when he hears this.
"I was a little bit surprised that [England coach] Trevor Bayliss would allow Alastair Cook to have a deep point for as long as he did," said Smith. "It was a good pitch to bat on but they got defensive quite quickly. I know that's one thing we're certainly not going to do."
On a lifeless wicket, Australia won a crucial toss and set about regaining a foothold in the series. England's 169-run win in last week's first Investec Test upset the pre-series odds and shook Australia out of their complacency.
Rogers, who will resume on 158, admitted that Australia had been surprised by England's performance in Cardiff, but that it was exactly the shock they required.
Australia claimed a 5-0 whitewash in the 2013-14 Ashes and won the World Cup earlier this year, also on home soil. They arrived in England after a comfortable 2-0 series victory in the West Indies.
"We came into this series riding a crest of a wave and thinking we were just going to come in and take England down," said Rogers. "To suffer a heavy loss like the one at Cardiff put us back in our place and made us question ourselves a little bit.
"When you're having a tough time, it comes down to individuals to change the momentum. Hopefully Steve and I have made a bit of a statement and showed our changing room that we can get the upper hand on England."
Rogers knows Lord's well having played here for Middlesex and he added: "I don't think it's a typical county wicket at all. There is usually a bit more in it.
"But I'm hopeful that it's drier than usual and that it will just start to play tricks. If we can bowl at the stumps, balls might start to misbehave a little bit and I think spin is going to be crucial as well.
"We saw during the 2013 Ashes Test at Lord's [when Graeme Swann took nine wickets] how important that can be. It's not a typical Lord's wicket but we're in a great position and we're going to put a lot of pressure on England. That could make a difference as well."
If David Warner had not played such a rash stroke at Moeen Ali, Australia might have gone through the day unbeaten. England fast bowler James Anderson said: "I wouldn't choose to bowl on that wicket but that's what we've been given for the week. Test cricket is about adapting your game to take wickets on any surface. We didn't bowl well enough to create more chances and take wickets.
"You don't want the toss to make such an impact but we'll hold off on judging the pitch too much until both sides have batted on it. We have to turn up with smiles on our faces and try to make inroads with the new ball if we can."
Register for free to continue reading
Registration is a free and easy way to support our truly independent journalism
By registering, you will also enjoy limited access to Premium articles, exclusive newsletters, commenting, and virtual events with our leading journalists
Already have an account? sign in
Register for free to continue reading
Registration is a free and easy way to support our truly independent journalism
By registering, you will also enjoy limited access to Premium articles, exclusive newsletters, commenting, and virtual events with our leading journalists
Already have an account? sign in
Join our new commenting forum
Join thought-provoking conversations, follow other Independent readers and see their replies