Ashes 2015: Australia's Mitchell Starc and Josh Hazlewood hatch simple plan to prolong England's misery
Softly spoken NSW pace bowlers set to lead Australia's attack having learnt from Johnson how to seize an Ashes moment
Jack Pitt-Brooke
Monday 06 July 2015 00:54 Comments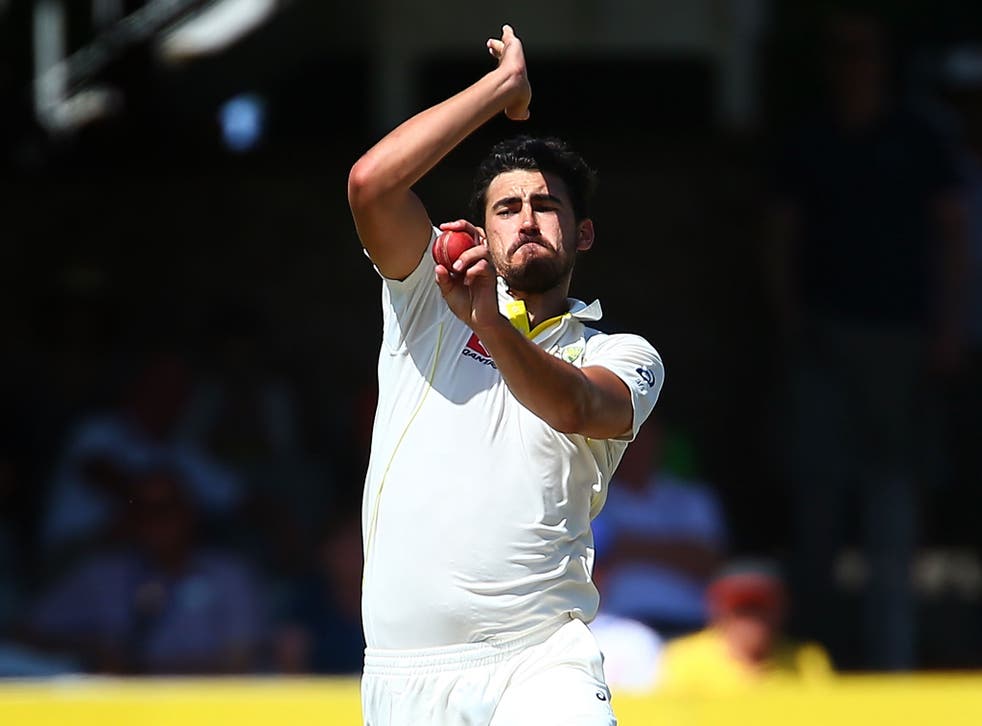 Anyone curious about how Mitchell Starc handles pressure, attention and expectation need only remember what happened three months ago, when he bowled the first over of the World Cup final.
In front of a Melbourne Cricket Ground packed with 93,000 fans, Starc bounded in and decapitated New Zealand, dismissing Brendon McCullum for a three-ball duck. The Kiwis never got off the ground. Australia strolled to victory.
Starc was the clear hero of Australia's World Cup win. He took the Player of the Tournament award after finishing with figures unprecedented in the competition's current format: 22 wickets at an implausible average of 10.18, with a throwback economy rate of 3.5.
That remarkable World Cup sent Starc to the top of the one-day rankings. He is, at 25 years old, the hottest fast bowler in the world right now. Mitchell Johnson, who destroyed England in the last Ashes series, will always be a compelling force. But Starc is their new spearhead. After the sudden retirement of Ryan Harris owing to a knee injury, Starc – along with 24-year-old accomplice Josh Hazlewood – could be the difference between the two teams this summer.
Matt Prior rates England and Australia

Show all 30
Starc and Hazlewood have a lot in common. They are both from New South Wales and were born 12 months apart. They are both softly spoken, confident without being cocky, sportingly aggressive but not unpleasant. They are modern multi-format cricketers, precisely coached by Craig McDermott, utterly at home in Darren Lehmann's free-wheeling Australian set-up. They both starred in the World Cup, and then in the West Indies. Now they are desperate to impress in the biggest Test series of them all, which starts in Cardiff on Wednesday.
"You don't know you're ready until you step out in Cardiff," said Hazlewood last week, before playing in the final warm-up against Essex. "Being on the inside this time, instead of watching from outside, it's such a big build-up and a massive hype in the group. Everyone is so excited to get started."
Starc and Hazlewood come into this series with no experience of how it feels to win an Ashes Test. Starc played in two draws and one defeat on the 2013 tour, taking 11 wickets at an average of 32. He was not involved in the whitewash six months later. Hazlewood only made his Test debut last December.
Both, then, have something to prove here this summer and are conscious of the pressure they will face. Hazlewood has spoken to Johnson about the unique demands of Ashes cricket. "It's not always smooth sailing," he said. "There is the crowd to get used to, you have to block it out or find your own way of dealing with it."
Of course, either bowler could sink when it all begins in two days' time. But England should not bet on it. Both are in form, following their great World Cups with an impressive two-Test tour of the Caribbean, where they both outbowled Johnson, ensuring that they will play in Cardiff.
Starc's skills, though, equip him perfectly for English conditions. He is a fast left-armer – like Johnson – except he bowls fuller and swings the ball more. "I enjoy swinging the Dukes ball around," Starc said, relishing the prospect of the English conditions. "It is starting to happen for me over the past six months with the red ball, getting that consistency of swing and getting it to reverse as well. So I take confidence from how I move the ball around."
While Starc is not averse to bowling short, he is an incisive bowler rather than an intimidating one. "I am not the same all-out-aggression like Mitch [Johnson] or James Pattinson," he explained. "And I am not going to change the way I play just for one series. I am not one to chirp the batsman when I'm bowling. I am just trying to concentrate on doing my own thing."
That is what Starc has been doing ever since the tours of Zimbabwe and the UAE in summer 2014, when he finally found some consistent rhythm, which took him through to his triumphant World Cup. "I reassessed things with Craig McDermott and sat down with the senior guys," Starc explained. "I have probably gained a yard of pace too. But that consistency – which is what I was questioned about, and was trying to find – is getting where it needs to be. I am starting to see results."
Consistency, though, has always been the great strength of Hazlewood. He was just 19 when he made his Australia debut, in an ODI in Southampton, four months before Starc first represented his country. Hazlewood, like Starc, has developed fast over the last few years, earning repeated comparisons with his boyhood hero Glenn McGrath.
Hazlewood, like McGrath, grew up out in the country in New South Wales before moving into Sydney to play cricket. Both are metronomic and accurate, steepling the ball from on high down on to a perfect length. It is not a comparison that Hazlewood shies away from.
"Our stories are similar," Hazlewood said. "It is a great compliment whenever I read my name anywhere near his. It's not a burden at all. He is the best quick Australia has ever had, so to be compared is pretty exciting."
Hazlewood and McGrath have worked together at the MRF Pace Foundation in Chennai, which McGrath directs. "It's pretty simple," explained Hazlewood, distilling the McGrath formula as concisely as possible. "Hit that spot the batsman doesn't want, swing it a bit each way and with the odd bouncer. He didn't have much more to say. It's a simple plan. It's about doing it over and over again."
That plan allowed Hazlewood to push his way into the World Cup squad this year. He played five games and took seven wickets at 25, at a respectable economy rate of 4.10. Those performances earned Hazlewood a place on the West Indies tour, where his 12 wickets put him on the flight to England. Now Starc and Hazlewood are here, ready not just to support Australia's attack but to lead it.
Register for free to continue reading
Registration is a free and easy way to support our truly independent journalism
By registering, you will also enjoy limited access to Premium articles, exclusive newsletters, commenting, and virtual events with our leading journalists
Already have an account? sign in
Join our new commenting forum
Join thought-provoking conversations, follow other Independent readers and see their replies