Ashes 2015: Australia's reasons for defeat to England are complicated, the problems intractable
COMMENT: The tourists arrived with an air of invincibility
Ian Herbert
Saturday 08 August 2015 18:38 Comments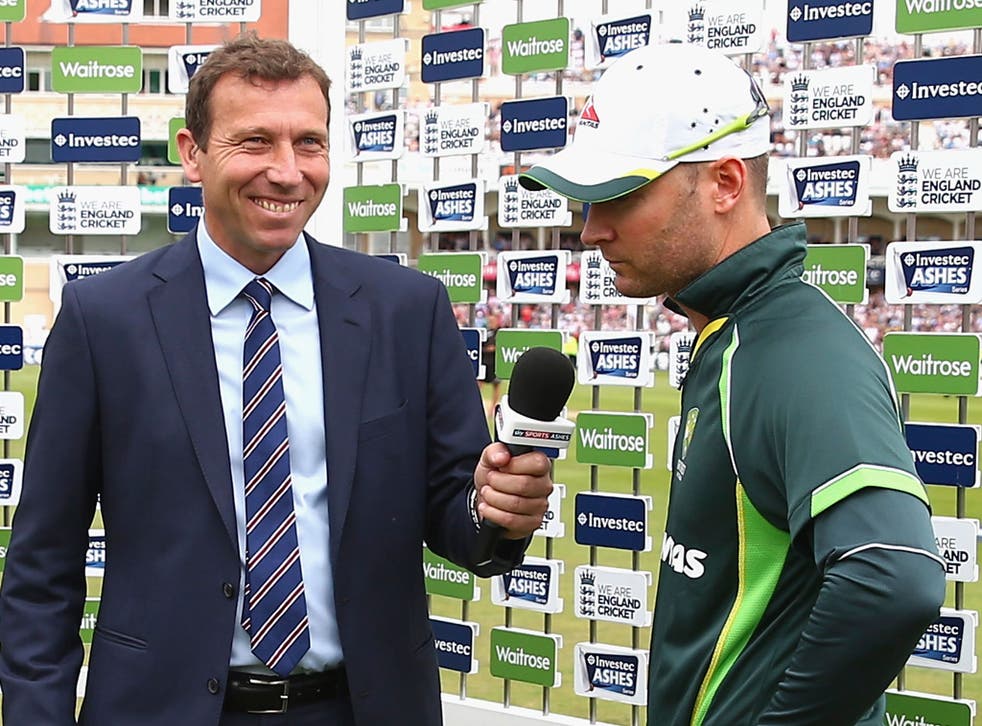 It was a cri de coeur on behalf of the Australian players that we heard from Michael Clarke in the aftermath of defeat, rather than any kind of self-absorption. "We need to give them a good opportunity and not write them off when we see a few bad performances. Stick with them through the tough times," Clarke said. "That's one thing I would love to see improve, especially in the Australian media. I think we can stick with strong players… rather than write them off."
Ricky Ponting had predicted that six or seven of Clarke's squad may have played their last Test. But it was hard to argue with the impressive exhortations of the current captain – until The Oval Test at least – though the Australian difficulties run immeasurably deeper than negative write-ups. What we have witnessed across a mere 13 days of Test cricket has been the evisceration of a team who arrived on these shores with an air of invincibility; buoyed by a narrow series win in South Africa, a 2-0 win in West Indies and home success over India since humiliating Alastair Cook's players 5-0 in the winter of 2013. Nobody foresaw what has happened. The reasons are complicated, the problems intractable.
The size of the competitive challenge was a part of it. No player in world cricket might have coped with what Ben Stokes continued delivering yesterday morning. One Australian described a sense that "every ball felt like a new ball" at times across the past two weeks in the English Midlands. The ball's deviation became more accentuated after 70 overs. No manner of preparation and precalculation can contend with that. Yet there is an Australian complacency about dealing with other nations' territory. The accumulative record in India, Pakistan, England and South Africa in the past five years tells the story: won four, drawn two, lost 14.
Ashes 2015: Fourth Test in pictures

Show all 34
There had been a national obsession about technical preparations for coping with spin which India brought into last winter's four-Test series in Australia, which the hosts won 2-0, while the conversation about swing and seam here was virtually non-existent. You would have thought that the 14 years since they last won a series on English soil might have told them there was something to think about.
Australia hoped that two players with county cricket experience would help bail them out – a notion that was as well-founded in the case of Chris Rogers, whose 62.42 puts him way out in front among Australia's series batting averages, as ill-conceived in the case of Adam Voges and his 20.83. The stellar batmen would cope because they are stellar, seemed to have been the general assumption. Compare 2001, when the Waugh brothers, Damien Martyn and Matthew Hayden, to name just four of that series' top six Australian run accumulators, knew all about this turf. That vintage also happened to be the most gifted collection of players Australia has ever assembled. The problem now is persuading young players that English county cricket is worth their timewhen there is the all-consuming, destructive Indian Premier League to consider.
Neither is there an abundance of players coming through. When Clarke was 23, Australia rejoiced at the prospect of a certain star of the future. The batsmen now being proffered as names for the future like Queensland opener Joe Burns, 25, and Pakistani-born Usman Khawaja, re-emerging at 28 after an anterior cruciate ligament injury,are not in the first flush of youth. They are as good as they are going to get.
They do offer promise. The pair have just made centuries together in Australia A's 50-over game against India in Chennai. Burns, is thought likely to be brought in for the one-day series. Also in contention for a future under Steve Smith's captaincy is Cameron Bancroft, 22, the Western Australia batsman who scored 150 in the second unofficial Test against the Indians. Beware loud claims for the merits of the latest heavy run-scorers, though. Voges elbowed Burns out of this Ashes squad because of his mountainous tally of Sheffield Shield runs.
The bowlers to look for may be James Pattinson and Jordan Silk, though whichever way you cut it, this does not look like a rich seam for an era in which Clarke, Voges, Rogers, Brad Haddin, Shane Watson and Peter Siddle are all likely to be history. There are seven months to prepare for Australia's next major overseas challenge – the South Africa tour of next March. Visitors may well be swept aside on Australian soil by the flat-track bullies of international cricket, but they came up came up desperately shorthere.
"I think we need to be patient," Clarke said yesterday. On that point, he was right.
Register for free to continue reading
Registration is a free and easy way to support our truly independent journalism
By registering, you will also enjoy limited access to Premium articles, exclusive newsletters, commenting, and virtual events with our leading journalists
Already have an account? sign in
Register for free to continue reading
Registration is a free and easy way to support our truly independent journalism
By registering, you will also enjoy limited access to Premium articles, exclusive newsletters, commenting, and virtual events with our leading journalists
Already have an account? sign in
Join our new commenting forum
Join thought-provoking conversations, follow other Independent readers and see their replies