Ashes 2015: Ben Stokes tells Australia he will not back down in heat of Test series
'I'm definitely expecting there to be some feuds out on the pitch,' says England batsman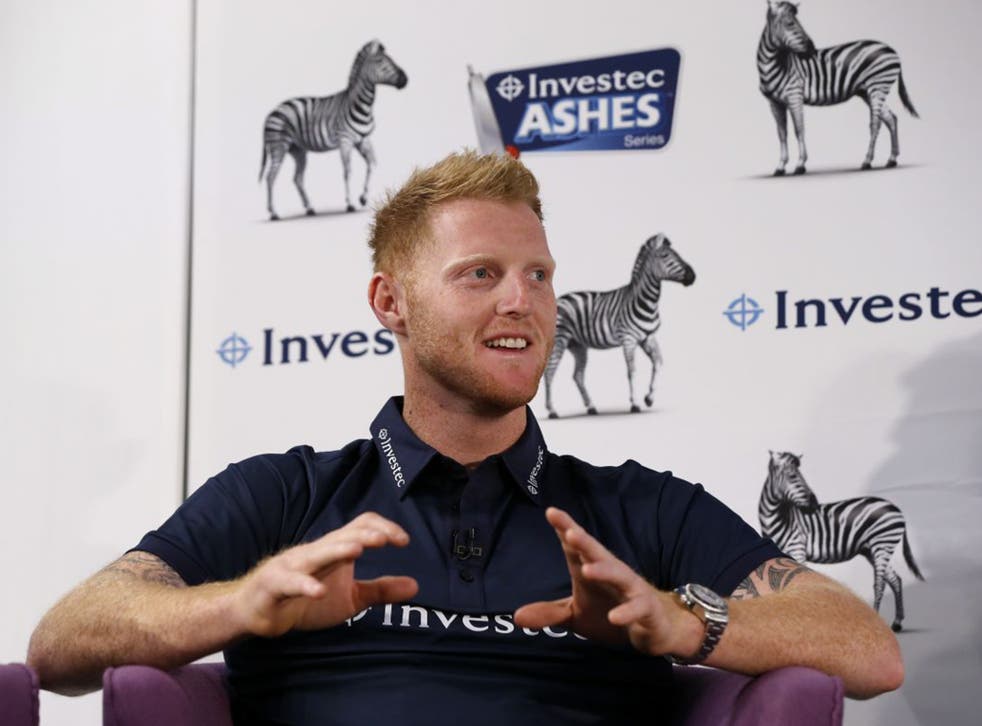 Ben Stokes has promised to handle Australian aggression in the Ashes by going toe to toe with their most hostile characters.
There is little chance that the series, which starts in Cardiff on Wednesday, will be played in the pleasant spirit that characterised England's two Tests against New Zealand earlier this summer. The tourists have made it clear that theirs will be a far more hostile approach, with captain Michael Clarke admitting they would "headbutt" the boundaries of acceptable behaviour. But if there is to be sledging then Stokes has a clear message for his opponents: bring it on.
Even though Stokes was riled by Marlon Samuels during England's tour of the Caribbean in the spring – the West Indies batsman mockingly saluted Stokes after a dismissal – he has no intention of stepping back from confrontation.
"It sounds like all I want to do is fight them," he joked. "Will they salute? I can't imagine it but it will be good banter if they do. I'm definitely expecting there to be some feuds out on the pitch but I won't go looking for it. If anyone comes at you on a pitch in a heated moment then no one in our squad will shy away.
"We've all got our different ways of dealing with it. Some walk away from it but I'm at the other end of the scale. I would look them in the eye and probably say something. It's definitely a strength.
"It's about being in a battle and in a battle you don't want to be the loser. If I get involved I don't want to take a backward step and let them think they're on top of me. I don't want to let them think they can get away with it and say what they want.
Classic Ashes moments

Show all 15
"If there are any incidents, they will probably be when I'm bowling. There is a lot more adrenalin and my emotions do come out a lot more when I'm bowling.
"Everyone knows that if they try to pick a battle with someone on our team, that person will have the other 10 guys there right behind him.
"It doesn't necessarily mean they will gather round and start throwing punches, but if something is going to happen then we know we've got the other 10 guys out there on the pitch."
Stokes was one of the few success stories of England's disastrous 2013-14 Ashes campaign, when Australia claimed a 5-0 whitewash Down Under. He was unfazed by Australian hostility and earned his opponents' respect through his bullish performances.
Stokes, 24, scored a century at Perth in only his second Test and, although injuries and loss of form hindered his progress, he looks to be on the right track once more. His remarkable hundred – from 92 balls – against New Zealand at Lord's in May laid the platform for England to win that Test. Stokes was elevated to the No 6 spot for that match by interim coach Paul Farbrace, and the decision paid off.
Now Stokes approaches the Investec Series as one of the men Australia fear. While it is premature to draw parallels with England's great all-rounders, not since Andrew Flintoff have they had a cricketer capable of winning a Test with either bat or ball. Flintoff's career was defined by his fine performances in the 2005 Ashes.
Stokes says he has not contemplated a similarly life-changing experience but he is hungry to extend Australia's lean run in this country, where they have not won a Test series since 2001. "The 2013-14 series was my first taste of the Ashes and it didn't go well but there are some wrongs we want to right," Stokes said.
"This is the first Ashes series at home for me, but there are guys who have won it before but lost last time so they want to get the Ashes back. There are lots of reasons in the camp for wanting to get them back. I take some confidence from how I performed in that Test at Perth, against a similar type of bowling attack."
Meanwhile, Stuart Broad believes Mitchell Johnson will struggle to repeat his devastating form in the last Ashes series this summer. Johnson took 37 wickets in the 2013-14 campaign. "I expect us to cope with him better than we did," Broad said. "We'll have to. He had an incredible series so we have to play him a lot better here but we have a lot of talent. Our batsmen have experience of scoring a lot of runs here."
Register for free to continue reading
Registration is a free and easy way to support our truly independent journalism
By registering, you will also enjoy limited access to Premium articles, exclusive newsletters, commenting, and virtual events with our leading journalists
Already have an account? sign in
Register for free to continue reading
Registration is a free and easy way to support our truly independent journalism
By registering, you will also enjoy limited access to Premium articles, exclusive newsletters, commenting, and virtual events with our leading journalists
Already have an account? sign in
Join our new commenting forum
Join thought-provoking conversations, follow other Independent readers and see their replies