Ashes 2015: Jason Gilliespie's 'Dad's Army' jibe only increases ageist prejudices in sport
Comment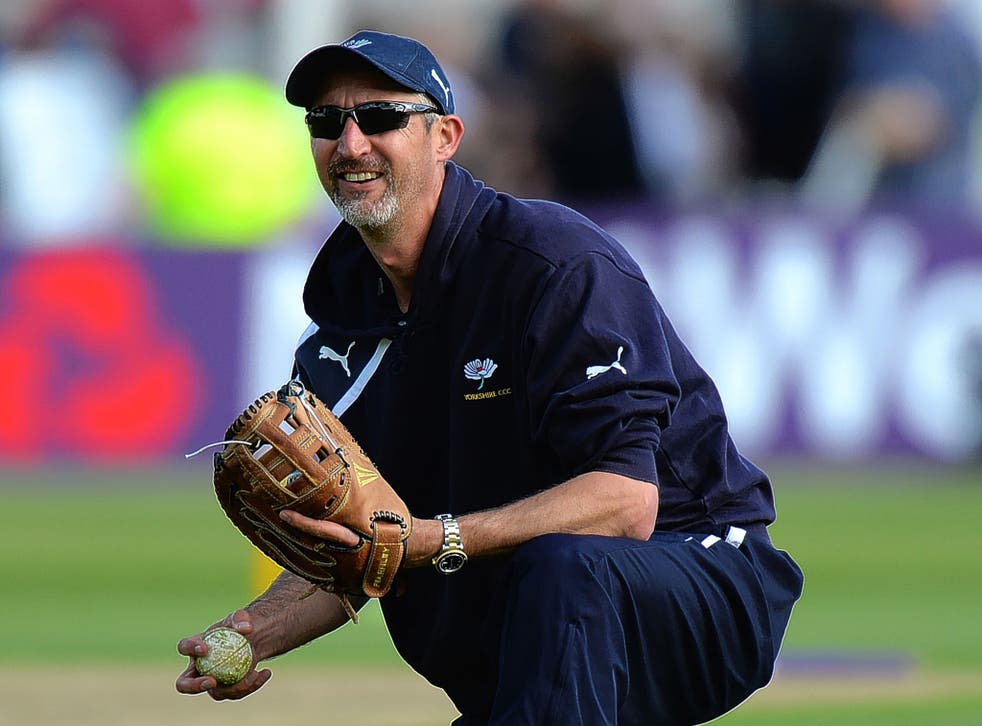 Jason Gillespie's 'dad's army' jibe reveals the disconcerting age policies that encourage prejudice against cricketers who are no longer in their twenties.
The former Australian bowler and current Yorkshire mentor's remark implied that Australia's squad is too old to beat England in the Ashes due to that fact that 10 of their 17 players are over the age of thirty.
"Let's get them tired," Gillespie said in an interview with the Daily Mirror, "they're old blokes."
While Gillespie's quip confirms that the world of sport has always been affected by ageist ideology, it is not the only indication of a youth fetish among cricket officials.
Only three months ago two former umpires were removed from their posts by the England and Wales Cricket Board (ECB) and lost their legal battle after a tribunal ruled out that they were at their age, 'too slow for cricket'.
The decision came about when it was ruled out that Peter Willey (65) and George Sharp (64) were unfit for the role and told that they would not be able to stand the mental and physical pressures of the game.
The two men share 45 years of umpiring experience between them, with Willey being one of England's most tenacious batsmen of the 1980s, having won 26 Test caps for England and having stood as umpire in 25 Tests.
Nonetheless, they were dismissed because they no longer fitted into the age criteria. The ECB's umpires' manager, Chris Kelly, had no evidence to support his decision. His claim that the pair would struggle to perform beyond the traditional retirement age were based on his own judgments and he told the hearing, "it's common sense".
So are older cricketers, like pension-aged umpires, restrained by the fetters of age? Do the members of the Australian Ashes squad really not stand a chance against their younger English counterparts in the first Ashes Test this July? Or is Gillespie's assumption, like the ECB's umpire age policy, simply part of the baseless judgment that older cricketers are subjected to, revealing a pattern of ageist ideologies in cricket?
The myth that younger players are more likely to succeed should be broken. Sachin Tendulkar made history at the age of 39 when he became the first ever player to score his hundredth century and a record-breaking one-day double century (aged 37).
The over-30 members of the Australian squad have also previously displayed great stamina and unparalleled moves that challenge the incompetence implied by their new 'dad's army' label.
Captain Michael Clarke, 34, has suffered multiple injuries which threatened to end his career but he rose above them to lead his team to victory at the World Cup and achieved a series win against the West Indies. The squad also includes wicketkeeper, Brad Haddin (37) who secured Australia's victory against the West Indies with a mind-blowingly skilful hands-free catch. This is proof that excellence in cricket is not determined by age.
"Cricketers should be judged by their performances," Tony Box, associate director of Elite Sports Properties, a talent management firm, told The Independent.
"Age shouldn't come into it. Of course experience matters, particularly in England and on a long tour.
"The issue of ageism in cricket will always be debated as teams need to balance current needs with the needs of the future."
Register for free to continue reading
Registration is a free and easy way to support our truly independent journalism
By registering, you will also enjoy limited access to Premium articles, exclusive newsletters, commenting, and virtual events with our leading journalists
Already have an account? sign in
Register for free to continue reading
Registration is a free and easy way to support our truly independent journalism
By registering, you will also enjoy limited access to Premium articles, exclusive newsletters, commenting, and virtual events with our leading journalists
Already have an account? sign in
Join our new commenting forum
Join thought-provoking conversations, follow other Independent readers and see their replies