Ashes could be in danger as Australian cricketers threaten strike action in defence of domestic players
David Warner this week warned that the Ashes could be in danger, as Australia's elite cricketers take a stand in defence of a revenue-sharing model that protects domestic players
Tuesday 16 May 2017 16:04 Comments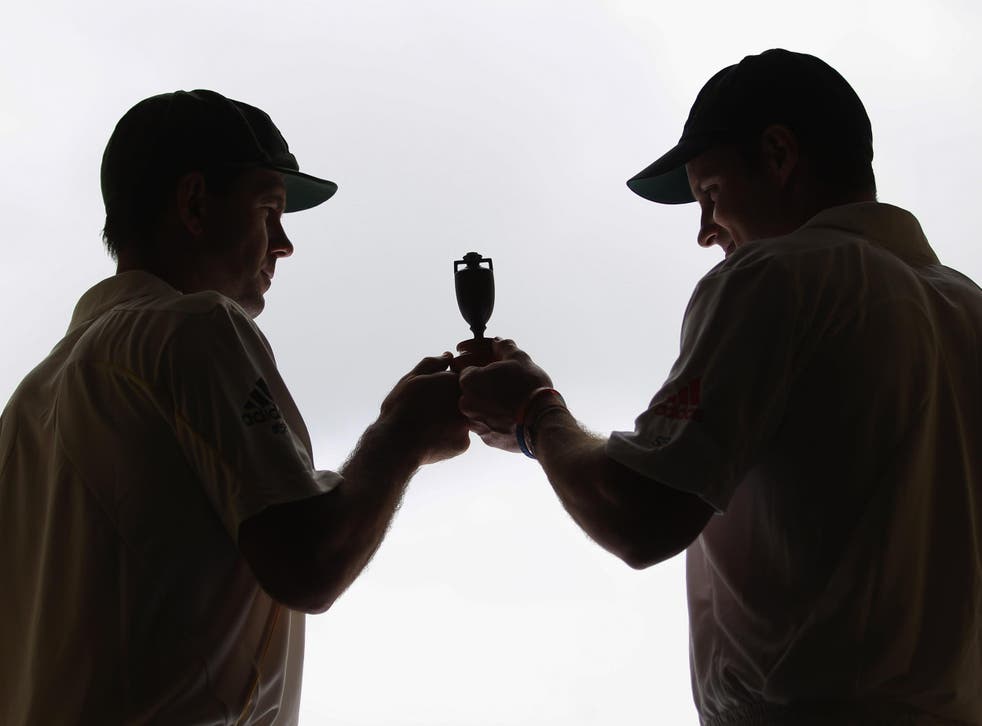 The potential strike by Australian players over contracts could force a global rethink on how the world's top cricketers are rewarded.
That's the view of the head of the international players' union (FICA), Tony Irish, who tells the Independent that the ongoing dispute Down Under could have a huge impact on the central contract model that has been in place in English cricket since 2002.
Aussie opener, David Warner, this week warned that the Ashes could be under threat as a result of the intransigence of Cricket Australia, who want to end the revenue-sharing model that has been in place for two decades.
The players, for their part, want that model to continue despite being offered a salary hike by their sport's governing body back in March.
Domestic cricketers in Australia's Sheffield Shield would be hit hardest by the move, with Alastair Nicholson, the chief of the Australian Cricketers Association (ACA) expressing fears that young players would turn their back on First Class cricket and focus their attention purely on Twenty20, cricket's most lucrative format.
It's at the top end of the game, though, where the ramifications of the hard-line stance taken by both sides could be most keenly felt – something the ECB will be all too aware of.
"What's happening is going to impact a lot of players' associations one way or the other," says Irish. "It's going to impact the international environment too. There is a constant struggle between international cricket and the movement of players to the leagues. A lot of boards around the world are in a fight to retain their players.
"England and Australia have been insulated from that for quite a while because they're big enough boards who are able to pay their players well and keep them playing international cricket despite the trend of free agency, which we've seen happening widely elsewhere.
"As a board you want to make sure that you retain your best players, that's where their first loyalty lies. Cricket Australia is moving to a situation where their players are no longer a stakeholder in the game – if you wanted to retain those players you would think they would be moving in the opposite direction."
The ECB has been spared the worst of the tug-of-war between country and franchise in the past, primarily as a result of England's players being some way down the wish-list of most Indian Premier League owners.
That, though, has changed dramatically this season, with the likes of Ben Stokes, Chris Woakes and Jos Buttler all missing the start of the domestic campaign for stints in the competition.
"Everything is moving in the direction of the T20 leagues," says Irish. "Broadcasters and commercial stakeholders are putting their money there because the leagues are attractive and, crucially, have context and are filling stadiums. England is a little bit different because Test cricket is so strong in England.
"Administrators need to be working as hard as they can to improve the international product, making sure that Test cricket is as good as it can be. Players also need to be fairly paid for playing Test cricket. England produce very good T20 players and a lot of their players are in great demand. The game has to strike the right balance between international cricket and the leagues. What's happening in Australia isn't helping that."
Paul Marsh is the former chief executive of the Australian Cricketers Association, leaving his post in 2014 to take up the same role with the AFL Players Association.
He argues that the advent of Twenty20 cricket has shifted the balance of power away from the boards and towards players who can command huge salaries away from international cricket.
"The players do have more options," he tells The Independent. "When you have more options, then boards no longer have the same power that they used to have. It's not a monopoly anymore. It's completely nonsensical what Cricket Australia are trying to impose.
"Central contracts have been a strength of Australian cricket because they ensured that players would prioritise playing for Australia above anything else. If you asked any player, then they would still like a central contract model but they have to be properly remunerated and all the restrictions and obligations have to be balanced. In many respects the Twenty20 option is a much easier path than the Test cricket one, too.
"I'm sure everyone is watching (events in Australia) but this is about a principal and the players are, quite frankly, insulted that Cricket Australia is trying to break what has been a successful partnership."
Flexibility is perhaps the key word here – a fact that demonstrated again this week when Ben Stokes and Jos Buttler missed the final week of IPL in order to fly home for a pre-Champions Trophy training camp. A typically outspoken Kevin Pietersen described the ECB's decision to bring them home as 'pathetic' – comments which will doubtless draw cheers and tears in equal measure.
The spat Down Under, however, brings into sharp focus the need for central contracts to reflect the environment these players are now operating in.
"I think a lot of the cricket authorities will be looking at this to see whether the players end up getting a better deal in Australia because that's the sort of thing that could create a domino effect," says Rob Wilson, sports finance expert at the Sheffield Hallam University.
"The lack of flexibility of some of the current central contracts needs looking at and resolving, I think."
Re-worked ECB central contracts that placed a joint-emphasis on both Test and short-format cricket back in September were an acknowledgement that the model needs to move with the times. But as the summer goes on more and more focus will inevitable fall on this winter's Ashes and England's bid to retain them Down Under.
The burning question at the moment is whether there will be an Australian side to face.
"It needs to be sorted out sooner rather than later because if these players are no longer under contract at the end of June then what do you expect them to do? They'll go and find other opportunities," says Irish.
"Everyone is hoping this gets resolved because it's in no-one interests for the Ashes to be ruined as a result. That would be catastrophic for Test cricket."
That's something that everyone can surely agree on.
Register for free to continue reading
Registration is a free and easy way to support our truly independent journalism
By registering, you will also enjoy limited access to Premium articles, exclusive newsletters, commenting, and virtual events with our leading journalists
Already have an account? sign in
Join our new commenting forum
Join thought-provoking conversations, follow other Independent readers and see their replies