Ashes 2017: Benign inevitability casts shadow over day three as Australia trundle towards series win over England
England 346; Australia 479-4: The hosts lead by 133 runs after Khawaja's 171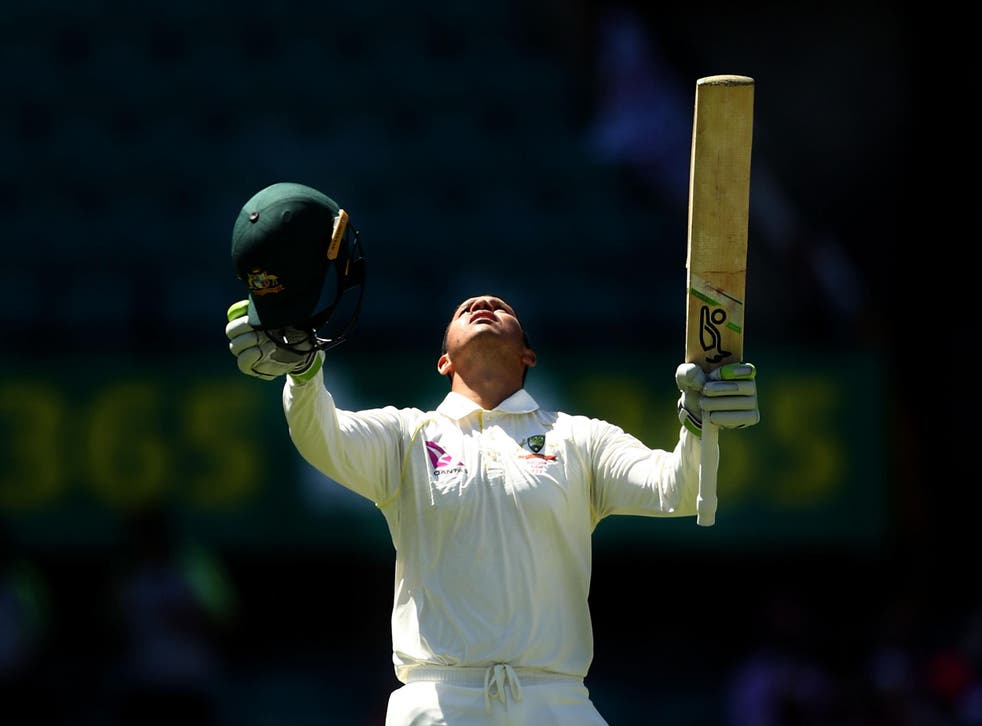 You know those really long car journeys you used to go on as a kid, when all the sandwiches had long since been eaten, all the fizzy pop drained, every single conceivable fleeting diversion and entertainment source exhausted? And yet you were still hours from your destination, or at least so it felt: trapped in this hot metal box, imprisoned with your loved ones, feeling a feeling that really went some way beyond boredom, beyond agitation. Down through the bowels of sadness, out the back passage of despair and into a strange, almost exhilarating quiescence. This was your world now, and for all you knew this would be your world forever.
Late on the third evening at Sydney, this was the place England had reached. A benign and vaguely agreeable calm had settled over them. Australia had been batting all day, had batted the previous day, would probably be batting the next day, and so they were - essentially - trapped in the Ashes. The series had gone, so too this day, and so why rant and rave about it? As Australia nudged past England's total and then disappeared serenely into the distance, it was impossible to escape the sense that England were no longer waving, or indeed drowning, but simply floating: into oblivion, into the abyss, into the sweet kiss of a 4-0 series defeat.
As for Australia, they too were in a sort of bubble, the kind where you feel untouchable, unreachable, elite. Neither the slow pitch nor the slow England attack had anything to trouble them. Most deliveries were barely passing through to Jonny Bairstow at ankle height. As for the England bowlers, well, it was hard to tell them apart after a while. The leg-spinner was all right. The rest may as well have been body doubles. After all, when you are gorging yourself at the buffet, you don't stop to examine the pattern on the plate.
The Ashes Fifth Test in pictures

Show all 27
Usman Khawaja progressed to a maiden Ashes century, nailing down his spot at No3 for the tour of South Africa in the process, cruising to 171 before handing Mason Crane his first ever Test wicket. The Marsh brothers, Shaun and Mitchell, continued the blood-letting into the evening with an unbroken century partnership, and after a day in which they lost just two wickets in 90 overs, Australia should have more than enough time to bowl England out again.
The one surprising absentee from the roll-call was Steve Smith, who was out shortly before lunch for a derisory 83, Moeen Ali taking a low caught-and-bowled chance from around the wicket. Assuming Australia only bat once in this game, that was the last we will see of Smith this series after 687 runs, more than 35 hours at the crease and some of the weirdest leaves ever seen on a cricket field. It is right to describe him as the outstanding player on both sides. It is arguable, however, to describe him as the difference between them.
That much became apparent over the subsequent hours, as England's essential docility was again exposed by Australia's very mortal middle order. Yes, the pitch was slow, but not quite as slow as England made it look. And as Khawaja and then the two Marshes simply accumulated at will and accelerated at leisure, they laid bare the fallacy that England have been just a Smith away from being competitive.
Occasionally they glimpsed an opening. A furious Crane was denied his maiden Test wicket when an LBW review against Khawaja was turned down for a no-ball, with the ball going on to crash into off-stump. Remarkably, the last four England cricketers to take a "wicket" off a no-ball have all been debutants denied a maiden Test scalp: Ben Stokes, Mark Wood, Tom Curran and now Crane. Perhaps they need to measure the net pitches at Loughborough again.
Khawaja was on 132 when that happened. He was on 171 when, shortly after bringing up an inauspicious century of his own, Crane saw him preparing to advance down the pitch, threw the ball out wide, and spun the ball back through the gate. Khawaja lunged at the ball, failed to get there, and long before Bairstow broke the stumps, Khawaja knew his day was done.
As Crane pumped his fists, the coiled energy from two days' work flowing out of him like electricity, Khawaja shuffled slowly away, having played the sort of leviathan innings of which he has always been capable but all too rarely been the bearer. It was his longest ever first-class innings, and just three runs short of his Test best against New Zealand a couple of years ago. Perhaps, at the age of 31 and after numerous false starts, this is finally the knock that catapults him into the big time.
Shaun Marsh survived a review of his own, given out caught behind off Joe Root when the ball missed his bat by daylight. He cut James Anderson away for four to bring up his half-century, and ended the day on 98, taking the single in the final over and rejecting the opportunity to give himself a Waugh-style finish. Mitch Marsh endured a torrid initiation at the hands of Crane, for whom the ball was beginning to turn appreciably. But once he weathered that spell, he sprang into life, indiscriminately attacking England's exhausted bowlers, plundering Moeen's first over back for 16.
The weather forecast for Sunday is brutal, with temperatures predicted to rise into the mid-30s. Australia may well fancy batting for another session, perhaps even two, ensuring they do not simply beat England, but break them. The runs they accrue would almost certainly be superfluous, insult for the sake of insult. But when you are not scheduled to meet in another Test for 18 months, you might as well leave an impression.
England, for their part, may already be broken. Anderson and Stuart Broad were already spent before this Test began. Curran has bowled for the equivalent of four full sessions in this series for a single wicket. The joints are beginning to protest. The dives and sliding stops are getting scruffy. The minds are beginning to retreat into that warm, lost place where no thoughts pass, no ideas bubble, because nothing really matters any more.
Are they there yet? Almost.
Register for free to continue reading
Registration is a free and easy way to support our truly independent journalism
By registering, you will also enjoy limited access to Premium articles, exclusive newsletters, commenting, and virtual events with our leading journalists
Already have an account? sign in
Register for free to continue reading
Registration is a free and easy way to support our truly independent journalism
By registering, you will also enjoy limited access to Premium articles, exclusive newsletters, commenting, and virtual events with our leading journalists
Already have an account? sign in
Join our new commenting forum
Join thought-provoking conversations, follow other Independent readers and see their replies