The Boxing Day Test match is a great sporting tradition, and it is where England must salvage this Ashes tour
In Melbourne for Christmas, Jonathan Liew finds that some traditions are hard to shift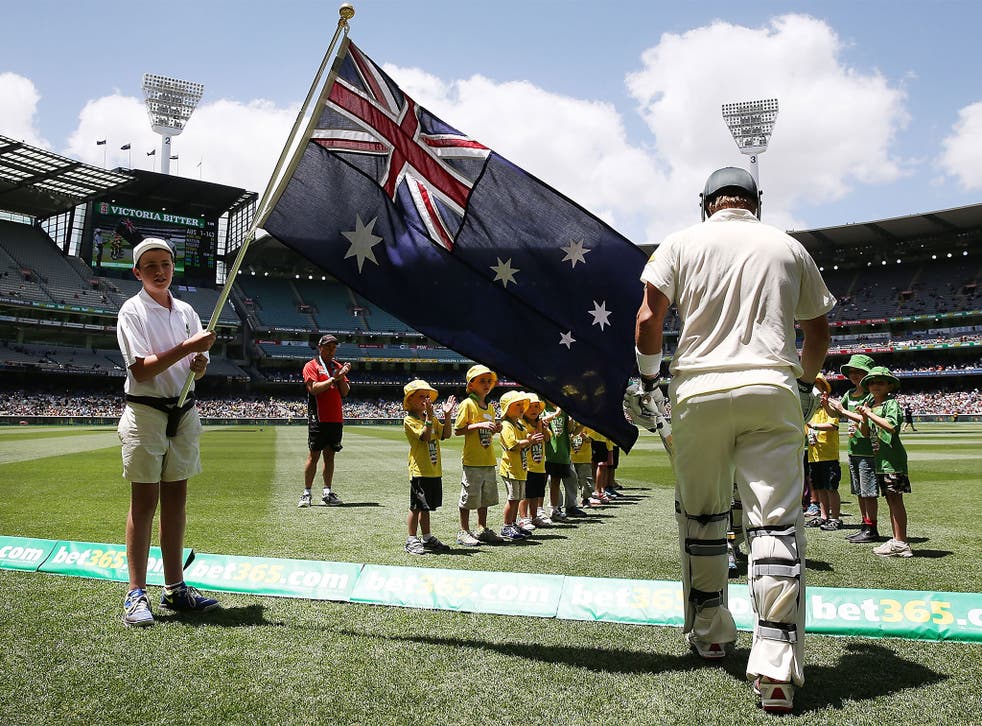 "We've played well in patches. But I don't think we played as well as we can do. The Australians have managed it. Every time we got our foot in the door, they closed it on us."
Duncan Fletcher, January 2007
"We've been dealt some pretty bad cards on this tour, and haven't played the cricket we're capable of. But the way the guys have stuck together in the dressing room has been excellent."
Alastair Cook, December 2013
Australia, like everywhere else, loves its festive customs. Christmas dinner is a more convivial, summery affair: fresh seafood, big bowls of cherries, giant rippling pavlovas on a platter. While Brits put the heating on and watch Top of the Pops, here families gather up their buckets and spades and head for the beach. And of course, no Australian yuletide would be complete without that most cherished of local traditions: England going into the Boxing Day Test 3-0 down, and in the jaws of crisis.
It has now happened three times in their last four visits here. And as England prepare to step onto the biggest stage in cricket, their challenge is to show a sceptical public why it should expect things to turn out any different this time.
Ashes catastrophes often look inevitable in hindsight. But often, it is only when the urn is gone that England truly implode. For Andrew Flintoff, surrendering the urn at Perth in 2006 was the point of no return. He walked into the dressing room, looked at his bat, and kicked it so hard it broke into two pieces. His drinking began to accelerate into problematic territory. Coach Duncan Fletcher was forced to cancel a training session because the skipper had turned up reeking of alcohol. "I wasn't the only one," Flintoff would later plead in his defence. "And it wasn't just the players. It was like being on a booze cruise."
Ashes third Test in pictures

Show all 42
Meanwhile, as results headed south, players began to retreat. Flintoff, the talismanic captain freighted with the burden of leadership just when his cricketing skills were most required, was left increasingly isolated. "Relationships were becoming strained," he remembered. "The most upsetting thing was how few people offered to help."
Flintoff's England had lost their moorings. Selection policy was in chaos. Chris Read and Monty Panesar both dropped, then recalled. The Melbourne Test saw Sajid Mahmood batting at No8. (He made a pair.) And seven years later, there were echoes of that same bewilderment, as England washed up at the MCG reeling from Graeme Swann's sudden retirement, Jonathan Trott's withdrawal, Matt Prior and Chris Tremlett's dramatic loss of form. By the time they tossed up on Boxing Day, Cook's XI had already seen five changes.
Once again, the squad was beginning to fracture, even if it was not always apparent. "Everyone assumes there must be a rift," Swann snapped to the media on his retirement. "That there must be people throwing punches in the dressing room. Fortunately, it's just not there."
We know, with hindsight, how that turned out. On the field, England were being outclassed by an Australian side playing both the physical and mental side of the game impeccably. Just one England batsman had reached three figures, with little prospect of improvement under a frazzled coach at the end of his natural creative cycle.
So, there's your Ashes Whitewash Bingo Card. The question is: how many numbers can we tick off this time?
Well, the good news is that this England side are still some way short of a full house. The spirit and cohesion, to take one example, is not some well-spun yarn, but a genuine product of the inclusive environment engendered by Joe Root, Trevor Bayliss and Paul Farbrace. "We're still together as a group," Chris Woakes insisted on Sunday. "There's no bickering or separation. A lot of the time when you start losing, batters' and bowlers' camps within a dressing room are quite normal. But that's definitely not the case."
The Ashes through the years

Show all 24
The selection policy seems more settled, too, at least in the short term. Were it not for Craig Overton's rib injury, England would probably have been unchanged for the third Test running. James Vince and Mark Stoneman's half-centuries have earned them one more chance at least. Plenty of dangling question marks remain - Cook, James Anderson, Stuart Broad, Moeen Ali - but they can mostly be deferred for now.
Perhaps most crucially, their opposition are still not quite worthy of being bracketed with their great forebears. Tim Paine is no Adam Gilchrist. Cameron Bancroft is no Chris Rogers. And even if Australia's three pace bowlers have collectively managed to approximate the chilling, game-breaking potency that Mitchell Johnson provided on his own in 2013-14, England have already passed 300 as many times as they did four years ago (twice: an extremely low bar, admittedly).
The absence of Mitchell Starc with a heel injury is a blow, however creatively the Australians have tried to dress it up. Jackson Bird is a fine Shield bowler who generates bounce and swing from his 6ft 5in height, but gives away a good 10kph to Starc and is a genuine No11 batsman. There is a reason he has played just eight Tests in five years.
Some hope for England, then. But now the bad news: there are certain respects in which this tour is beginning to look eerily familiar. Alcohol mischief: check. A captain struggling for form and looking isolated in the field: check. Batsmen getting starts but failing to make centuries: check. World-class performers playing well below their peak: check. A coach whose virtues are now beginning to look a lot like flaws: check.
Most of all it is the collective absence of perspective, the insistence that their problems are just a tweak or two from being fixed entirely, that is most redolent of England tours past. Obviously, all teams have to talk themselves up, for their own benefit if nobody else's. But a recurring theme has been the idea that England simply have to perform more consistently for longer periods, without ever unpacking what that entails in practice.
"If you've made a fifty," as Bayliss put it in Adelaide with regard to the lack of centuries, "you've just got to do it again." Perhaps Bayliss was being wilfully glib. But surely he will know that at the highest level of sport, repeatability of a skill is a skill in its own right: a function of concentration, mentality, confidence. There comes a point when a side that persistently loses the plot in the field and fails to convert batting starts has legitimate questions to answer about its mental resilience: not so much a lack of effort, but a lack of basic attentiveness.
The collapse of England's bowling attack on day three at Perth was no anomaly. In the last 18 months it has happened against Pakistan at The Oval, the West Indies at Headingley, India all over India. And it is worth speculating whether a side that needs to keep rebooting, keep restarting, keep trying new things, is displaying a surfeit of imagination, or merely a deficit of concentration. Until England truly grasp hold of the issue, they risk evoking the words of former Middlesbrough manager Bryan Robson: "If we played like that every week, we wouldn't be so inconsistent."
What of the MCG itself? For all the ritzy memories of Australia's 98 all out in 2010, the Boxing Day Test has more commonly produced plenty of runs. The last three years have seen first-innings totals of 530, 465, 551-3, 271, 443-9 and 624-8, and with hot weather forecast, the pitch may just break up enough to tempt England into giving Mason Crane a Test debut. But Tom Curran remains the likeliest replacement for Overton, providing England with the 83mph right-arm seam bowling option they have so desperately been lacking in this series.
Woakes was asked about the possibility of sideways movement. "Probably not!" he scoffed. "It looks a good batting surface. A batting paradise."
And so once again, England will be faced with the familiar problem of taking 20 Australian wickets. This may sound counter-intuitive after their Perth travails, but it is not beyond them. Things will need to start going right early on. Use the new ball wisely. Space out the short stuff. Find that awkward, in-between, Glenn McGrath length and pound it mercilessly. Topple Steve Smith cheaply and build pressure on the rest of Australian batting line-up. Be patient. Hold your catches.
Easier said than done? Of course it is. But if England are to escape the straight-jacket of Ashes history and give themselves a remotely happy new year, it is their minimum requirement.
Register for free to continue reading
Registration is a free and easy way to support our truly independent journalism
By registering, you will also enjoy limited access to Premium articles, exclusive newsletters, commenting, and virtual events with our leading journalists
Already have an account? sign in
Register for free to continue reading
Registration is a free and easy way to support our truly independent journalism
By registering, you will also enjoy limited access to Premium articles, exclusive newsletters, commenting, and virtual events with our leading journalists
Already have an account? sign in
Join our new commenting forum
Join thought-provoking conversations, follow other Independent readers and see their replies