England coach Trevor Bayliss to leave when contract expires after 2019 Ashes
Australian has confirmed he will see out his contract with the ECB but has no plans to extend it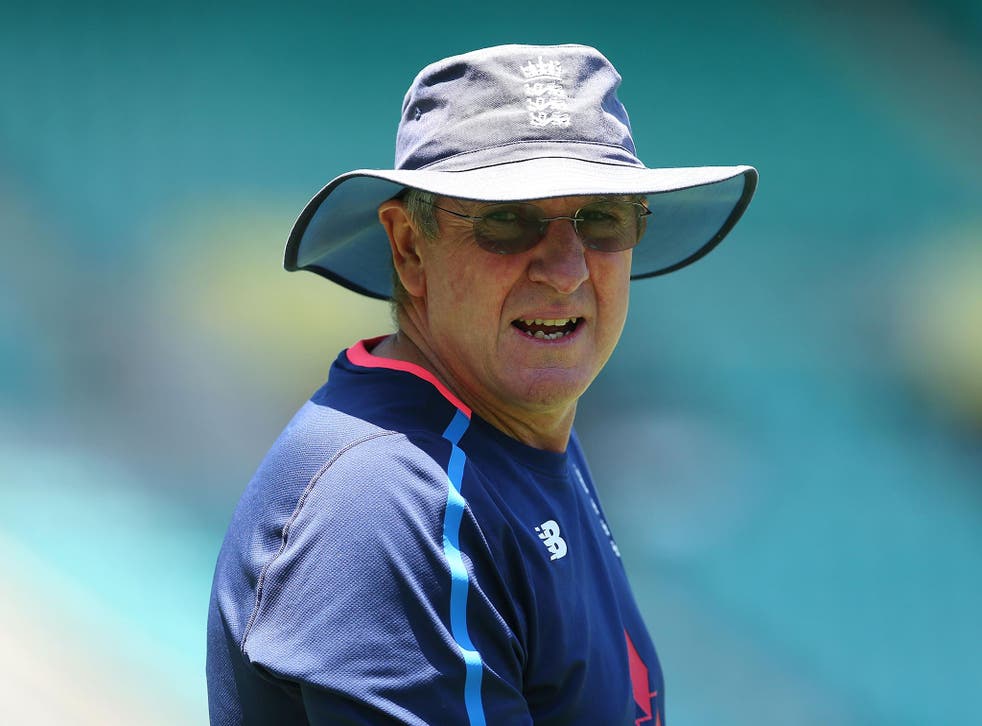 Trevor Bayliss has announced that he will step down as England coach in September 2019 at the end of his current contract. That period takes in the World Cup on home soil and the next Ashes series, and in the wake of their 4-0 Ashes defeat, Bayliss confirmed that while he wants to stay in charge for the time being, he has no intention of going any further than that.
"I told [director of England cricket] Andrew Strauss 12 months ago that I'm contracted to September 2019, and that would see me out," Bayliss said. "I've never been anywhere more than four or five years, whether you're going well or not. I've always felt that it's time for a change around about that four-year mark. A new voice, a different approach, reinvigorates things."
Bayliss took over as England coach in the summer of 2015, and while he has overseen a transformation in the team's limited-overs fortunes, England have not won either of the last two global trophies, and have lost more Test matches than they have won. It is not an overstatement to suggest that the next 18 months, which also includes tough series against the world's No1 side India, will ultimately determine Bayliss's legacy.
The Ashes Fifth Test in pictures

Show all 27
Despite the fact that he will not be around for the next Ashes tour in 2021-22, Bayliss said that the process of preparing for the next trip in four years' time was one that would be undertaken under his watch. "I've got no problem working towards a long-term goal even if I'm not going to be there," he said. "Joe Root as captain will still be there, and there's a base of six or seven players that will still be young enough and good enough to be in the team."
Given that England's bowling attack was simply not good enough to triumph in Australian conditions, Bayliss admitted that in future young bowlers might need to be blooded earlier, even if it comes at the expense of short-term results. "Winning an away Ashes tour is probably the highlight of anyone's career," he said. "You would like that to be the focus, but in between you have other big series that you want to win.
"How you juggle that and the planning for four years' time is a difficult one. You might blood a young fast bowler in South Africa, or a young spinner in the subcontinent. If we're not as successful as we'd like to be because we're blooding some young players, we have to take that on the chin."
Bayliss was sanguine about England's 4-0 defeat to Australia, insisting that given injuries and the strength of the opposition, there was little else that could have been done. "Could we have come here with anyone different that could have helped us play any better?" he asked. "I don't think we could have done. We were outplayed by a good team in their home conditions. You have to give them credit.
"We've known for a couple of years that we have been three or four performing players short of a very, very good team. [Dawid] Malan has probably cemented one of the spots. [James] Vince and [Mark] Stoneman will be disappointed that they weren't able to capitalise. We've known for a while that we haven't got a world-class spinner, and we have to work through that process."
Despite their collective failures in Australia, both Stoneman and Vince are due to get one last chance to save their Test careers on the forthcoming tour of New Zealand, the squad for which is due to be announced on Tuesday evening. "Stoneman and Vince do deserve a bit more of a chance," Bayliss said. "They were playing against one of the best attacks in the world in their home conditions."
Join our new commenting forum
Join thought-provoking conversations, follow other Independent readers and see their replies