A tribute to Steve Smith: Cricket's great method actor with the ability to embrace both the orthodox and the unorthodox
Jonathan Liew: To become a great batsman, you need more than talent and hard work. You need a vision to which you can apply them as well as ambition and audacity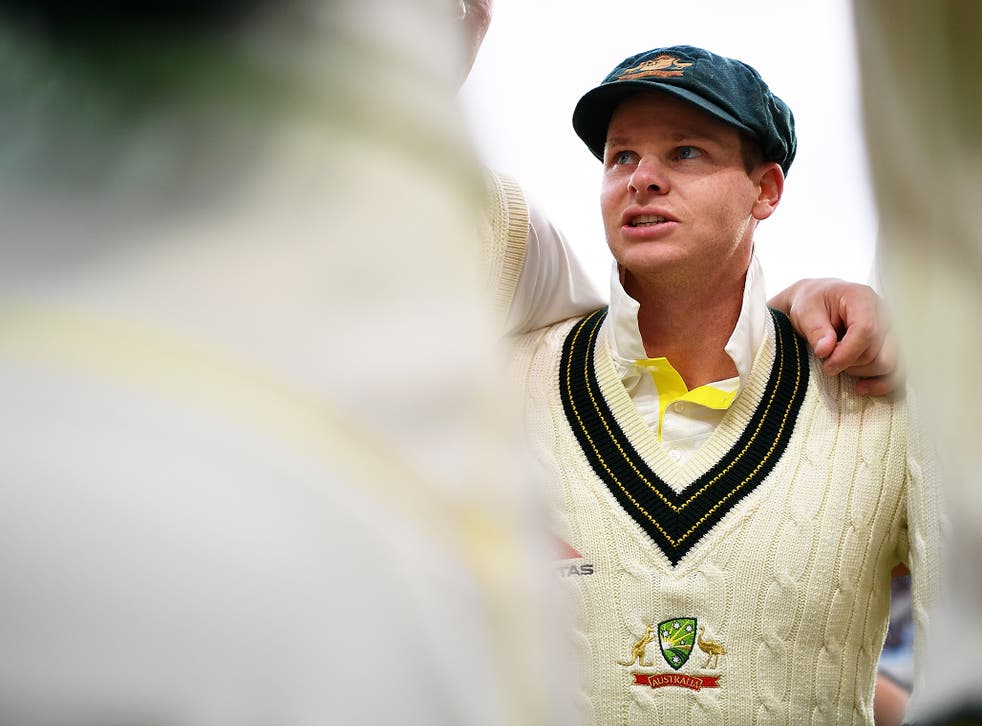 During the morning session of the third day at Perth, Channel Nine tracked down Dani Willis, the fiancee of Steve Smith, for an interview. As well as revealing, with a roll of the eyeballs, that her man occasionally drags her into net practice to feed balls into the bowling machine - some date, Casanova - Willis also discussed what Smith is like in the evenings during a Test match, when he is not out overnight.
"He's quite intense," Willis said. "He's still in the zone." Smith, as it turns out, is something of a method actor, remaining in character like Daniel Day-Lewis even when he leaves the ground and locks the front door at home. All of which is apt to conjure up some rather surreal images. Does he eat his tea through the metal grille of his helmet? Does he garden the carpet with his bat? Does he call his partner through for a quick single? On these matters, alas, Channel Nine remained silent.
But it all feeds into the image of Smith as the ultimate cricket tragic, with a devotion to the game that verges on obsession. During the World Twenty20 in 2010, the Australian team were staying in Barbados, and would spend their spare time relaxing by the pool, heading out to the bar, going jet-skiing. Smith, on the other hand, was often to be found in his hotel room with the curtains drawn, watching the cricket.
To become a great batsman, you need more than talent. Smith always had the talent, even when he was co-opted into an ailing Australian team as a slightly gawky leg-spinner at No8. He had already scored big runs in youth and state cricket. But it is hard work that has dragged him first into the ranks of the excellent, then the world-class, and now the all-time greats. His average of 63 - and rising - puts him second behind Donald Bradman on the all-time list. It is a measure of his colossal accumulation that he could get ducks in each of his next 18 innings and still average more than Joe Root.
But to become a great batsman, you need more than talent and hard work. You need a vision to which you can apply them. You need ambition and audacity. You need a direction and a destination of travel and a desire to dominate. Perhaps the single most important quality that has got Smith to this level is the absolute conviction that he could always get there. It is why he gave up leg-spin in order to focus on his batting. "He's pretty driven about what he wants to do," Ricky Ponting said last week. "And what he wants to become. He wants to be the best player of all time."
Comparisons between batsmen of other eras risk straying into the realms of triteness. Smith, Bradman, Ponting, Ponsford, Chappell, Waugh, Trumper? A bar-room discussion, no more, albeit one in which I would gladly partake. It is enough, perhaps, that we are even entertaining the conversation. I will say this: if Smith ends his career without a Test triple-century - and this sentence may be redundant within a matter of hours - he will have sold himself short.
But never forget: first, you need the talent. And his knock in the first innings at Perth - his 22nd Test century - will stand as one of his very best. In favourable conditions, perhaps, and against a fading attack, but only because he made the conditions favour him and made the attack fade. In the space of three Tests, Smith has made both his fastest and his slowest Test hundreds, to the extent where his 141 not out in Brisbane and 229 not out here may as well have been made by different batsmen.
This was the counterpart to his innings at Brisbane, played on a slow pitch where timing the ball was difficult. Smith cut out the cover drive, left the ball extremely well, forced England to bowl into his favourite areas. Here in Perth, it was the opposite: the ball was coming on to the bat, the bounce was true, and so Smith drove freely, cut with impunity, stepped across to play his trademark drive through mid-wicket.
What linked both innings was adaptation. Each innings was the optimal response to the circumstances, the match situation and the attack. But Smith also adapts within innings, raising and lowering the tempo as required. His fifties came off - in order - 58, 80, 67 and 96 balls. He even adapts within overs. His perpetual motion at the crease may look like a quirky tic, but I wonder whether it's a form of processing: staying loose, staying flexible, seeing what feels right. Like a batting computer, but instead of processing operations, he processes movements.
Ashes third Test in pictures

Show all 42
There was one shot on the second evening that demonstrated this. Craig Overton was the bowler, and the ball was short, but kept just a little low. Having set himself up for the pull, Smith contorted himself almost in an S-shape, dropping his knees and waist, swivelling low and almost paddling the ball through mid-wicket for four. It looked awkward. It wasn't.
Smith is one of the very few batsmen in the world today who can play shots like that on a regular basis. Virat Kohli is another: that ability to embrace both the orthodox and the unorthodox within a single innings, occasionally even within a single swing. This, I think, is what separates these two from the other two members of the so-called Big Four of batting: Root and Kane Williamson. Not only are Root and Williamson beginning to lag behind in terms of numbers - since the start of 2016 Smith and Kohli have made nine centuries each, Root and Williamson nine between them - but in terms of method.
Both Root and Williamson are brilliant batsmen, but essentially orthodox. Whatever improvisation they employ tends to take place between deliveries. Smith and Kohli, on the other hand, have the ability to carry on computing even as the ball is hurtling towards them, and of course the physiology to execute. This is not merely a stylistic point: it is the very attribute that allows them to carry on scoring through tough periods, and defuse potentially lethal deliveries.
Root, in fact, is probably the weakest of the four on current form, and it is interesting to speculate why this may be. The captaincy does not seem to have inhibited his scoring - his average of 53 is pretty much the same now as it was when he took over - but nor has it provided the bounce that most batting captains generally experience in the first 18 months of their reign. His conversion rate from 50 to 100 - just three out of 16 in his last 35 innings - is well documented.
Nobody could possibly question Root's talent, or his capacity for hard work. But has captaincy stunted his personal ambition? Has the job of leading a struggling team through a turbulent tour diluted that single-minded desire to become one of the all-time greats? Ahead of the Perth Test he hinted that he would actually prefer to bat at No3 but has remained at No4 for the good of the team. Surely the extra-curricular noise surrounding this tour has also had an effect. Smith, by and large, has endured far fewer external distractions over the last year or so.
There has been the odd one, though, as Dani revealed in another anecdote from her Channel Nine interview. In June, Smith planned to proposed to her during a holiday to New York. He had even scouted out a location: the very top of the Rockefeller Centre. What he hadn't bargained for, however, was the metal detectors in the lobby. Suddenly conscious of the ring burning a hole in his pocket, Smith thought quickly.
"Luckily I had a plastic bag with some water in it," Dani said. "And he was like, 'oh, I'll carry that bag for you'. And he slipped the ring box in there. At the time I thought it was a bit weird. But he snuck it through security."
And that's Steve Smith for you. Always finding a way.
Join our new commenting forum
Join thought-provoking conversations, follow other Independent readers and see their replies