England's Stuart Broad looking forward to resuming his role as public enemy number one Down Under
Far from being intimidated by the hostile Australian crowds, Broad says he is relishing the prospect of being a lightning rod for home hostility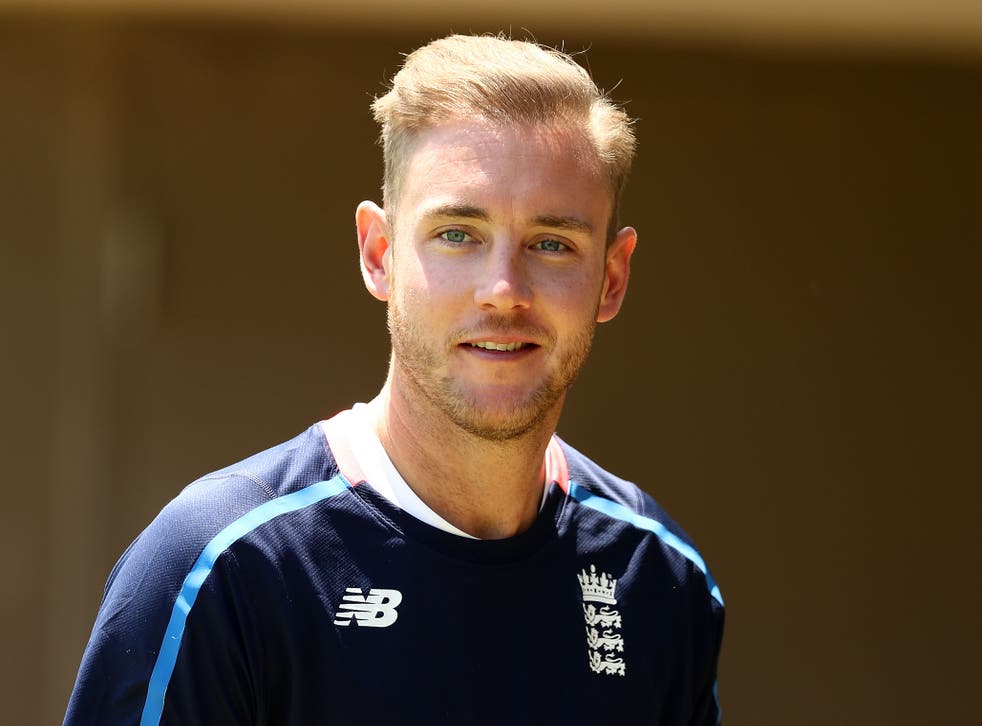 With Ben Stokes absent from England's touring party for now, Stuart Broad is looking forward to resuming his role as public enemy No1 in Australia.
If Stokes, left back home while police continue their investigation into his late-night altercation in Bristol in September, does manage to join his team-mates at any point during the Ashes he can expect a barrage of abuse from the Australians.
Until then, though, Broad is relishing the prospect of being a lightning rod for home hostility when the series starts in Brisbane a fortnight on Thursday, just as he was during the last series here in 2013-14.
"Well, he's definitely not going to be here for the Gabba, is he?" Broad said of Stokes. "If you're an England cricketer in Australia, you have to prepare yourself for a bit.
"I know it was very much focused on me last time. But on that first morning, Joe Root ran down to the boundary and had everyone singing, 'Rooty is a ******.'
"So everyone has to brace themselves for it. It is a great part of the Ashes series, a great part of the rivalry. When Australia come to England, the stick Mitchell Johnson was getting at Edgbaston was pretty lively, maybe not as abusive but quite lively."
Broad's role of pantomime villain four years ago was cast a few months previously when he refused to walk after the Australians believed he had edged a catch to slip during the opening match of the 2013 home Ashes series at Trent Bridge.
England Ashes squad

Show all 17
Australia coach Darren Lehmann got the ball rolling even before England had arrived for the return series by stating in a vitriolic radio interview: "That was just blatant cheating. From my point of view I just hope the Australian public give it to him right from the word go for the whole summer and I hope he cries and goes home."
Far from crying and going home, Broad had a fine series, taking 21 wickets at 27.52 despite the fact England were whitewashed 5-0.
Indeed, after the first day of the series at the Gabba four years ago Broad, who had taken a five wicket-haul, carried a copy of the Brisbane Courier Mail under his arm as he entered the post-play press conference.
This is the newspaper that refused to print either his name or image in protest at his 'cheating' and he is expecting more of the same this time. "I'm sure they'll have something to get themselves in the headlines again," he said. "It does feel different already on this trip because the day after we arrived I walked down to breakfast and there was a picture on the back page of the paper with me having a selfie with an England fan.
"So, actually seeing my face in a paper over here was a new experience. The last time, it was Stuart Fraud. So they are spelling my name right, we're already onto a winner."
Despite receiving a generous reception in most places when he played for Hobart Hurricanes during last winter's Big Bash, Broad was still the subject of hostility when he returned to the ground known as the 'Gabbattoir' such is its reputation as Australia's most hostile.
"I came to the Big Bash last year and still got a bit of a boo at the Gabba," he said. "It's as close as we get to being a Premier League footballer playing away from home, being a Manchester United player at Anfield. It's exciting, it's a great feeling, it's not something you're going to get when you retire. They are moments you have to remember because it doesn't last forever.
"I read Sir Alex Ferguson's book the last time I was here and he said Manchester United fans used to give Patrick Vieira a lot of stick because they felt threatened by him or rated him.
"You're better off getting jeered than nothing. At least if you're jeered, someone has heard of you or you've done something in an Ashes series."
Broad has certainly done that, producing three extraordinary spells to win England home series against Australia in the decisive Tests of the 2009, 2013 and 2015 Ashes.
The one two summers ago at Trent Bridge – when he took eight for 15 to blow Australia away inside the first session – was the most remarkable.
Although he has never produced one in Australia, Broad is sensing he can do so over the coming weeks.
"I feel like I'm ready for one of those spells again," he said. "I've done a lot of work over the last eight weeks and that will continue leading into the First Test. I feel like my time is coming."
Broad admits he "bowled like a drain" during England's opening warm-up match against a Western Australia XI in Perth last weekend.
But he will sit out the day-night tour match in Adelaide starting on Wednesday with a view to playing in the final warm-up game in Townsville. "I like to play that game before the First Test so I feel like in a bowling patch," he says.
He isn't bothered about missing out on experiencing the pink Kookaburra ball either, despite the fact the first day-night Ashes Test will take place at the same venue next month.
"I think it is more important for batsmen," says Broad. "Whether I have a pink or red ball, it is still the same run-up and still putting it in the same place."
Join our new commenting forum
Join thought-provoking conversations, follow other Independent readers and see their replies