Australia 494-7 South Africa: Michael Clarke battles back into form to put Australia in driving seat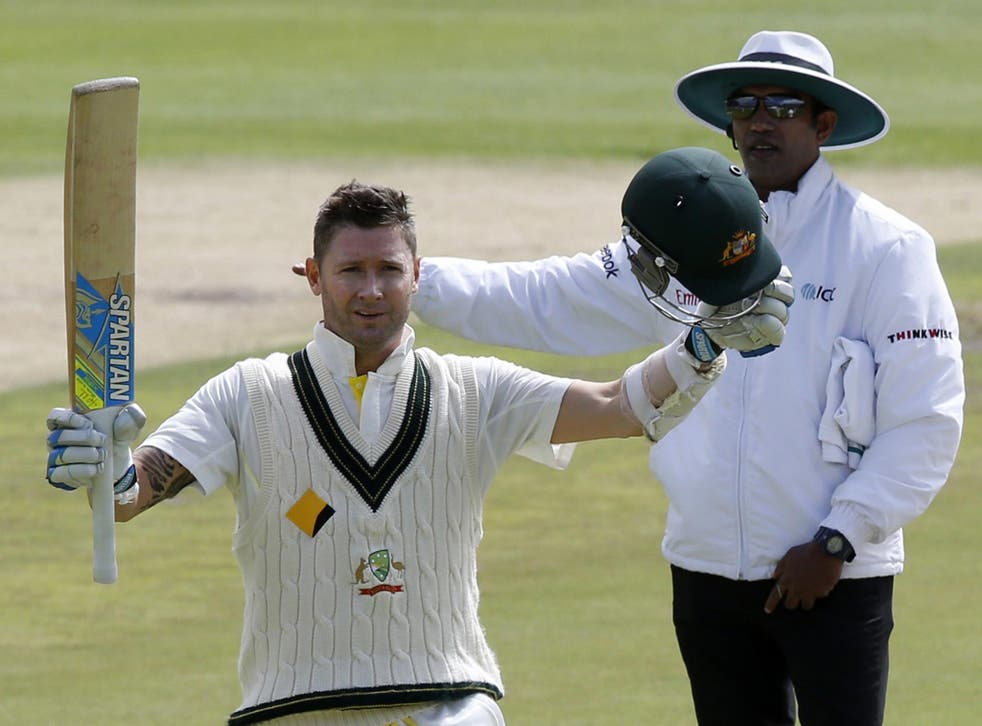 If Australia win the third Test and the series against the world's No 1-ranked Test team, South Africa, Michael Clarke will be the hero of the hour, or rather, of at least the first innings.
Out of form for much of Australia's victorious series against England, and in the first two Tests in South Africa, Clarke braved a vicious barrage from paceman Albie Morkel when he had just begun his seminal innings on a sun-filled Saturday.
He was struck painfully on the arm, the hand, and finally the head. Clarke rejected the physio's advice to retire hurt and his fluency and class returned as he fought back to be 161 not out last night, having faced an ordeal when he was on 99. It took him 24 balls, during which his partner, the impetuous Steve Smith was nearly run out twice, to reach his 27th Test century.
After that, Clarke had only one narrow escape, a ball from Kyle Abbott sneaking over his stumps. The innings made back-to-back scores of 150-plus for Clarke in Cape Town. In 2011 his magnificent 151, played on a very bouncy wicket, failed to save the Test – Australia were 47 all out in their second innings – leading him to declare that his brilliant innings "meant nothing. We lost".
This time he was more optimistic, if guarded. "If we don't get the result we're after then it will sit alongside the other 150," he said at the end of the second day. "I've never scored an easy hundred, it's always been tough, especially against a very good attack."
On Saturday Clarke had yeoman support from David Warner with another century, then yesterday the in-form Smith hit 84.
However the rain and wind swept two groundsmen off their feet, and with it much of the afternoon and evening's play.
Australia have a maximum of 292 overs left to conquer the South Africans in a series currently tied at 1-1 for which the home side had been firm favourites, at least until Australia annihilated England.
Clarke might even choose not to enforce any follow-on today knowing he can order quick efforts at mayhem - with South Africa hamstrung, literally, by the early injury to the world's No 1-ranked Test bowler, Dale Steyn.
In his absence the South Africans lacked punch on the second day. JP Duminy, who took a wicket in his first over on Saturday, looked reasonable but not dangerous – although he took a flattering career-best 4 for 73, those last three in a late flurry.
After Shane Watson's aggressive 40 came Brad Haddin, who on 13 chipped a catch to mid-off. With the next ball Duminy had Mitchell Johnson edging a catch down leg side.
The rain left Duminy on a hat-trick, but it is Australia who hold most of the cards. With the weather due to get better from today, Clarke is thought likely to declare overnight.
Register for free to continue reading
Registration is a free and easy way to support our truly independent journalism
By registering, you will also enjoy limited access to Premium articles, exclusive newsletters, commenting, and virtual events with our leading journalists
Already have an account? sign in
Register for free to continue reading
Registration is a free and easy way to support our truly independent journalism
By registering, you will also enjoy limited access to Premium articles, exclusive newsletters, commenting, and virtual events with our leading journalists
Already have an account? sign in
Join our new commenting forum
Join thought-provoking conversations, follow other Independent readers and see their replies