Ashes 2013-14: Australia regain Ashes with limp England showing stamp of terminal decline
Nathan Lyons dismissal of Ben Stokes triggers tailend collapse leading to England to be all out for 353
Stephen Brenkley
Tuesday 17 December 2013 17:30 Comments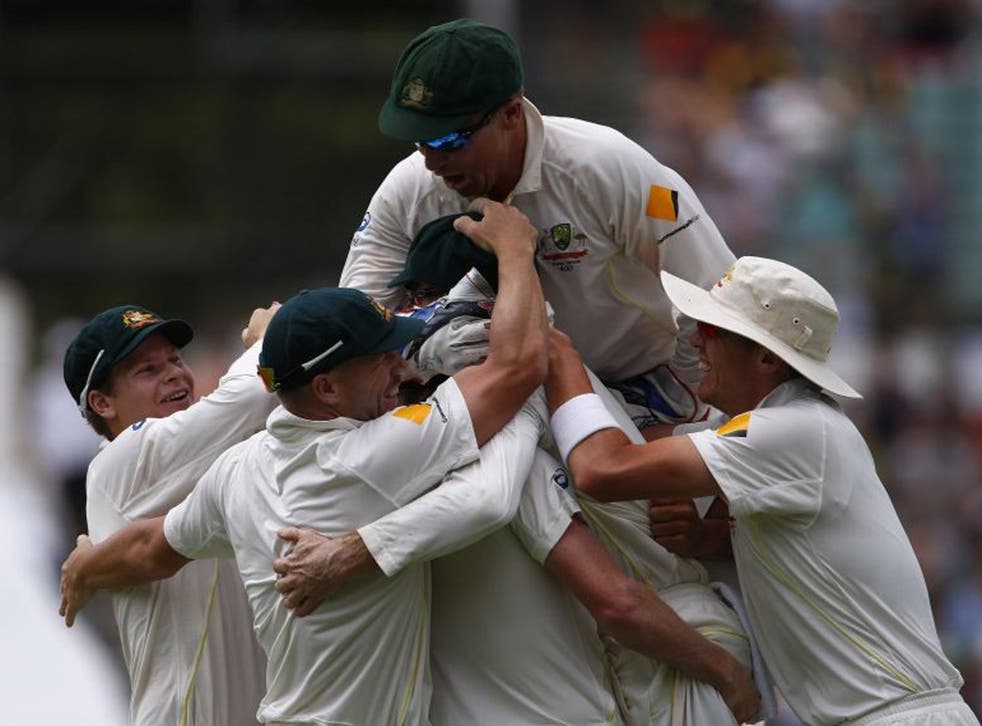 England held the Ashes for four years and 116 days. It was their longest truly legitimate tenure for more than a half a century. In a sense therefore the nation should be grateful.
The overwhelming defeats in the first three matches of this series – respectively by 381, 218 and 150 runs – preclude such niceties, however. The team led by Alastair Cook came on this tour as favourites after beating the same opponents 3-0 at home last summer and failed to live up to the billing in every regard.
That the margin in the third Test, which ended early on the fifth afternoon, was the slenderest hardly meant the gap was being closed. In the excellently crafted century of 22-year-old Ben Stokes there should be felt genuine excitement. Stokes has seized a chance he was never meant to have on this tour.
But the rest is almost entirely disappointing and although sweeping changes will not be effected and invariably never work the suspicion of a team past its best will not be dispelled. Cook, the captain, said he wanted Andy Flower to carry on as coach but added enigmatically: "Whether he will carry on and wants to carry on you'll have to ask him."
The Ashes Podcast: Listen to Stephen Brenkley and Tom Collomosse as they discuss the fifth day's play when Australia reclaimed the Ashes below...
The turnaround from winning the Ashes for the third successive time to having them brutally snatched away again took a mere 134 days. It remains more than 120 years since England won the great prize four times in a row and that remains a distant dream that cannot now be achieved for at least another eight years. Nobody should hold their breath.
Australia have played powerhouse cricket, aggressive of intent with bat, ball and mouth. Their policy, high risk but eminently triumphant, was to leather two principal bowlers out of England's attack and to rough up several of their major batsmen, while telling them all how useless they were (expletives deleted).
In almost every case it worked. Jimmy Anderson, Graeme Swann and Matt Prior, wonderful performers for most of the last five years, are fighting for their careers. Cook, the sturdy platform on which so many large totals have been built, does not know whether he is coming or going, though mostly he has been going. Kevin Pietersen, oblivious to most of what Australia threw at him, appears to be having an internal debate with himself about whether it is any longer worth the candle.
The buck will stop, as it always does, as it should, with the captain and the coach. Cook ducked neither the responsibility nor the possibility that his head could soon be on the block, though he thought that he and Flower could put England back on track.
"Of course, if other people who make the decisions don't think that way, we have to go by that decision," he said. "When you lose the Ashes in the way we've lost, there will always be people questioning my place and all that kind of stuff."
Though nobody in English cricket suspected it seven weeks ago, Australia's prodigious win has exposed deep frailties. The series win at home might well have been the last hurrah of a team that has achieved a great deal.
Players will be reluctant to concede it and sometimes they are the last to recognise harsh truths. It is improbable that so many cricketers who have done so much over so many years should suddenly find poor form at the same time. Cook had a simple but straight explanation but was reluctant to concede that the team were in terminal decline.
"The last three results suggest that," he said. "You deal in facts, and we lost three games. You only have to look at the Australian side – there are a few guys the back end of 30 who are delivering success for Australia. I wouldn't necessarily say that [we are at the end]. But when we needed people to be in form and play well, we haven't done that, and that's why we've lost.
"Every time we got a partnership going, or got a few wickets with the ball, Australia always responded better than we could deal with. You have to give a lot of credit to the way Australia played. They've been very ruthless with us. When they had a sniff, they took their chance and when they had us down, they kept us there."
England detained Australia longer than expected yesterday, thanks almost solely to Stokes in his second Test match. Many of those sharing the dressing room with him will have looked at the fearless way in which he approached his task and remembered what it was like to be young and making your way.
Starting the day on 71, he was scrupulously diligent in moving to his maiden century. Few professional observers thought Stokes was a Test No 6 when he was picked to make his debut in Adelaide primarily because England selected two spinners and needed the insurance of an extra seamer.
This innings alone demonstrated that he has a future as England's all-rounder. He might, who knows, become the bedrock of the side in years to come. Of England's three most recent notable all-rounders it took Tony Greig until his sixth Test to score a hundred, Ian Botham until his fourth and Andrew Flintoff until his second.
Stokes has done it in his second and against Australia to boot. He faced 195 balls, hit 18 fours and a six but the measured fashion in which went about his business was the most pleasing aspect of it. In two Tests, Stokes has confronted a tough Australian side determined to let him have it and never took a backward step.
He was the seventh wicket to fall in the third over after lunch on the fifth day, having lost his partner Prior to a loose shot in the morning. The rest fell pretty quickly afterwards and it was probably appropriate that Mitchell Johnson who started it all in Brisbane should take the final wicket, Anderson caught at short leg, to ensure that the Ashes were with Australia again.
Register for free to continue reading
Registration is a free and easy way to support our truly independent journalism
By registering, you will also enjoy limited access to Premium articles, exclusive newsletters, commenting, and virtual events with our leading journalists
Already have an account? sign in
Join our new commenting forum
Join thought-provoking conversations, follow other Independent readers and see their replies