Australia vs India match report: Steve Smith and Mitchell Johnson tear Indians apart to set-up Cricket World Cup final against New Zealand
Australia 328-7 (50 overs), India 233 all-out (46.5 overs)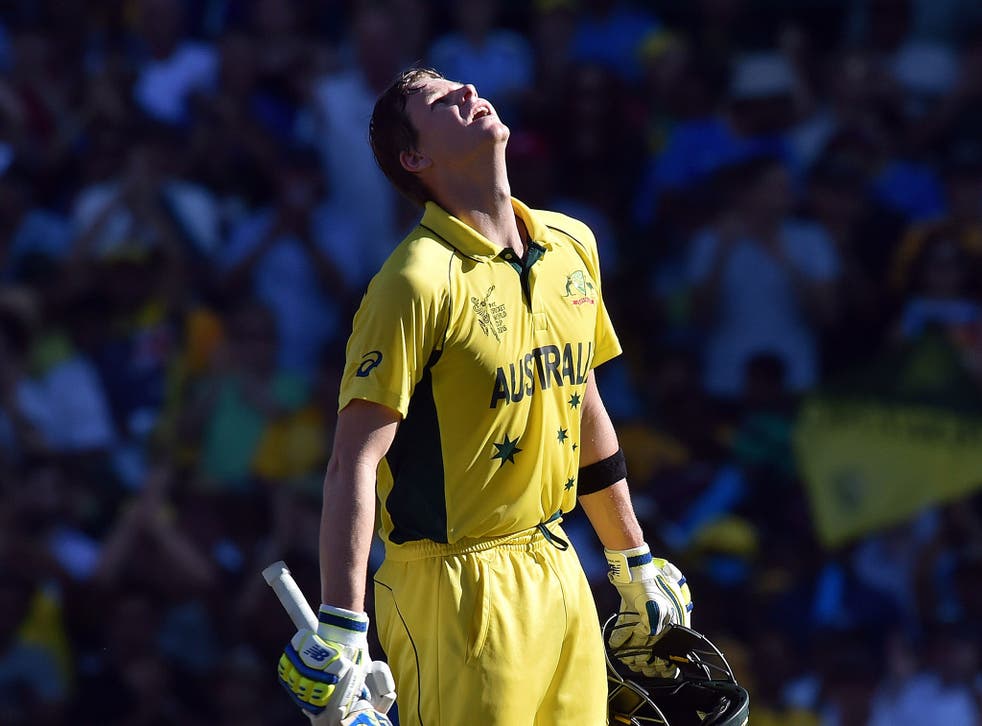 For the seventh time in 11 attempts, Australia are in the World Cup final. It means precisely what it seems to be saying.
There is no doubting who have constantly kept pace with the demands of the one-day form, made a science of peaking every four years and, from generation to generation, have passed down the importance of turning the screw.
They were there in the first final at Lord's back in 1975 and they will be there in its latest incarnation in Melbourne on Sunday after comfortably defeating India by 95 runs last night in Sydney.
It is the second time in succession that joint hosts have contested the final. For years staging the event appeared to be the kiss of death, now it seems to have become compulsory to go all the way. There were moments when this semi-final did not go Australia's way but they passed.
Perhaps they ought to have made more runs than the 328 they eventually mustered but it turned out to be enough by a distance. The target was attainable in these days of unfettered big hitting but many things still have to go right. For India, the defending champions, too much went wrong.
Cricket World Cup 2015: 10 young players to watch

Show all 10
Susceptible to Australia's pace attack, they lacked what Australia supplied: a batsman at the top of the order to make a hundred. Perhaps surprisingly it was only Australia's fourth of the tournament but there was no surprise whatever about the identity of the man who compiled it.
Steve Smith has adorned this Australian summer with batting of a vintage that will be remembered for ever. This was his seventh international hundred in all, his third in ODIs, and he did not play an uncertain stroke from the moment he entered the arena. At a stroke, indeed, he has solved the slightly vexatious problem of who should bat at No 3 for Australia.
"I think he has made the most of his opportunity," said Michael Clarke, the Australia captain. "I can't speak highly enough of the way he is batting at the moment.
"He is showing his class. The one thing I have learnt throughout my career is that getting into good form and scoring runs is a fantastic feeling, but still to go to training the next day and work on tour games to try and become better is one of the hardest things to do in this game.
"But that's what makes you a great player and that's why I'm so proud of Smithy. He's still training extremely hard, still getting there early, still doing the work even though he is batting so well. There is a long, long way to go in his career, a lot more runs, but he is certainly standing up."
Smith's second-wicket stand of 182 with Aaron Finch, who barely timed a stroke, was crucial. Finch will have days when the bat feels more comfortable in his hand but he did not give it away easily.
India will consider they performed beyond expectations despite the margin of defeat. It was the first match they had lost in a tournament at which they arrived having been in dire form for most of the preceding two months.
On an Australian pitch against a home nation hell-bent on preserving a record of never having lost a World Cup semi-final, India did not have enough firepower or conviction. An opening partnership of 76 was not the robust platform it ought to have been.
They lost wickets too frequently and Ajinkya Rahane and M S Dhoni, India's captain, were too circumspect in their rebuilding operation at 108 for 4. It was at odds with what was needed and what India have supplied in the previous month.
In a relaxed and unexpectedly long briefing to the press, Dhoni said: "Our batting line-up knows how to chase 300. But if you start too early and lose a wicket, there's nothing really left in the game. So you have to take the risk at the right time. Maybe it was a bit too late tonight but if my partnership with Ajinkya hadn't come when it did, maybe we would have packed up for 140 or 150."
There is the feeling that there is something left in Australia's tank, that they might have another gear. But Clarke made no secret of his belief that New Zealand were the form team who deserved to be in the final.
Although they beat Australia in a pool match, Clarke sees that as the moment when his side's tournament really started. It was the kick up the backside they needed.
Although Mitchell Starc has been Australia's outstanding bowler, it was notable here that Mitchell Johnson bent his back when it mattered. He removed Virat Kohli with a fast bouncer and soon after bowled Rohit Sharma.
Clarke said, perhaps with the final in mind: "He probably hasn't had the standout tournament we all expected of him but I think he has done a fantastic job for this team. He's a wicket-taker with the X-factor and has experience under pressure.
"He is another example of someone who puts the team first. He would love to open the bowling but he understands that it's better for the team at the moment that he bowls first change and he hasn't blinked."
Australia's passage was more straightforward than they feared. The tournament's two outstanding teams now face each other. As Thursday's match showed, the World Cup has the appropriate final.
Register for free to continue reading
Registration is a free and easy way to support our truly independent journalism
By registering, you will also enjoy limited access to Premium articles, exclusive newsletters, commenting, and virtual events with our leading journalists
Already have an account? sign in
Register for free to continue reading
Registration is a free and easy way to support our truly independent journalism
By registering, you will also enjoy limited access to Premium articles, exclusive newsletters, commenting, and virtual events with our leading journalists
Already have an account? sign in
Join our new commenting forum
Join thought-provoking conversations, follow other Independent readers and see their replies