Australia win first ODI against England despite Sam Billings century
Australia beat England by 19 runs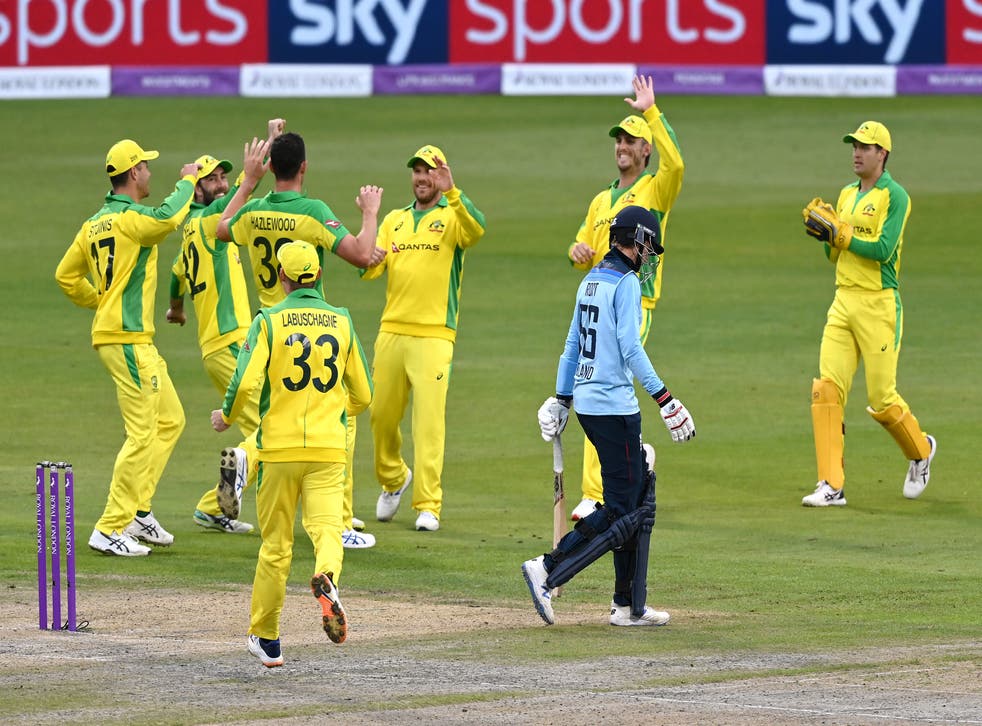 If the talking point at the start of the first ODI was of an England line-up with nine of the XI that started 2019's World Cup Final, by the end, as Australia sealed an emphatic 19-run win, thoughts had turned to the two who were missing.
The prospect of the 50-over world champions achieving a target of 295, greater than anything chased down here at Emirates Old Trafford, was always going to be hindered by the lack of their miracle-maker, Ben Stokes who is back home with his family in New Zealand. Even he, though, might have struggled to turn water into anything other than warmer water on a chilly night in Manchester.
The top order was hustled through the Power Play by Josh Hazlewood, registering 22 for two after the first 10 overs and then finding themselves reduced to 57 for four at the start of the 17th over, for the further loss of skipper Eoin Morgan (23) and Jos Buttler (3). Adam Zampa would nab both – caught midwicket by Glenn Maxwell and Marnus Labuschagne at long off – for the first half of his four for 55.
It is remarkable to think Hazlewood did not feature in last year's 50-over tournament. Nevertheless, Test match precision with the white ball here provided a beautiful yet devastating contrast. He bowled eight overs straight, taking two for 22 at the James Anderson End, including three maidens in his first six. He eventually finished with three for 26.
Jonny Bairstow and Sam Billings did their best to emulate Stokes. A heaved 84 for the Yorkshireman was bettered by the Kent captain's maiden international century of 118. But the losses upfront proved terminal.
But it was the other absentee from that day at Lord's, Liam Plunkett, who was perhaps the biggest miss. Not so much the man right now, who has not played competitively since a Bangladesh Premier League match on 11 January. But England's success on their four-year journey to a maiden 50-over World Cup win was aided by breakthroughs in the middle overs - a Plunkett speciality.
Naturally, as Mitchell Marsh (73) and Maxwell (77) combined for a record sixth-wicket partnership of 126, a lack of threat in their 119 deliveries together spoke of a unique quality England lack. Barring a dramatic change of heart from the management, 2019's final will likely be Plunkett's last cap, but his absence feels just as profound now as his influence before.
It was especially frustrating because there was a stage in the first innings when there seemed a very real chance that this match would finish before the floodlights had taken full effect.
Just 24 overs after the 1pm start, Australia, having been put in to bat after losing the toss, were 123 for five, with Adil Rashid having just pocketed his second wicket of the innings to remove Alex Carey. Of the stellar top order, it was only Marcus Stoinis (43) who had made an impact. Wood's pace would eventually account for him, as it did for Aaron Finch (16) – both caught behind – after Jofra Archer had got England up and running when he zipped one through David Warner's defence and into off stump.
But once Marsh had got himself set from number six, and Maxwell benefitted from overthrows to get off the mark with five runs, the pair set about a frustrating and match-winning partnership. As ever, it was Maxwell as the aggressor, his 21st ODI score of fifty or more reached in 43 balls, while Marsh was steady with a 75-ball effort for his 12th.
Maxwell's dismissal would break the partnership - edging Archer onto his stumps - though not before sending the quick into the stands at wide mid on and square leg - the final two of his four sixes that signalled a charge. And while the bowlers kept things under wraps for the next 38 deliveries at the death, conceding just 38 runs - with Wood (Marsh), Archer (Pat Cummins) and Chris Woakes (Adam Zampa) all picking up a wicket - the final ball of the innings was struck for six by Mitchell Starc to close the first innings on what proved an insurmountable 294 for four.
Hazlewood's brilliant return catch to remove Jason Roy (three) for the first English wicket, and movement off the seam to find Joe Root's edge for the second made use of a surface spruced up with a bit of early evening dew. He was unplayable and it was somewhat remarkable that Bairstow as an opener was able to make it out of this spell alive.
Rarely has a batsman looked more at odds with himself. It took Bairstow 26 deliveries to get out of double figures. And then when he made it to 10, he was given out LBW on the field for what would have been Hazlewood's third, off the last delivery of the Power Play.
Having been saved by the review, and then watched others (and hope) fall before him, the opener made sure not to waste his toil. From 12 off 42, he struck his first four and, having rediscovered his timing, notably with a brace of sixes in the same Adam Zampa over, he passed 50 for the 22nd time with a scampered two from his 78th ball faced. Sam Billings at the other end offered ideal accompaniment, and by drinks at 31 overs, the equation was a less daunting 150 from 114.
But with the rate creeping up, an attempt at a fifth six nestled into the outstretched hands of Hazlewood. An innings ended on 84, a fifth-wicket stand snipped at 113 and hopes all but dashed.
Billings was at least able to register a fourth half-century in his 19th ODI, but Hazlewood's return into the attack brought with it a deserved third when Moeen Ali sliced him to cover. And though Billings continued to charge and reverse-sweep, in had the air of desperation, like a man waving a broken bottle at a horde of encroaching zombies. Chris Woakes would be Zampa's fourth with a cloth down the ground to Maxwell, who moved to deep cover to give Pat Cummins the wicket of Rashid, his first of the innings.
As the run-rate became unconquerable, Billings lashed a four through square leg to bring up a first ODI century, from 101 deliveries to at least ensure something was to be taken from the defeat. A shoulder injury at the start of last summer robbed him of being a part of the victorious 2019 squad.
But 29 is no age to move on from a cricketer, especially one who was able to showcase the dexterity of stroke contained within his 16 boundaries. A plink off the final ball of the match - caught Warner, bowled Marsh - brought his knock to a proper close as it did give Australia another deserved tick.
It will be a quick turnaround before the second ODI on Sunday. Beyond any niggles, Morgan could well name the same XI in an attempt to draw level in the series. As much as Australia did much right, England may look at this match and see enough they did wrong.