Azeem Rafiq: New Yorkshire chair apologises over handling of racism allegations
Yorkshire's handling of their former player's allegations of racism and bullying have been widely criticised
Vithushan Ehantharajah
Sports Feature Writer
Monday 08 November 2021 14:59 Comments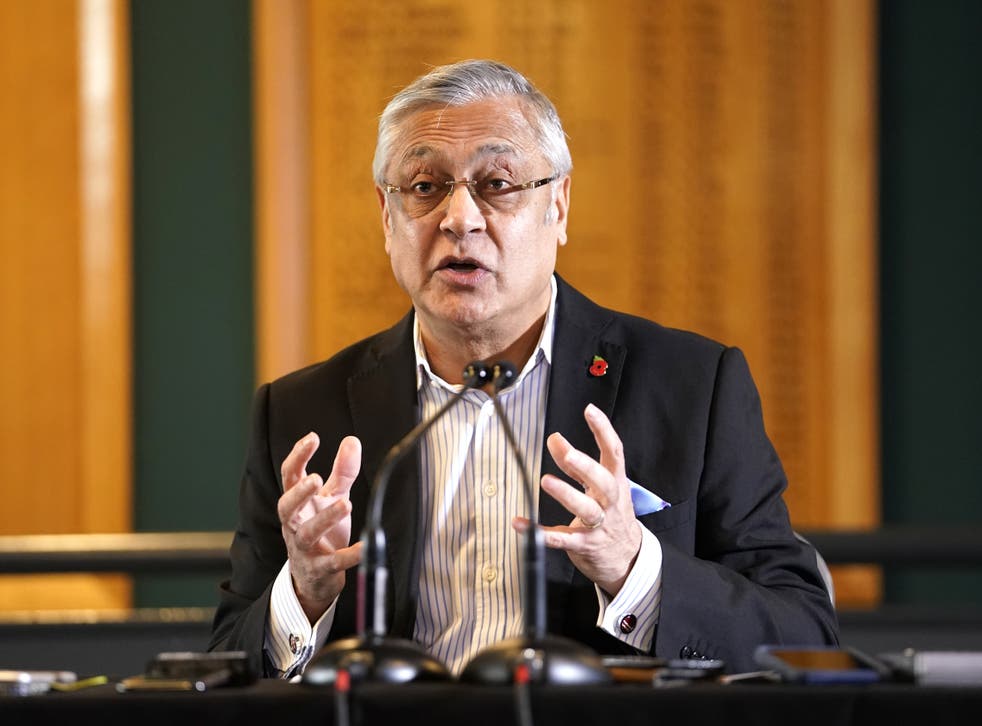 Leer en Español
Yorkshire's new chair Lord Kamlesh Patel has promised urgent and seismic change from within and has vowed that what happened to Azeem Rafiq "will never happen again".
Lord Patel was appointed as the club's chair after the previous incumbent Roger Hutton resigned at a club board meeting on Friday. With him went two non-executive directors, all part of the fallout over the handling of the investigation into the racism allegations levelled at the club by Rafiq.
Since being voted into his post on Friday afternoon, Patel has spent the weekend getting to grips with the fallout over the last 15 months. That accelerated last week when various members of parliament, including prime minister Boris Johnson, condemned Yorkshire's slow process and conclusion there were no guilty parties despite evidence to the contrary.
Speaking in his first public engagement in his role, Patel stated unequivocally his appointment comes "with a clear remit of righting the wrongs of the past". He also took the opportunity to champion Rafiq for his courage and issue an unreserved apology.
"I thank Azeem Rafiq for his bravery in speaking out. Azeem is a whistleblower and should be praised as such, he should never have been put through this," Patel said at a press conference.
"We're sorry for what you and your family have experienced and the way in which we've handled this. I thank Azeem for his bravery in speaking out. Let me be clear from the outset, racism or discrimination in any form is not banter."
The mention of "banter" relates to the findings that Gary Ballance's use of the racial slur "p***" towards Rafiq was not offensive because it was uttered between friends. And Patel went further with his condemnation of the compiling of the report: "As an outsider coming into this situation, it's clear to me that we've handled this issue badly, and the investigation was flawed."
Patel has spoken to Rafiq to apologise personally and outline the next few steps to ensure both justice and much-needed progress for the county. Patel said the conversation lasted for six-and-a-half hours: "It was difficult. It was actually quite sad. It was tough for me - it was incredibly tough for him. And you did feel, why would we do this to any human being?"
Crucially, there have been actions to accompany these words. The employment tribunal case with Rafiq has now been settled, with no restrictions on what he can and can't say. The original proviso was for any compensation to be accompanied with a non-disclosure agreement. Now that is not the case.
The report, kept secret for so long, is now in the possession of the ECB, Rafiq's lawyers, the Equality and Human Rights Commission, and with chair of the Digital, Culture, Media and Sport Committee Julian Knight ahead of the meeting with Hutton, chief executive Mark Arthur and director of cricket Martyn Moxon on 16 November. Patel also hopes to set-up an independent whistleblowing hotline as quickly as possible, encouraging those who have suffered from any kind of abuse to come forward in order to address their complaints and create a safer space at Yorkshire. He has also commissioned an independent review of the club's process, diversity and inclusion schemes.
It is clear Patel feels a personal attachment to this case and the role he has to undertake. He was born in Kenya and brought up in Bradford at the age of one when his parents emigrated to the UK. He trained as a social worker, becoming chair of the Mental Health Act Commission and Social Work England.
He was also previously on the ECB board as a senior independent director and was involved in the South Asian Communities Action Plan. This scheme carried recommendations to remove barriers involved in cricket participation, build strong relationships within south Asian communities and use the sport to make a positive impact. The events of Yorkshire have indisputably been to the detriment to all those tenets.
Patel also spoke of being a fast runner as a kid because of the "p*** bashings" that took place when he was growing up. And throughout his impassioned speech, there were emotional moments he suppressed. As much as his work will rely on personal empathy, rebuilding Yorkshire will be as much reliant on his business acumen as his cadence.
He has begun approaching those sponsors who parted ways with the county last week. His job, he says, is to assure them that change is coming and will invite them to make it happen. And he also condemned those who had sent Yorkshire staff members abuse and death threats.
Rafiq has been invited to "sit on his shoulder and challenge him". That happened almost immediately when the 30-year-old called on Arthur and Moxon to step down from their roles. "I urge them to do the right thing and resign to make way for those who will do what is needed for the club's future," Rafiq said after Patel's press conference.
"As Lord Patel said, this is just the start if we are to make cricket open to everyone, no matter their background," the 30-year-old added. "Yorkshire CCC and the sport at large desperately need reform … I urge others who have suffered to come forward. There is strength in numbers and I will be right behind you." Patel said he was aware of others who are now willing to come forward, both as witnesses to some of Rafiq's claims and with stories of their own.
He will have his work cut out for him as he looks to embark on dragging Yorkshire into the 21st century, and the full scale of the issues within the county are still to be revealed. Nevertheless, it is clear if Patel is willing to put the work in, and after the last two years, progress will be heavily scrutinised. These are still early days in what has been a seemingly endless pursuit of justice. But the winter of 2021 does at least promise brighter times ahead.
"After 158 years," said Patel, "we are ready to change."
Register for free to continue reading
Registration is a free and easy way to support our truly independent journalism
By registering, you will also enjoy limited access to Premium articles, exclusive newsletters, commenting, and virtual events with our leading journalists
Already have an account? sign in
Join our new commenting forum
Join thought-provoking conversations, follow other Independent readers and see their replies