Ben Stokes runs first-ever half-marathon to raise money for NHS
The England allrounder completed the 13.1 miles in just under one hour and 40 minutes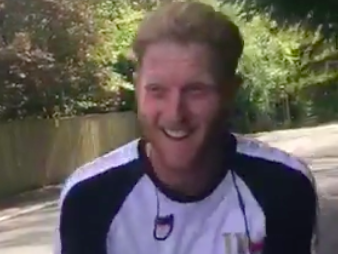 Ben Stokes has run his first half-marathon in an impressive one hour and 39 minutes after being inspired by three amateur cricketers who ran the full distance in their back gardens.
Rob Cross, Rob Treasure and Charlie Newman completed the 26.2 miles by running the length of a cricket pitch – 22 yards – 2,387 times wearing full kit and carrying a bat on Saturday to raise money for NHS Charities Together and national children's cricket charity Chance To Shine. The three men, who dubbed themselves the Cricket Garden Marathon, completed their runs in 5hr 3mins, 5hr 33mins and 4hr 44mins respectively, with their efforts streamed live on Facebook.
Despite Chance To Shine's involvement, Stokes had no prior knowledge of the fundraising until he came across them on social media. On Sunday, the England allrounder went on his Instagram page to commend the trio on their work and lent support to the Cricket Garden Marathon cause, encouraging others to donate before revealing he was going to be running a half-marathon near his home.
After completing the run, in a video posted on his social media channels, Stokes said: "That was so hard! Please donate if you can, it's all for a great cause: the NHS Charities Together and Chance to Shine."
Laura Cordingley, Chief Executive at Chance to Shine, said: "Congratulations to Ben on running a brilliant time and, even more importantly, helping to raise funds for the NHS and Chance to Shine. We're absolutely delighted that he wanted to help out in these difficult times.
"Every pound will support the charity during this period and enable us to be in a good position to begin delivery of our programmes, once it is safe to do so."
He more than doubled that tally with 21.1km on Tuesday morning. Unsurprisingly, as one of the fittest cricketers in the world, the 28-year old completed just over 13 miles in one hour, 39 minutes and 41 seconds.
The three friends, currently enrolled at Royal Military Academy Sandhurst, set an initial target for the fundraising page at £2,000. However, thanks to the generous support received so far, the total currently stands at £4,750.
Cordingley said: "When we heard that the Garden Marathon team were going to be taking on the challenge to raise funds for Chance to Shine, we were absolutely delighted. Just like nearly every other part of society, the charity sector has been hit very hard by the Covid-19 pandemic. We're very grateful for the funds raised by Rob, Rob and Charlie that will support the charity through this tricky period.
"For Ben to see their efforts and decide to support them is really amazing. I'm sure he could have raised a huge amount in his own name but to get behind their fundraising page is a really amazing gesture. I want to thank Ben for his support and wish him the very best of luck in his challenge."
Join our commenting forum
Join thought-provoking conversations, follow other Independent readers and see their replies