Champions Trophy 2017: New Zealand and Australia's damp squib hands England control of group A
Kane Williamson scored a century for New Zealand in their abandoned Champions Trophy game against Australia at Edgbaston
Derek Pringle
Edgbaston
Friday 02 June 2017 19:48 Comments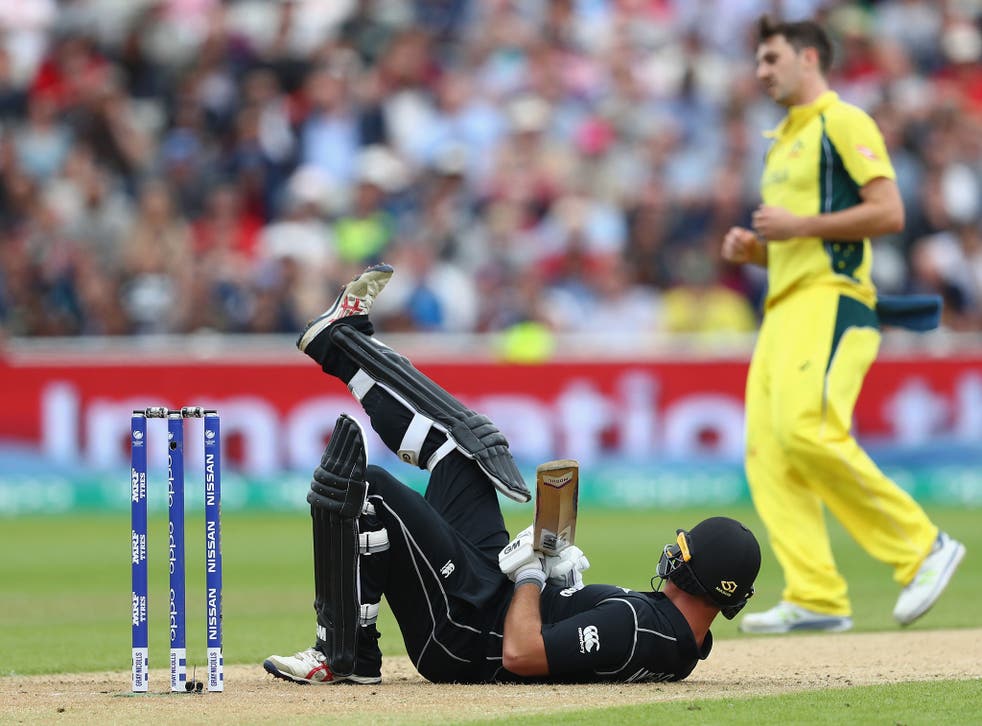 Trans-Tasman cricket clashes between Australia and New Zealand don't often end in damp squibs but then not many have been played at Edgbaston, the same outcome occurring when the sides met here in the 2013 Champions Trophy. The points were shared then too though on this occasion honours were not exactly even with Kane Willamson's side ahead in the match when time was called.
Both these teams are fancied, along with England, to reach the semi-finals though not all can do so. Jose Mourinho might settle for a solitary point against a close rival but in cricket's Champions Trophy any such hiccup can help others in the group and England now have only to win one of their next two games to qualify for the semi-finals.
Australia were 53 for three after nine overs chasing an adjusted total of 235 in 33 overs, when rain came. With a minimum of 20 overs needing to be bowled to the side batting second, both captains expressed their frustration that the game could not be concluded though Steve Smith, Australia's captain, sounded the more relieved.
"We still had some batters in the shed who can certainly play when you need to be chasing a total like that," said Smith. "But I'd have preferred to have been in New Zealand's position when we came off at the end. We perhaps got away with one there." Smith was also critical of his team's bowling, describing it as "One of our worst displays."
For New Zealand's captain, Kane Williamson, who top-scored on the day with a well-paced 100, the game was not completely wasted.
"We can't control the weather but we could control the good cricket we played and it is important we take that into the next game," said Williamson. "We need to keep that going and move on."
The day began well enough with New Zealand batting first after winning the toss, a counter-intuitive act in these days of bruising hitters but not for them. In the recent World T20 in India, the Blackcaps won four games on the bounce batting first, discovering a strategy Williamson obviously likes.
After a blitzkrieg from opener Luke Ronchi, who took Pat Cummins apart in scoring 65 off 43 balls, it was the Williamson show as he manipulated the middle-overs like fake news does the gullible.
Similar in outlook to Joe Root, Williamson is a technician who doesn't find it easy locating his inner clouting lout. Below par, in terms of runs scored to balls faced, for most of his innings he did eventually reach parity with some well-struck slogs and sweeps.
Having reached his hundred with seven overs to go, Williamson was run out after hesitating over a long single, a dismissal that precipitated a headlong rush from the middle-order, who promptly tossed their wickets away, losing four for 16 in 19 balls.
There is great latitude given to players adopting the "positive" approach but to waste six balls by being dismissed before your allotted overs, will seem careless to many and they should have posted over 300 from their 46 overs.
Incredibly, Australia could not take advantage and when play resumed following a lengthy delay for rain, they were quickly in trouble with David Warner, Aaron Finch and Moises Henriques, all dismissed cheaply. Unhappily for New Zealand further rain ruined the denouement and what looked like a certain two points.
Register for free to continue reading
Registration is a free and easy way to support our truly independent journalism
By registering, you will also enjoy limited access to Premium articles, exclusive newsletters, commenting, and virtual events with our leading journalists
Already have an account? sign in
Join our new commenting forum
Join thought-provoking conversations, follow other Independent readers and see their replies