Chris Gayle fined: Melbourne Renegades punish batsman for asking presenter Mel McLaughlin on date on live TV
The West Indies cricketer has apologised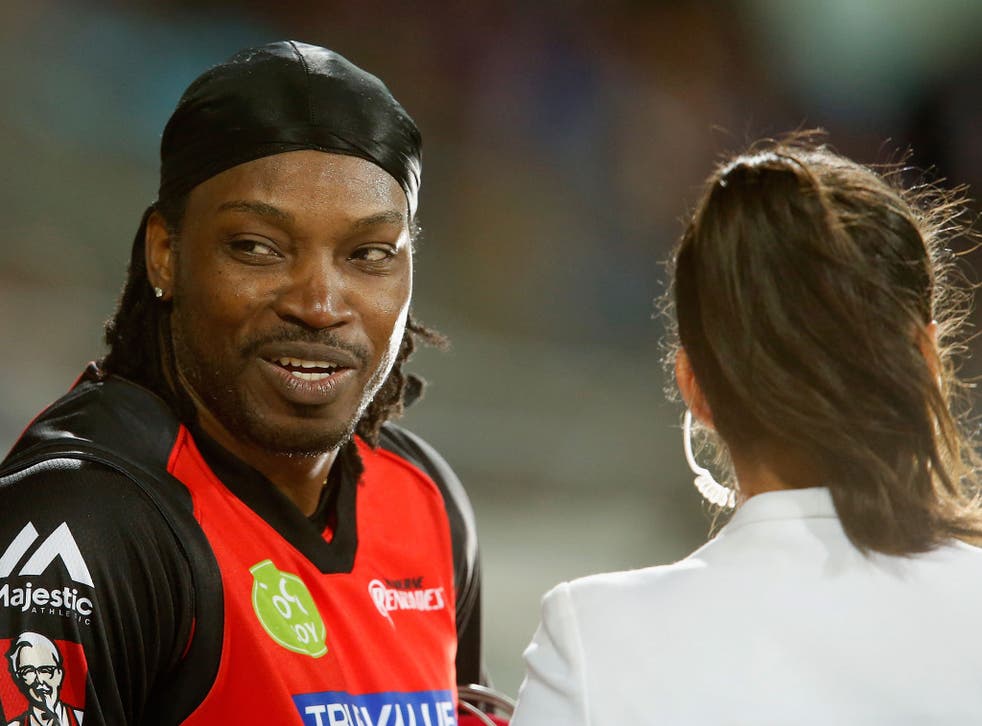 Chris Gayle has been fined around £5,000 by his Big Bash League team following his inappropriate comments to a female journalist during a live TV interview.
Whilst being questioned about his 41 run innings for Melbourne Renegades, Gayle asked Mel McLaughlin out for a drink. The 36-year-old batsman then awkwardly laughed off the comment and told McLaughlin "don't blush baby".
McLaughlin replied by telling Gayle "I'm not blushing" before moving the interview back onto cricketing matters.
Gayle's comments quickly drew widespread criticism, with former England captain Andrew Flintoff among those to call out the West Indies batsman.
He has since apologised for the incident, saying it was "a simple joke on air" that "went out of proportion". However, it wasn't enough to stop Melbourne Renegades fining their player 10,000 Australian dollars.
Melbourne Renegades CEO Stuart Coventry said in a statement on the club website: "Chris' comments were completely inappropriate and disrespectful. There is simply no place for these type of comments at the Melbourne Renegades.
"The club would like to extend a formal apology to Mel McLaughlin. Mel is an outstanding sports presenter. We think of her very highly and the club and players will ensure we work with her in a professional and respectful manner in future.
"We've had several discussions with Chris over the past day and he has acknowledged that his comments were out of line. We would also like to formally apologise to our members, supporters and the wider public for offence caused. The club is based on values of respect towards every member of the community," said Coventry.
"As a result of his comments, the Renegades have fined Chris 10,000 for inappropriate conduct. The club will subsequently donate this amount to the McGrath Foundation in recognition of Jane McGrath day today."
Gayle, arguably the greatest West Indian player of his generation, is known for his party loving lifestyle. It was revealed last year that he had installed a strip club in his home. He posted a picture of the room in his house along with the message: "From the pool to the strip club...if u don't have a strip club at home, U ain't a cricket 'Player' .. I always make sure my guest well entertained and feel like they are at home #LifeIsForLiving#DreamBig"
Join our new commenting forum
Join thought-provoking conversations, follow other Independent readers and see their replies