Chris Gayle: Former West Indies captain 'exposed himself' to female staff member during 2015 World Cup
The cricketer had already been accused of sexism after he asked TV reporter Mel McLaughlin out for a drink while being interviewed during a match this week
Andrew Tong
Wednesday 06 January 2016 00:52 Comments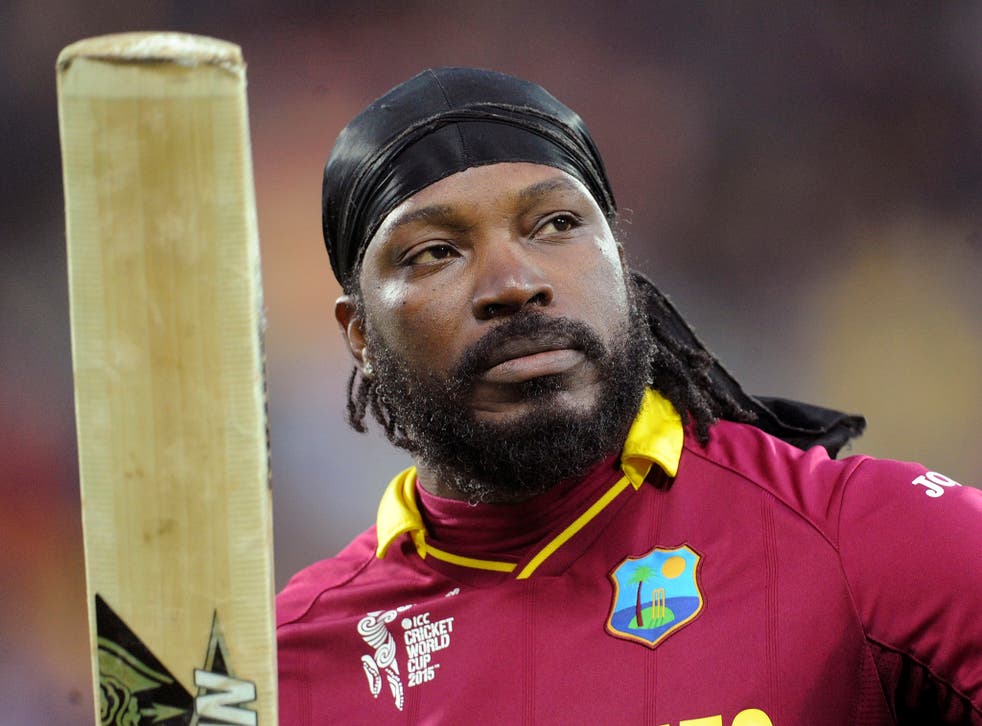 Cricketer Chris Gayle has become embroiled in another controversy as more allegations about his off-field behaviour emerged in the wake of his asking a female reporter for a date while on air.
The former West Indies captain is now alleged to have exposed himself to a female member of staff during the World Cup in Australia last year, according to the Sydney Morning Herald newspaper.
Gayle, who is playing in Australia's Twenty20 Big Bash with Melbourne Renegades, has been accused of sexism after he asked TV reporter Mel McLaughlin out for a drink while being interviewed during a match on Monday.
On Tuesday it was reported that a woman who was working with the West Indies squad at the tournament in Sydney at the start of last year alleged that she had gone into the team's dressing room to look for a sandwich while she thought the players were outside training, and found Gayle in there with another player.
She reportedly claimed that Gayle was wrapped in a towel, which he pulled down to partially expose his genitals to her while saying: "Are you looking for this?"
It is reported the West Indies team manager, Richie Richardson, was informed, but that Gayle was not named. Richardson is said to have sent an email to all the players calling for women working with the team to be treated with respect, according to the Herald.
When asked about the allegation against Gayle, Richardson reportedly said: "I have nothing to say about that or about what happened with Gayle [and the interviewer]". Gayle's management also reportedly declined to comment.
Gayle has been fined A$10,000 (£4,900) by his club for "inappropriate conduct" over the proposition after he told the reporter on live television: "To see your eyes for the first time is nice. Hopefully, we can have a drink afterwards. Don't blush, baby."
Gayle issued a form of apology, saying: "There wasn't anything meant to be disrespectful ... to Mel. If she felt that way, I'm really sorry. It was a simple joke. The game was going on. Entertainment – things get out of proportion." His fine will be donated to the Jane McGrath Foundation, a breast cancer charity.
The former Australia batsman Chris Rogers was trenchant in his criticism of Gayle, saying he is "not a fan". Rogers, who was Gayle's captain at Sydney Thunder, has signed to play for Somerset next season and could find himself playing alongside the Jamaican, who represented the county three times last season to great acclaim locally.
Rogers told ABC Radio in Sydney: "From my time at the Thunder I was very disappointed with his attitude and his behaviour and I've not been a fan since. To defend it is not right. It's not just him, there's a lot of this stuff in the sporting industry, and to defend it, I think, is not right at all."
He added: "The funny thing is, Chris was apparently unbelievable in Somerset. Sold out the place every time he played. This guy has an amazing grab, and he brings crowds. But equally you can't tolerate that kind of behaviour."
Register for free to continue reading
Registration is a free and easy way to support our truly independent journalism
By registering, you will also enjoy limited access to Premium articles, exclusive newsletters, commenting, and virtual events with our leading journalists
Already have an account? sign in
Join our new commenting forum
Join thought-provoking conversations, follow other Independent readers and see their replies