Five-day Championship cricket? Why the county game needs new vision to stand out from the background static
Something has to give. And – sorry, everyone – it needs to be the Championship
Jonathan Liew
Chief Sports Writer
Friday 12 April 2019 15:05 Comments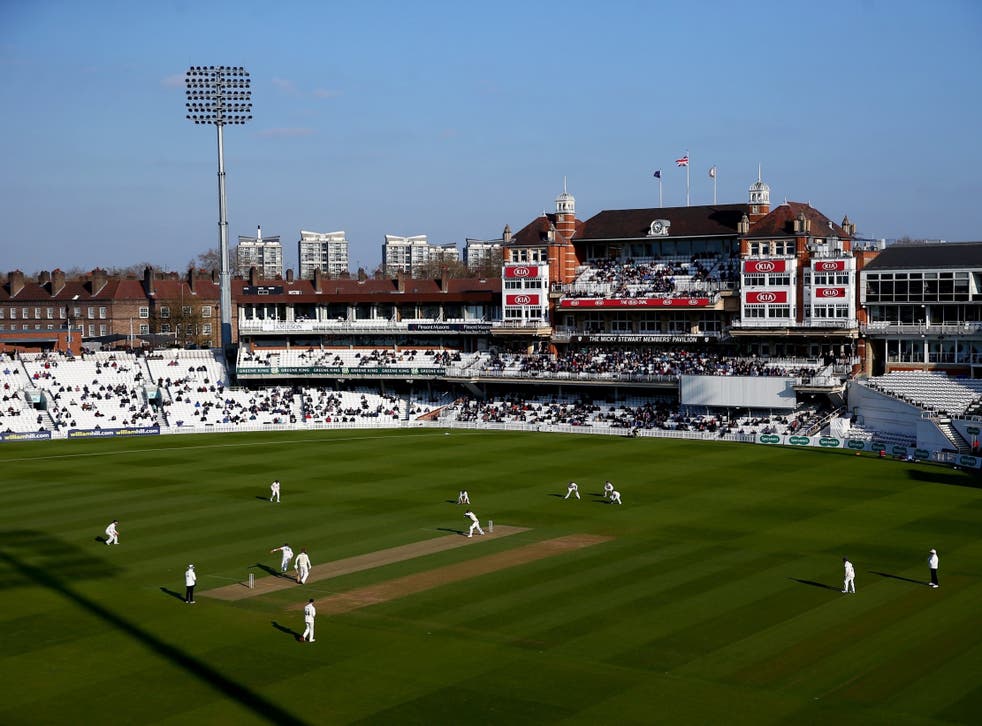 It looked like the start of summer, even though it didn't really feel like it. Through the Hobbs Gate they filed in their overcoats and scarves, clutching their brand new Wisdens and Playfairs, the old members and the hardy perennials: flasks of tea rather than chilled pints the drink of choice, the temperature resolutely marooned in single figures. Out in the middle, Essex's Jamie Porter galloped in from the Vauxhall End, provocatively clad in short sleeves. At the other end, Surrey's Will Jacks stared him down in a sturdy cable-knit sweater.
Yes, the County Championship is back – in fact, it's been back for over a week – and if its onset somehow slipped under your radar, then in many ways that's the point of it. County cricket doesn't announce its return with big-budget television montages or garish promotional campaigns. It sneaks back into your life like hope, like limescale, like lower back pain. It doesn't demand that you watch it. In fact, for most of its recent history it's actively tried to stop you: shifting start times, shifting venues, and only the most threadbare broadcast coverage.
These days, there are other obstacles in its path. April has always been a tough month for any sport to make itself heard above the cumulative din of the climax to the football season, the Grand National, the Masters golf, the Boat Race and the London Marathon, cycling's Classics. Then, of course, there's the minor inconvenience of other cricket. The Indian Premier League has parked itself in the spring schedules, draining attention that would – surely! – otherwise have been ruthlessly trained on Dawid Malan's watchful century for Middlesex against Northants at Wantage Road.
Before long, the drumbeat of international cricket will begin: a World Cup, men's and women's Ashes. And so county cricket simply slips into the background static: reassuringly there, but for the most part something you follow without ever physically seeing. Occasionally you feel a slight pang of guilt about this, but then you remember that we've all got busy lives, and even the cricket correspondent of The Times is in Augusta this week watching the golf, so maybe we should cut ourselves a little slack. Besides, it's a long old season – six months from tip to tip – and even the most dedicated follower will struggle to keep up with it all.
It feels strange that for a nation supposedly falling out of love with cricket, we're being fed more of it than ever. This year's Championship will feature 126 fixtures, the 50-over competition 77 more, the T20 Blast another 133. Then you have the 26 fixtures that the England men's and women's teams will play this season, not including the World Cup (58 games, including warm-ups). And that doesn't include the litany of university games, Lions games, tour games, second XI games and all the other unloved little pebbles that together make up the vast strand of the English domestic season. It's a ridiculous load, and one that will increase further next summer with the introduction of The Hundred.
Great Sporting Moments: Cricket

Show all 10
Something has to give. And – sorry, everyone – it needs to be the Championship.
Before you all leap out of your freezing plastic seats and pelt me with Scotch eggs, hear me out. What, would you say, are the Championship's major issues right now? A packed calendar. Matches being shunted to the margins of the summer. A shortage of decent spin bowlers and top-order batsmen. A widening gulf between the biggest and the smallest counties. A widening gulf to the Test game. Result pitches. Dead rubbers. Not to mention the weird unevenness of the two Championship divisions, with one division of eight, one of 10, and a highly unsatisfactory 14 games a season, as if the schedule had been designed by Picasso.
Here, then, is the solution to all of them: five-day Championship cricket.
"You're an idiot, Liew," you respond. "Five days is more than four. How's that going to solve the scheduling pile-up?"
The plan is simple enough: you keep the 18 counties in two equal divisions, playing eight five-day games each. Four at home, and four away, with the option of a grand final between the top two, as in Australia's Sheffield Shield. At a stroke you free up around a month from the schedule, even up the divisions and make the competition fairer.
But the rationale behind a five-day Championship goes beyond logistics and aesthetics. It will, quite simply, produce better-quality cricket. No more sporting declarations and joke bowling. Fewer matches ruined by weather. Five days will allow teams to prepare longer-lasting pitches and give spinners a fighting chance. Batsmen will get more time to build an innings. It feels incongruous, given the interminable debates English cricket has had over the years about aligning its domestic one-day competitions with the 50-over ODI format, that a first-class player can go into Test cricket never having played a five-day match before.
For the rest of us, an eight-game campaign concentrates the intensity of the season. It makes every match an event. A grand final to decide the county champions might even – who knows? – attract some of those fabled 'new audiences' to the game. Given that Championship cricket is a loss-maker for most counties, it would ease the financial burden on the poorest and safeguard the future of 18-county cricket.
There are valid counter-arguments, of course. There would be a knock-on effect on outground cricket. Cutting six games per team might lead to some trimming of squads. Alternatively, it might hasten the separation of red and white-ball formats, and the increasing proliferation of specialists. Yet this is a process that is already taking place. And besides, every other country in the world seems to get by on between six and 10 first-class games a season. English cricket's bloated calendar may once have been an emblem of a rich and vibrant domestic game. These days, it feels more like quantity over quality.
It has become something of an eye-rolling cliche to state that English cricket is at a 'crossroads'. But with the domestic one-day game about to undergo its biggest transformation in a generation, this is a moment when the first-class game demands similarly bold thinking.
Sure, the Championship could roll on indefinitely: a minor facelift here, a little finesse there. They'll still faithfully turn up at The Oval and Hove and Headingley and Bristol for years to come. Doing nothing, in this case, is certainly an option. But that doesn't make it the best option. The Championship is fine. The Championship is great! But with a little love, and a little vision, it could be so much more than that.
Register for free to continue reading
Registration is a free and easy way to support our truly independent journalism
By registering, you will also enjoy limited access to Premium articles, exclusive newsletters, commenting, and virtual events with our leading journalists
Already have an account? sign in
Join our new commenting forum
Join thought-provoking conversations, follow other Independent readers and see their replies