Cricket in 2020: Tumultuous year exposes deep-rooted issues amid flickers of game's charm
England's Broad and Anderson reached milestones, but 2020 brought to light the depth of various problems in the sport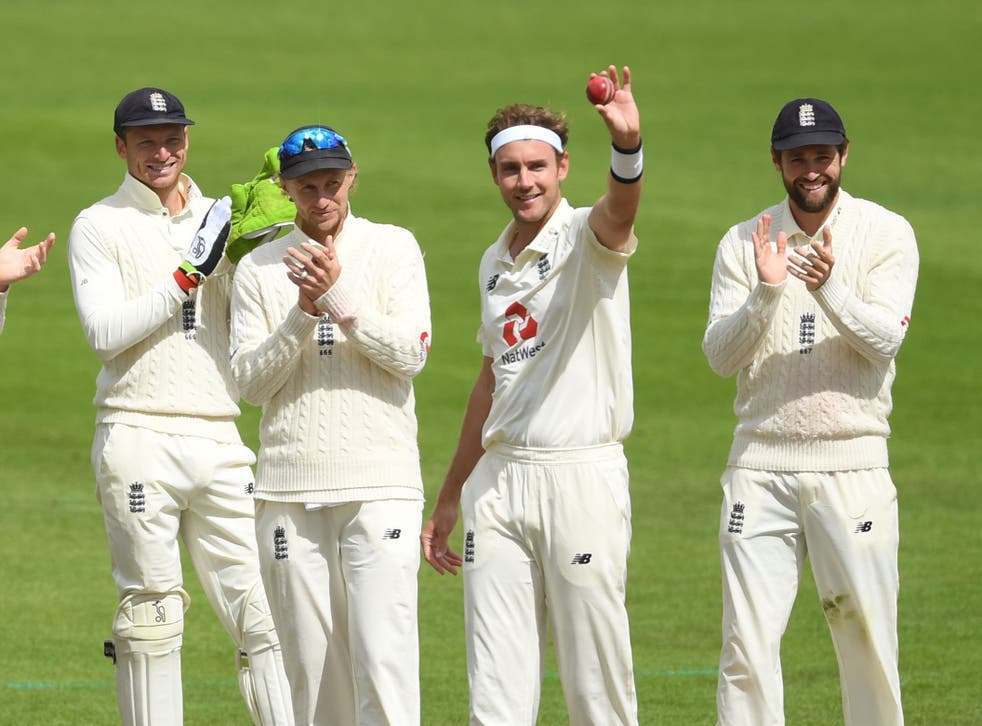 No review of 2020 is going to be upbeat. But to appreciate how tough cricket had it this year, it's worth going back to 8 March – International Women's Day. A time of celebration and Covid-19 ignorance. When the sport seemingly never had it so good.
Over 86,000 spectators piled into the Melbourne Cricket Ground to watch Australia beat India in the Women's World T20 followed by a Katy Perry concert. Rarely has cricket felt so at ease alongside A-List celebrity company beyond a mural. Not even a week later, the world went into a tailspin.
England players who stayed on for the showpiece event, bested by rain rather than India in the semis, were stuck in Australia as borders shut. They would eventually make it back to the UK, but the momentum of the women's game, the product of years of intelligent marketing and hard-nosed politicking, felt suspended in time at the MCG.
By midyear, the 2021 women's T20 World Cup in New Zealand was postponed until 2022. That's despite the fact that England are working on touring there during the same window in which the global tournament would have been staged.
READ MORE: Root focusing on 2021 Ashes with 'no excuses this time'
Cricket was never going to be immune to the more significant impact coronavirus had on women's sport or able to avoid the contradictions listed above. Nevertheless, progress was made as the England and Wales Cricket Board (ECB) were able to hand out 41 twelve-month deals to those outside the central contract system in October after a six-month delay. A crumb of comfort is that, unlike netball – undergoing their own quiet revolution before the pandemic – there is a men's game to hitch onto. Even if that meant yielding the degree of independence they had fought to achieve.
The delay of The Hundred was a snapshot of this. To many, stopping the ECB's Frankenstein's monster from desecrating county cricket for at least another season was one of the few bonuses of this crisis, even if it is a necessary crutch to help the women's game stand firm further down the tracks. More pronounced was the choice of the international men's programme as the most effective lifeboat. While they were afforded multi-million-pound bubbles to salvage the game itself, the women made do with some listless weeks in Derby and a cobbled-together tour against an undercooked West Indies side.
It proved the right move. English cricket's shortfall was restricted to £100million when it could have been more than three times as much. Broadcast deals with Sky Sports and the BBC were able to be fulfilled, thanks to the generosity of West Indies, Ireland, Pakistan and Australia. The result was as close to perfect as could be expected.
Cricket's charm lies in its irreverence to the whims of what's happening around it. In the Ageas Bowl and Emirates Old Trafford's empty, sanitised chasms, cricketers fought behind closed doors for every run and wicket, ensuring the sport did its bit as one of the first to return.
Truly, there were moments to savour. Stuart Broad became the second Englishman to pass 500 Test wickets. The first, James Anderson, broke new ground as the country's first beyond 600. Zak Crawley, the leading run-scorer across the long-form summer, emerged as the languid beast of better decks his Kent acolytes always told you he was. The brightness of the future could be embraced without needing to let go of the past.
Jason Holder's charges took the first Test of their series, while Azhar Ali's threatened to take theirs before Jos Buttler and Chris Woakes saw England home. A solitary Ireland win in the ODI bubble was an unwelcome bloody nose. There was the ODI series defeat by Australia, which stopped the hosts short of winning every series. Even when it matters least, cricket has a way of making you rue what you left behind.
The domestic circuit found a way to negotiate issues, including a Prime Minister's cackhanded assertion that a cricket ball was "a vector of disease". The County Championship and one-day cup were quarantined while the Bob Willis Trophy and T20 Blast did the red- and white-ball shopping. An Alastair Cook century at Lord's ultimately won first-class honours for Essex, as Somerset finished as runners-up. Notts Outlaws triumphed on Finals Day. Just like that, the new normal felt old.
It was in the Shires, living from paycheque to handout, that the real world was inescapable. And for all county cricket's quaintness, the toing and froing of furlough as the game was stripped to its parts and sprinkled across vacant, under-prepared outgrounds gave county players the grind without any of the frills. Things were worse lower down, as handshake agreements over new deals, second XI chances and promises of trial opportunities reneged across the country. A reminder not to judge the health of the English game by what's most visible.
However, the most ground-breaking moment came before the first ball of the summer. Ahead of England players joining their West Indies counter-parts in taking a knee in support of the Black Lives Matter movement, Michael Holding and Ebony Rainford-Brent spoke powerfully on Sky about their racism experiences. Holding pressed the issue of erasure of minorities and their accomplishments; Rainford-Brent, England women's first black international, discussed dwindling representation, both framed around their own experiences of bigotry. Many lauded their strength for speaking honestly. Others shuffled awkwardly in their seats. And with the hardest bit bringing these conversations out in the open, others felt safe enough to come forward with their own harrowing stories.
Donovan Miller, a coach who has spent time with England and Essex, recalled when he was asked if he had bananas in his cricket bag while playing minor-counties. Former Hampshire and England batsman Michael Carberry said his 20-year career left him in no doubt that English cricket was rife with racism. Former Yorkshire captain Azeem Rafiq's claims of mistreatment led the county to commission an investigation into the allegations. He has since filed a discrimination and harassment case against them.
The ECB has not shied away from what they recognise as institutional racism, commissioning a report on improving ethnic minorities' inclusivity. To their credit, chief executive Tom Harrison grabbed the nettle, an active, transparent presence on a matter some of his predecessors had done their utmost to ignore. As the summer came to an end, a broader conscientiousness carried the promise of clearer skies on the horizon.
And yet, as 2020 draws to a close, there is a nagging feeling that this is already beginning to dissipate. Redundancies were inevitable as the game prepares for further financial tightening down the road, and more could be in the offing across the ECB and member counties as the country shuts down again. With similar grim predictability, the year ended with individuals briefing against Rafiq's claims, stating he had his own disciplinary issues at Yorkshire. Because, of course, being difficult means you deserve to be racially abused.
Having talked of paying forward the generosity of touring teams, England pulled the plug on their South Africa tour after doubts emerged over the biosecurity of the hotel that housed both sets of players. Tales ensued: of a South African braai that was less than socially distanced, England's over-the-top celebrations after winning the T20 series that went too far into the night, apparent off-the-books golf trips and not adhering to their designated pool times. That "we're all in this together" spirit did not take long to puncture.
England got lucky with their summer of Covid-free bubbles. Not just with Jofra Archer's rogue pit-stop at his flat in Hove between Southampton and Manchester, but other breaches outside the playing and coaching group that came closer to bringing the operation into doubt.
The toll these measures took on all revealed itself as the summer wore on. Players struggled to deal with playing in confinement, leading to concerns over mental burnout – a familiar tax on cricketers but one compounded by the conditions. Similar sacrifices were made by ground and hotel staff, who slept on floors to maintain the bubble's integrity. The summer could not have functioned without them, but just because all were willing does not mean they were not asked for too much.
More will be demanded in 2021. England play series in Sri Lanka and India, before hosting both teams and Pakistan next summer ahead of a brief tour of Pakistan before a T20 World Cup in India, ending with the Ashes in Australia. As much as you can ensure player welfare is front and centre of your concerns with separate squads and mental health screenings, there is such a thing as too much cricket. It was an issue that needed to be addressed before, and it is only getting bigger. Compromises across the game and its stakeholders are required if we want to avoid husks of players serving up lukewarm cricket for someone else's grift.
This is usually the point in an annual review to send you on your way into the new year with twee hopes of better days. Of a game coming out of a crisis more grateful and together than ever before. Maybe even tell you that Archer and Wood will have put a few dents in the Aussies this time next year.
But that would require righting the inefficiencies of riches and opportunity that have exposed themselves over the last few months. Power remains even more so in the clutches of the few, and the prevailing sense is those who can afford to chase their losses – England, India and Australia – will do just that. And it would be a minor miracle if Archer and Wood emerge Down Under after a gruelling schedule with a full tank of gas.
Truthfully, there's little that can be promised of the game's future, just as none of us can make plans around our own. Yet, even with the uncertainty, we all understand making it out the other side of this pandemic will not be to return to how things were. The world has changed immeasurably, and so have the people in it. It would be a waste of this crisis, and the opportunity it presented to take stock and expose deep-rooted issues if cricket did not change too.
Join our new commenting forum
Join thought-provoking conversations, follow other Independent readers and see their replies