With Ireland and Afghanistan leading the way, cricket is well placed to expand beyond its traditional frontiers
Afghanistan and Ireland are expected to be handed Test status imminently but the sport remains inherently elite and conservative on the international stage. Now is the time to change this
Tim Wigmore
Friday 16 June 2017 16:50 Comments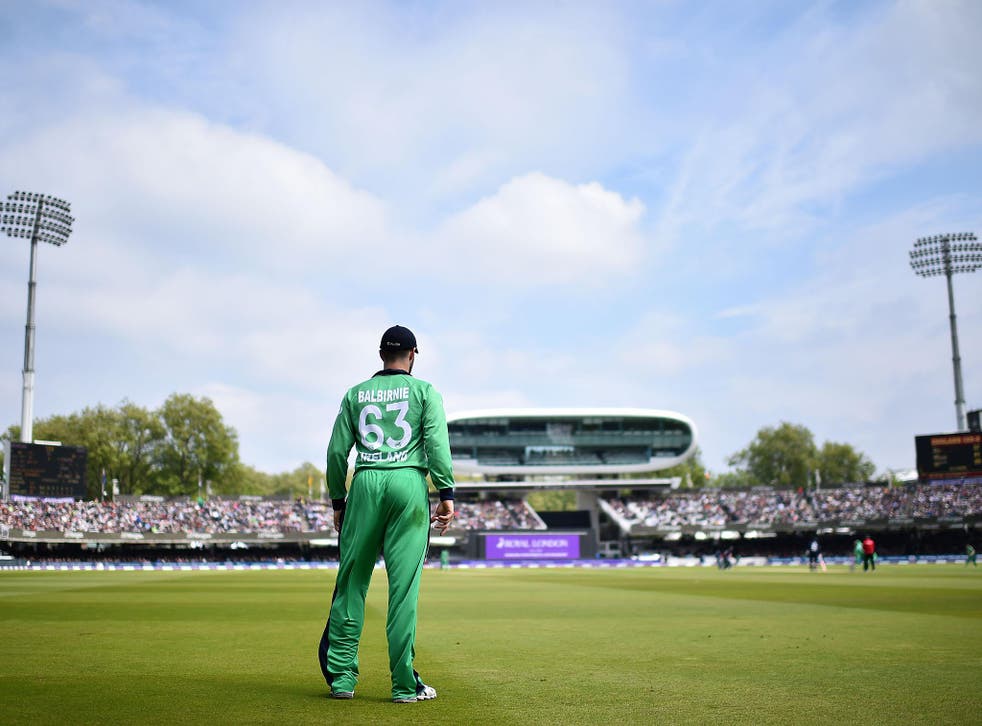 It was, perhaps, very Scottish to make history while the cricketing world was focused elsewhere. As India were setting up a Champions Trophy final with Pakistan, 285 miles north Scotland were defeating Zimbabwe. In sporting terms, this was no shock, and yet it was deeply historic: Scotland's first ever one-day international victory over a Test nation.
And it represented something altogether more. Scotland's victory in Edinburgh felt like a riposte to the inequities of the world game. It reaffirmed the ludicrousness of the antiquated, Victorian status which stymies the sport's growth.
As a Full Member of the International Cricket Council, Zimbabwe receive about £7m a year more than Associate nation Scotland. The ODI was Scotland's first against a Test nation since the 2015 World Cup, since when Zimbabwe have played 23 ODIs against other Test opponents.
Most remarkably of all, it had taken Zimbabwe 25 years after winning Test status to finally deign to meet Scotland in an ODI - not because of other commitments but because, as one ICC insider put it a couple of years ago, they were "scared" of playing and losing to Associates. Such is cricket's warped approach to expansionism.
Scotland's win was opportune timing indeed. In London from Monday, the ICC will meet for what looms as one of the most seminal weeks in the sport's history.
By the time the ICC's Annual Conference is completed, it is expected that Ireland and Afghanistan will attain Test status: a remarkable development in a sport with cricket's conservatism. Not since 2000 has a new nation been permitted into the sport's most exclusive club; not since the 1930s have two new countries played their first Test in the same decade.
The ICC also hopes to introduce a new structure for Test cricket - with nine countries in the top league and Afghanistan, Ireland and Zimbabwe underneath, and a view to expanding the main league to 12 in time - and create a 13-nation ODI league. More prosaically, the ICC is also working to divide up cricket's wealth more equally. Under the 'Big Three' model, agreed in 2014, Australia, England and India receive more than the ICC's other 102 members combined.
All these changes bode well for Associate nations, especially Ireland and Afghanistan, the flag-bearers for the non-Test world. Afghanistan's intoxicating progress continues: legspinner Rashid Khan, perhaps the most exciting teenager in world cricket, took 7-18 in an ODI victory in the West Indies last week, and he is supported by an enviable depth of fast bowling talent. Ireland, meanwhile, have dipped precisely at the time they have received more on-field opportunities, even if the sport's structure there has never been better.
At full-strength - four probable starters missed yesterday's win - Scotland would expect to defeat Ireland. Yet, even as the gap between the two narrows on the field, it is being extended off it. Despite toppling two Test teams in a month - they also thumped Sri Lanka at Beckenham three weeks ago, though the game did not constitute an official ODI - Scotland face being locked out even of the 13-team ODI league, with the Netherlands on course to qualify for the final berth.
For all these frustrations, finally Scotland have a flagship victory - and, perhaps extra cachet when the ICC meets to determine cricket's future direction. "Having demonstrated we can perform that well on the pitch people will listen to what I have to say that much more closely," says Tony Brian, the chairman of Cricket Scotland.
Over the last decade Scotland's aims have appeared tentative set against Ireland's unashamed ambition, even though Scotland's cricket traditions lose nothing by comparison. Now, Scotland intend to follow Ireland in gaining Full Member status and the extra cash and fixtures it brings.
"It's certainly our aspiration to become a Full Member. We've made that clear to the ICC," says Brian. He thinks that is possible "within the next two or three years". Scotland may even ultimately play Tests, too.
Before then, Scotland await one of the most exciting summers in their cricket history next year, with an ODI against England, the World Cup qualifiers likely to be co-hosted with Ireland, and Pakistan also possible visitors.
Such promise does not disguise that, after the second ODI with Zimbabwe on Saturday, Scotland's international summer will be over. Finance, naturally, is the major constraint. "We need that funding model sorted as soon as possible but it's not a simple discussion," Brian explains. Cricket Scotland's current turnover, £2.3m, remains about half of the smallest counties.
It encapsulates cricket's failure to globalise, and how expansionism has been undermined by the sport's inherent snobbery. These deep-rooted attitudes are not easily eroded, as evidenced by the contraction of the World Cup to ten teams and the continued obfuscation over whether to bid to join the Olympic Games. Yet, for all these obstacles, the quality and potential beyond the sport's 10 Test nations is more abundant than ever before. This decade, participation in the 95 Associate and Affiliate nations has trebled, to more than 1.5 million.
So cricket has never been better-placed to expand beyond its traditional frontiers. It just needs administrative vision to match.
Register for free to continue reading
Registration is a free and easy way to support our truly independent journalism
By registering, you will also enjoy limited access to Premium articles, exclusive newsletters, commenting, and virtual events with our leading journalists
Already have an account? sign in
Join our new commenting forum
Join thought-provoking conversations, follow other Independent readers and see their replies