David Gower: 'Strauss can be very good, but there are few greats in this game'
David Gower speaks to Brian Viner about what makes a natural captain, the bottle of wine that ended his feud with Graham Gooch, and what happens when old grudges arise in the commentary bo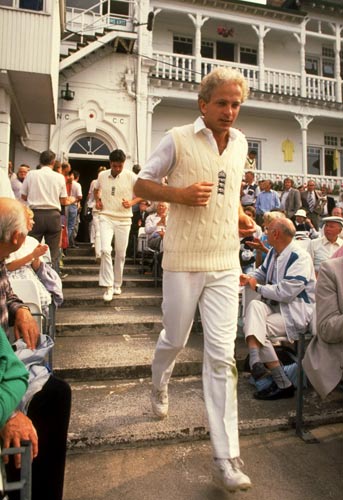 England approach an Ashes series captained by an equable, public school-educated, left-handed batsman, whose brief includes the careful handling of a barnstorming player previously deposed as captain himself. For 2009 read 1989, for Andrew Strauss read David Gower, and for Kevin Pietersen read Ian Botham. And if you still need convincing that nothing is new under the cricketing sun, consider the abject relations between captain and coach 20 years ago. Pietersen and Peter Moores, whose mutual lack of empathy in the end did for both of them, were Darby and Joan compared with Gower and Micky Stewart.
To persuade the celebrated bon viveur Gower to share with me his unique take on Ashes summers past and current I offer him lunch at a restaurant of his choice in Winchester, close to where he lives. We duly meet at the excellent Brasserie Blanc, along with Andrew Foster, who bid successfully in last year's Independent charity auction to help me interview a sporting legend. Andrew identified Gower, now a Sky Sports commentator, as the legend he would most like to meet, and consequently here we all are, breaking (sun-dried tomato) bread together.
So, let's start with the forthcoming series: Strauss has had a good feel of Test captaincy, but what sort of leader will he make in the crucible of an Ashes campaign? "I think he has a decent chance of being a very good captain," says Gower, who played in seven Ashes series, and emerged triumphant from four of them. "I would shy away from predicting huge things, but he thinks clearly and he is liked and respected by his team-mates. He is accused of being posh, but in a world in which Posh Spice is posh, that means fuck all. The truth, though, is that there are very few natural captains in the history of the game. From my era you'd say [Mike] Brearley and [Raymond] Illingworth and Ian Chappell, and that's about it."
And what is required to achieve that elusive greatness? "They need a great understanding of the game, and a great feel for their
players. To get high marks in both categories is rare. [Michael] Vaughan would be up there, too. The best captains know how everyone ticks, and how genius works. Genius is different. Pietersen is different, as was Botham.
"Beefy lives in a very different world to me. He's been a great mate for 30 years, but |no way can I keep up with him. I have to ration my nights out with him. As a captain you have to handle all that, and what I learnt too late is that you should never stop thinking, calculating. I used to switch off in the evenings sometimes, but the great captains are always on the job."
Above all the others he cites Illingworth, under whom he first played as a flaxen-haired teenager at Leicestershire, in 1975. "The outstanding thing about Illy was that he seemed to know it all, there was never a situation |in which he seemed to doubt himself. Everything that happened in every match was filed away for the next time. Illy can still remember games he played 40 years ago; I can't |remember games I watched last season. He has phenomenal recall, and Brearley had the same microfiche-style mind, which he put to great use. They call it Botham's Ashes but at Headingley, in particular [in 1981], Brearley couldn't afford to make a single mistake. Every bowling change, every move in the field, had to be absolutely right. I was 24 and focusing hard on my own game but five years later I wished I'd made notes. I had two disasters as captain, against the West Indies in '86, and the Ashes in '89. Both times we came second by a distance."
Whether better captaincy would have turned things round is the mootest of moot points. But certainly the easy-going Gower was not aided by having the autocratic Stewart as coach, and he watched with wry amusement as vaguely similar problems arose last year between Pietersen and Moores.
"2008 was not the first time that the board, the captain and the coach all appeared to come from different planets," he says. "In 1989 the board wanted Gatting as captain, but
he was blackballed by one particular selector. So they came to me. But Micky was not my cup of tea. We had the conversation Pietersen and Moores must have had: 'How shall we do this thing?' Micky had a one-size-fits-all approach to coaching and team-building. There was a small politburo issuing policy, and no sense of shared responsibility."
In Gower's successor as captain, Graham Gooch, Stewart had a kindred spirit. And it was reputedly Gooch who torpedoed Gower's England career, perhaps provoked by the infamous stunt in which Gower and his England team-mate John Morris (now the highly responsible head of cricket at Derbyshire) buzzed the ground in a Tiger Moth biplane during a warm-up match in Queensland before the 1990-91 Ashes in Australia. Then, in the fourth Test in Adelaide, facing the last ball before lunch, Gower was caught at leg-slip flicking with apparent nonchalance at a ball that needed only to be blocked. Gooch, at the non-striker's end, looked apoplectic. The writer Scyld Berry had it about right when he noted that Gower might have been more at home in the 1920s, cracking a dashing hundred for MCC before speeding away in a Bugatti for a night on the town. And yet there seems little doubt that he still had some big scores to offer England when his 8,231-run Test career (with an average of just over 44, higher than Gooch's) came to an end in 1992.
How do he and Gooch get on these days, Andrew and I wonder? "Fine. It's the followers from our respective camps who can't let bygones be bygones. We made up at a dinner at The Ivy one year, when we were on the same table and ended up being the last to leave. Then I was at Chelmsford one day for the Beeb, and Graham invited me back for a bottle of wine. I rang my missus. I said, 'You'll never guess where I am,' and she didn't. She said, 'Why? He ruined your career!'"
Mrs Gower was overstating it. Her man had a fine career, albeit dogged by the accusation, which bugged him, that he seemed too damned laid-back. Nevertheless, he believes he'd be a better player now. "If you look at Kevin Pietersen, that ability comes from three things: huge natural ability, immense self-belief, and hard work. If you're not a hard worker then the other two have to sustain you, as in my case. But if I played now I'd be exposed to new training methods. Hard work comes more naturally to the modern generation."
Let us, though, go back a generation to that 1989 series, to see whether there are any lessons from two decades ago for Strauss, Andy Flower and Co. "Well, the circumstances were very different because there was the whole rebel tour [to South Africa] in the background. Gatt was sidelined early on, and after that the selectors were thinking, 'Haven't heard from Gatt for a while', and he's thinking, 'Haven't heard from them for a while'. That was the background to him going on the rebel tour. Someone should have stayed in touch with him. It could have have been Micky, or [chairman of selectors] Ted Dexter, or it could have been me. It should have been me. And that still |happens now. If you're Matthew Hoggard, it's nice to hear from someone in the England camp, if only to say 'How are you?' A pat on the back to show that you're still appreciated goes a long way, whether in business, or marriage, or sport."
But there are pitfalls in the pat on the back that turns into a series of resounding, congratulatory slaps, to wit the MBEs hastily dished out to the 2005 Ashes winners. Even at the time, Gower winced. "I thought, 'Hang on, people have had entire careers before nipping in for a gong.' I was one of the hosts on the stage in Trafalgar Square [on the day of the open-top bus parade], and it was fantastic, but now we know you do all that, sober up, then work out how to get better. And they didn't."
Still, it's worth reminding ourselves why everyone got carried away: the 2005 win ended a catalogue of Ashes failure which all began, ahem, in 1989. And in the wake of England's 4-0 thrashing that summer, Gower hardly expected to keep the captaincy, although even his sacking was bungled.
"I was invited to Ted's house in Ealing. Micky was there, too. They said, 'We've had a bit of a
think, we need to move on, but would you mind not saying anything yet?' I said that as it happened that was fine because I was going to Portugal the next day. But someone let it slip, so what was meant to be a quiet few days in the hills in the Douro turned into a series of phone calls. John Etheridge from The Sun was first. He said, 'Is it true you've resigned as England captain?' I said, 'No.' He said, 'Then are you still England captain?' I said, 'Possibly not.' The next day's paper said, 'David Gower opens his heart to The Sun'. I think I'd said 'piss off'."
Laughter all round, but his story raises a serious point, for Gower is now poacher turned gamekeeper, and confesses how little he enjoyed standing next to England's erstwhile coach Duncan Fletcher with the Sky Sports microphone. "You knew you were going to get absolute zip, and that it would be the most pointless five minutes of television anyone would ever watch, except for Big Brother. Peter Moores wasn't much better. With him it was management-speak. And if he used that in the dressing room then he should have been fired after the first minute."
We have entered the last minutes of our lunch. Gower has been hugely affable company, as has Andrew Foster, who now poses the question that a professional interviewer, trying to be all clever and searching, might not. Yet these are the questions that often elicit the most interesting answers.
"Who," says Andrew, "was the best bowler you faced?"
"Malcolm Marshall probably shades it," Gower replies. "He was quick and really clever. Dennis Lillee is up there, and Abdul Qadir. As a batsman, whether you're facing Lillee or Bishan Bedi, the more unemotional you can be, the better. Bowlers, quick bowlers, are much more emotional, and when Pietersen comes out to bat he almost has a bowler's mentality. He's pumped up, which is why he is inclined to run himself out. But a batsman needs to be rational, to take the heat out of a situation."
Which, I venture, is why sledging began, to ruffle a batsman's calm.
"Yes," says Gower. "Terry Alderman, for instance, for a nice guy off the field, was an arsehole on it. He never stopped, and I knew that if I had a go back it was because I'd lost control. When you've got control, you can just shrug. In Sydney in 1990-91 I got out there late in the day, and everything was clicking. Athers [Michael Atherton] at the other end had a four-hour head start but I was catching up nicely. By the following morning it was question of 'who's getting a hundred first?', and in the first over I did the old thick edge between third slip and gully. You don't need to print what Alderman said to me. Then I did it again, the invective was stronger, and I was beginning to bubble over inside. But the next one went through extra-cover where the first two were meant to go, and from that moment I had complete control."
Gower ended up with 123 that day. It was to be the last of his 18 Test centuries, nine of which were scored against the Aussies. Now there's a lesson for today: the greatest England batsmen save their best for the Ashes.
David Gower is presenting Sky Sports' exclusive live, high-definition coverage of the Ashes.
Join our commenting forum
Join thought-provoking conversations, follow other Independent readers and see their replies