Disgraced former Pakistan cricket captain Salman Butt released early from jail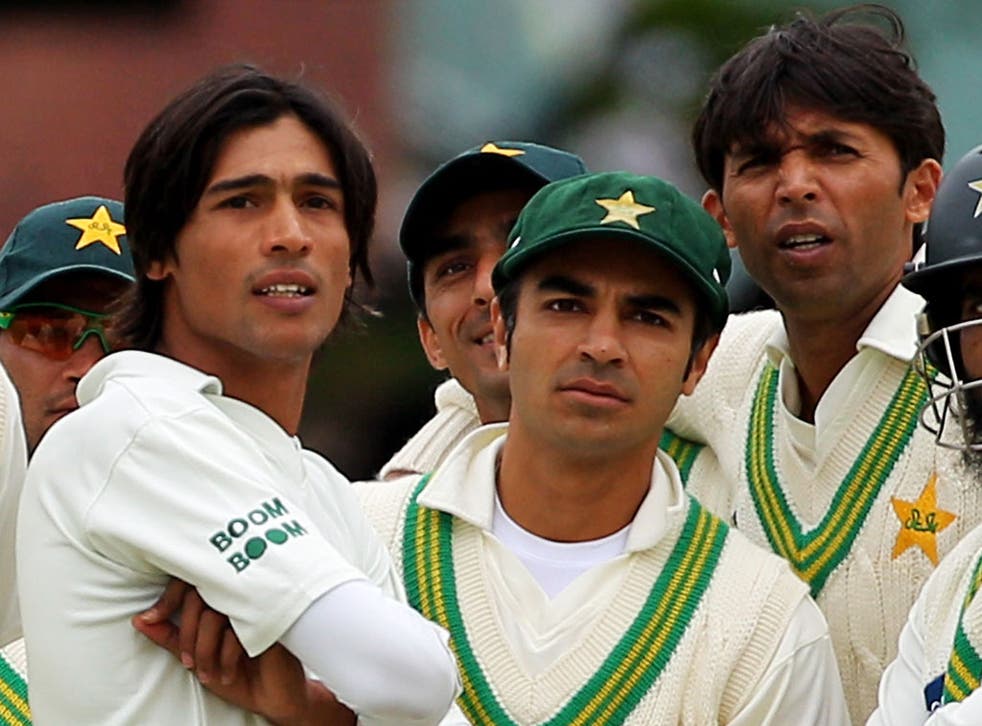 Disgraced former Pakistan cricket captain Salman Butt has been released from prison early, his lawyers confirmed today.
The ex-Test captain was jailed for 30 months at Southwark Crown Court in November for match-fixing. But he was released last night, his lawyers, 25 Bedford Row, said.
The 27-year-old was the orchestrator of a plot to bowl deliberate no-balls in the Lord's Test against England last summer.
His teammates Mohammad Asif and Mohammad Amir were also jailed for bowling the fraudulent no-balls, but have since been released.
Mazhar Majeed, 36, the corrupt London-based sports agent at the heart of the fixing scandal, was jailed for two years and eight months.
Former world number two Test bowler Asif, 29, was freed from Canterbury Prison last month after serving half his sentence.
Amir, 19, who had been tipped to become one of the all-time great fast bowlers, was released from Portland Prison in Dorset in February after serving half of his six-month sentence.
All three players are serving five-year bans from cricket imposed by the International Cricket Council (ICC).
It is believed Butt has been deported because he was freed under the early removal scheme, which allows foreign nationals to be released up to nine months before their normal release date as long as they are deported.
A Prison Service spokeswoman said: "We do not comment on the release date of individual prisoners.
"Under the early removal scheme, foreign national prisoners may be removed up to nine months before their normal release date, providing they are being deported from the UK."
Butt's lawyers said the opening batsman was leaving for Pakistan today and was expected to land in the early hours of tomorrow morning local time.
They said in a statement: "Today, following his release from HMP Canterbury, Salman Butt will be returning to Pakistan accompanied by his barrister, Yasin Patel. They are expected to land in Pakistan at 3am on Friday June 22 2012.
"Butt's early release has been obtained by the efforts of his legal team and in particular Yasin Patel.
"The former Pakistan Test cricket captain will return to his homeland following his conviction and sentence in the United Kingdom back in November 2011 at the Southwark Crown Court.
"It is expected that, on his return, he will work with his barrister in relation to the next step in his endeavours to return to the cricketing world."
Butt's barrister, Yasin Patel, said the cricketer was "tired and jaded" but would begin his efforts to return to the sport.
He said: "Salman Butt has had to endure a great deal of suffering, strain, pressure and humiliation over many months, both personally and on behalf of his family.
"His return back home will allow Salman to spend time with his family and relatives. He will get to see and hold his son whom he has not seen since his birth in November last year.
"He can now return to his beloved homeland, start to rebuild his reputation and begin the long process in his efforts to return back to top-level cricket. He is tired and jaded.
"Once he has had a little rest, you can rest assured that Salman Butt will talk to the media when the time is right."
The fixing scandal emerged after an undercover News of the World reporter approached Mazhar Majeed in August 2010 pretending to be a wealthy Indian businessman seeking major international cricketers for a tournament.
The sports agent was secretly filmed accepting £150,000 in cash from the journalist as part of an arrangement to rig games.
Majeed promised the reporter that Asif and Amir would deliver three no-balls at specific points during the Test between Pakistan and England at Lord's from August 26 to 29 2010.
He claimed he had been carrying out fixing for two and a half years and had seven players from Pakistan's national side working for him.
Explaining why he bowled a no-ball when Majeed said he would, Asif alleged that Butt told him: "Run faster, f*****", moments before his delivery.
PA
Register for free to continue reading
Registration is a free and easy way to support our truly independent journalism
By registering, you will also enjoy limited access to Premium articles, exclusive newsletters, commenting, and virtual events with our leading journalists
Already have an account? sign in
Register for free to continue reading
Registration is a free and easy way to support our truly independent journalism
By registering, you will also enjoy limited access to Premium articles, exclusive newsletters, commenting, and virtual events with our leading journalists
Already have an account? sign in
Join our new commenting forum
Join thought-provoking conversations, follow other Independent readers and see their replies