Alex Hales bidding to prove a point against Australia as he eyes World Cup place
England have the chance to wrap up the one-day series against Australia tomorrow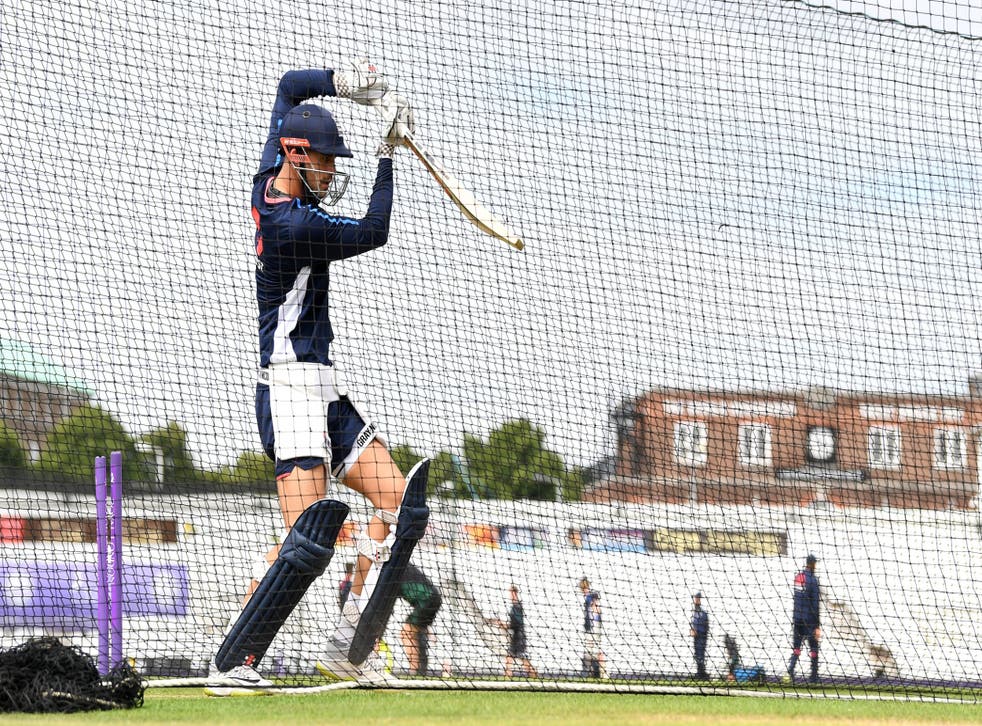 England will be strong favourites to beat an under-strength Australia at Trent Bridge tomorrow and seal a seventh successive one-day series triumph following their somewhat scrappy wins at The Oval and Cardiff.
Yet for Alex Hales the bigger picture is winning back his place in the team ahead of next year's World Cup.
Trent Bridge is home for Hales and as good a place as any for the opener to stake his claim given this is the ground where he hit an England-record 171 against Pakistan two summers ago.
That momentous innings came during a match that saw Eoin Morgan's team post 444 for three, the highest-ever total in the history of one-day international cricket.
It's a record that still stands. Hales, though, has since seen his personal landmark beaten, with Jason Roy surpassing him with a brilliant 180 against Australia in Melbourne back in January.
Roy, dropped from England's team during last summer's Champions Trophy, hit another century against Australia in Cardiff last Saturday, his 120 setting up a 38-run win for England and further establishing his place in the team.
Jonny Bairstow, who came into this series having become the first Englishman to score centuries in three successive ODIs, is also locked in at the top of the order, leaving Hales to bat at three while Ben Stokes remains absent with a hamstring injury.
England released a positive fitness update on Stokes today, with the all-rounder looking good to return for next month's T20 and ODI series against India.
With Stokes back, Hales knows he will lose his place.
"Looking at the way it is, that'll probably happen," he admits. "I've got to try and get my place back. That's up to me.
"Those two [Roy and Bairstow] have come in and done really well. Jonny's been knocking the door down for a few years now and every time he got a chance, he took it. I guess now I'm in that position where I'm on the fringes and any chance I can get, it's up to me to convert big runs and put some pressure on those two."
Hales hasn't covered himself in glory so far this summer. He did make a half-century against Scotland in Edinburgh but ran out Joe Root in the process and also threw away his wicket at a critical stage of the run chase. It was a major contributing factor to England's embarrassing defeat and he has followed that up with scores of five and 26 in the first two matches of this series against Australia.
"I was disappointed not to get over the line against Scotland," he said. "I got into a good position there and gave it away a little bit. I'm searching for my form a little bit.
"Mentally, I feel pretty good and playing at our home ground, where I've got a good record, hopefully I can put in a big performance.
"If I could pick a venue to bat at this would be it. I feel confident so it's just a question of turning up mentally fresh and confident heading into the game and putting in a performance because I'm desperate to score some runs, particularly at my home ground."
The good news for England is Morgan, their captain, looks fit to return for this third ODI after he was forced out of the Cardiff match just 20 minutes before the start of play with a back spasm.
England's players will prepare for this match with a barbeque at Hales' Nottingham home as they take in the football team's first match of the World Cup against Tunisia in Russia.
But it is next year's Cricket World Cup in England that is high on Hales' agenda, with the 29-year-old confident he can re-establish himself in the team by the time the tournament starts.
"Absolutely," he said. "That's my aim but there's some seriously talented players who can't get in the 15-man squad at the moment. It's good, healthy competition and it keeps everyone on their toes."
After opening this series with two scrappy wins, Hales believes England can be ruthless in finishing off an Australia team depleted by the absence of at least five first-choice players, including the banned ball-tampering pair of Steve Smith and David Warner.
"That's definitely our plan," he said. "We've probably not been quite at our best in the two games. We're all striving to improve and the Australians will be thirsty to beat the English no matter what format and no matter who's playing. We're expecting tough competition."
Register for free to continue reading
Registration is a free and easy way to support our truly independent journalism
By registering, you will also enjoy limited access to Premium articles, exclusive newsletters, commenting, and virtual events with our leading journalists
Already have an account? sign in
Register for free to continue reading
Registration is a free and easy way to support our truly independent journalism
By registering, you will also enjoy limited access to Premium articles, exclusive newsletters, commenting, and virtual events with our leading journalists
Already have an account? sign in
Join our new commenting forum
Join thought-provoking conversations, follow other Independent readers and see their replies