England beat Australia in Twenty20 thanks to brilliant final over from Ben Stokes in tight match in Cardiff
England 182-5 Australia 177-8 England win by five runs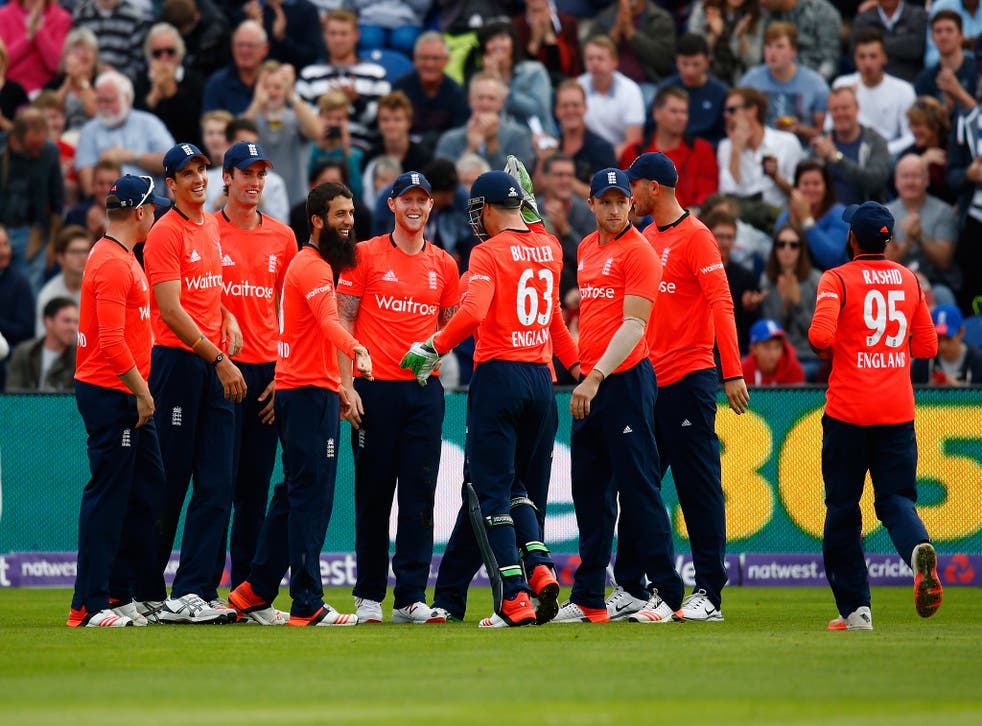 The true stars of sport deliver when the pressure is high and Ben Stokes' performance here proves he is capable of joining that elite group.
Asked to bowl the final over of this Twenty20 international when Australia needed 12 to win, Stokes conceded only six runs and his accuracy helped his team take three wickets at the death, including two run-outs, to seal a five-run win.
Stokes' contribution in the field was just as important. With Steve Smith and Glenn Maxwell looking dangerous after posting 112 off 68 balls, Maxwell – known as 'The Big Show' – tried the spectacular off Moeen Ali's first delivery, only to watch Stokes fly to his right at wide mid-on to claim a remarkable catch and send back Maxwell for 44.
It was the kind of athleticism of which the world's top goalkeepers would have been proud and, as captain Eoin Morgan said, it "changed the momentum of the game." He added: "I hadn't earmarked Ben to bowl the last over of the game but he took on the responsibility really well. Ben was exceptional."
Morgan himself played a similarly important hand, scoring 74 from only 39 deliveries in a 135-run partnership with Moeen Ali, who finished 72 not out from 46. England had been asked to bat first and when the third-wicket pair came together, they were 18 for two. Morgan and Moeen helped them post a formidable 182 for five, although Morgan thought they should have reached 200.
Morgan was recently granted a four-week break from county cricket by Middlesex – this was his first innings in any format since August 1 – and the early evidence suggests it has revived him. The England captain had a fine limited-overs campaign against New Zealand earlier in the summer and he has picked up where he left off.
The left-hander hit seven sixes, including an audacious swipe down the ground off Shane Watson that would have looked at home in World Series baseball. Watson took some revenge when he caught Morgan on the short, straight boundary, but the England man had made his mark. "The break has worked really well," said Morgan. "I'd been practising for the previous 10 days and I felt really fresh, mentally and physically. Before that, I'd played for about 11 months without a break."
Australia captain Smith also made an impact, scoring 90 from 53, but his dismissal started the slide for his team. The tourists needed 18 from 10 when Smith tried to hit the impressive David Willey to the midwicket boundary, but failed to make a true connection. Sam Billings took the catch and Australia's lower order could not finish off the good work of Smith and Maxwell.
Smith's departure started a collapse of five wickets for 16 in 14 balls. It was the kind of slump typical of England limited-overs sides of the past and Smith admitted: "They finished off better with the bat than we did. Our blokes weren't able to hit boundaries at the end and that is what cost us."
Stokes, Morgan, Moeen and Smith were the main actors here but there were other interesting cameos. Left-arm seamer Reece Topley, on his international debut, bowled skilfully to take one for 35 from his four overs.
Shane Watson's horrible summer was epitomised by his dismissal. Having blocked a ball from Steve Finn, Watson tried to kick it away, only to miss his target and watch it cannon into his stumps.
His Australian team-mate Pat Cummins provided more encouragement, regularly bowling well in excess of 90mph and removing England openers Alex Hales and Jason Roy inside four deliveries. Provided Cummins can stay fit, his speed offered a glimpse of Ashes contests in the future.
These teams' immediate priority is the present. The first of five one-day internationals takes place at Southampton on Thursday and Australia will find an England transformed from the craven side they thrashed in the opening game of the World Cup earlier this year.
Smith believes, however, that he has seen a weakness. "Their batsmen are playing their shots and that could work for us, as it could allow us to take early wickets and exploit their middle order."
Morgan has made it clear that England will not change their style for anyone and it should be another fascinating series.
Register for free to continue reading
Registration is a free and easy way to support our truly independent journalism
By registering, you will also enjoy limited access to Premium articles, exclusive newsletters, commenting, and virtual events with our leading journalists
Already have an account? sign in
Register for free to continue reading
Registration is a free and easy way to support our truly independent journalism
By registering, you will also enjoy limited access to Premium articles, exclusive newsletters, commenting, and virtual events with our leading journalists
Already have an account? sign in
Join our new commenting forum
Join thought-provoking conversations, follow other Independent readers and see their replies