English cricket is in turmoil but Ashes bolter Craig Overton is ready to land a knockout blow of his own
Exclusive: English cricket has endured a forgettable week but Somerset's Overton is hoping to be one who profits from Ben Stokes and Alex Hales' absence in Australia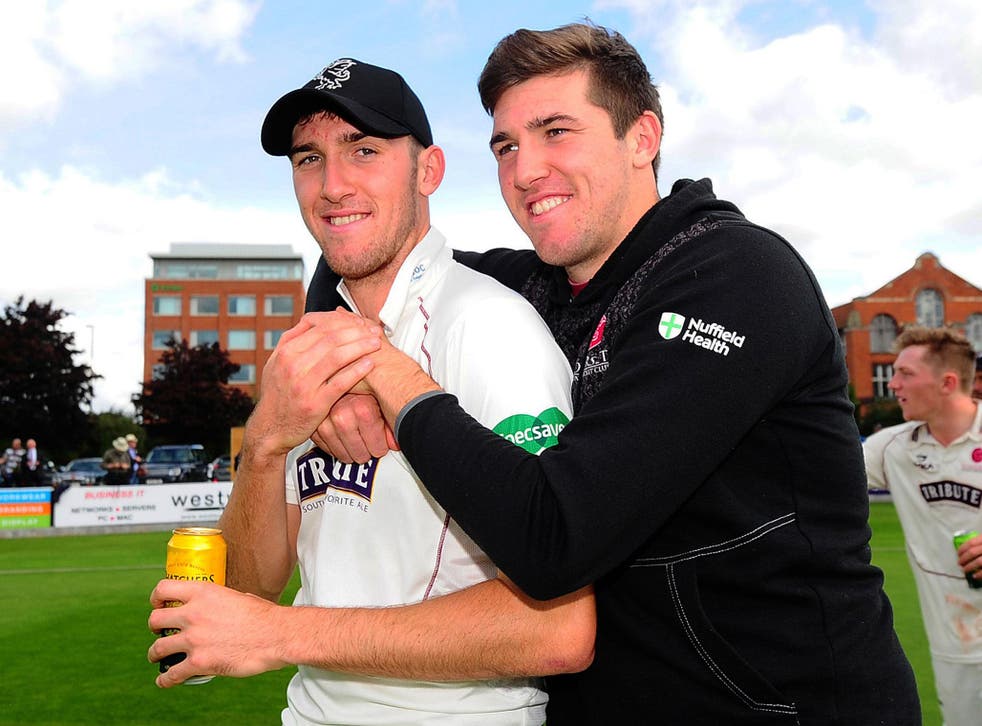 It didn't take long for Craig Overton to get a taste of what awaits him in Down Under.
"I've been sledged by Adam Voges all day so far," he said. "I suppose it's good practice."
Overton was speaking after the third day of Somerset's Division One clash against Voges' Middlesex side – a match that spared the West Country side from relegation and sent last year's champions tumbling down to Division Two.
It was Overton's final match of a season that saw him take 46 wickets at a cost of 22 and emerge as a wildcard pick for England's Ashes tour.
Wild was very much the operative word in a week that saw English cricket's reputation dragged through the mud and ended with Ben Stokes and Alex Hales being suspended until further notice by the England and Wales Cricket Board (ECB).
Overton himself is no stranger to controversy, having been at the centre of a racism storm two years ago. The 23-year-old denied the accusation but was banned for two matches as a result. He has since attended anger management sessions.
Somerset's recently departed coach, Matthew Maynard, said last week that he had seen Overton mature in the past couple of seasons – but it's safe to assume that the Aussies won't hold back if they're handed the chance to try and wind up the all-rounder this winter. Particularly if their prime target, Stokes, is left kicking his heels at home.
Overton, though, has consistently shown the kind of fighting spirit that England will need if they're to avoid a repeat of the humiliating 5-0 whitewash handed down by the Aussies on their last tour.
And with Stokes now an unlikely starter, there are clearly opportunities opening up for a man who has come through the Somerset and England youth ranks with his twin brother, Jamie.
"I have James Whittaker's (England chairman of selectors) number in my phone so when it started ringing I knew it was him and knew it was probably good news," he says. "I had just arrived home and just parked up in my driveway. It was perfect timing.
"I called my dad, then I tried ringing my mum who had been watching us at Taunton. She was driving so she couldn't answer so then I phoned Jamie.
"Jamie was really happy, obviously he has had a disappointing end of the season but we're close enough that when we get rewards like this we're really happy for each other. I'm sure it will drive him more as well. He'll be pushing for a place soon.
"We have both been in different squads at different times. It seems to be quite funny that one of us gets ahead and then the other does. Success just pushes the other one even harder."
Ben Stokes included in England Ashes squad despite arrest
Overton will hope it's a case of double trouble for the Aussies this winter, with his brother already mentioning plans to head to Australia to join him on Twitter.
The chances of Jamie one day following in Craig's footsteps into the England Test side are already high. For now, though, it's Craig who has a chance to live out his childhood dreams of taking on the Aussies in their own backyard.
"As a kid you always want to play in the Ashes and I think it makes it even more special that it's Down Under and it will be my first proper Test series," he says. "I can't wait to get out there, hopefully it will be lots of fun. Games in the garden with Jamie would always be England v England, you can't be Aussies can you.
"My first Ashes memory was probably 2005 and that game at Edgbaston when we won by two runs. I was playing a game at the time but it was stopped so we could all come off and watch the last few 20 minutes. Things like that definitely stay with you."
Ashes memories before 2005 were eminently forgettable, with England failing to win a series against the Aussies in 18 years. Since then, they've been rather sweeter, although two 5-0 hidings mean the 2010/11 win in Australia remains the exception rather than the norm.
A repeat of that, for the moment at least, looks unlikely given the uncertainty surrounding England's talisman all-rounder. Overton, though, is already looking forward to taking his opportunities with both hands.
"Broad and Anderson are almost guaranteed to start but there is probably one slot up for grabs," he says. "I'll just be working hard to standout. Even though we're a young squad we'll be fighting hard out there, that's absolutely certain."
Showing some fight on the pitch would be a welcome development. Whether England and their rookies can land a knockout blow in the five Test series is open to debate.

Register for free to continue reading
Registration is a free and easy way to support our truly independent journalism
By registering, you will also enjoy limited access to Premium articles, exclusive newsletters, commenting, and virtual events with our leading journalists
Already have an account? sign in
Register for free to continue reading
Registration is a free and easy way to support our truly independent journalism
By registering, you will also enjoy limited access to Premium articles, exclusive newsletters, commenting, and virtual events with our leading journalists
Already have an account? sign in
Join our new commenting forum
Join thought-provoking conversations, follow other Independent readers and see their replies