Trevor Bayliss at a loss to explain England's shambolic batting collapse
England were blown away for just 58 in just 94 minutes before ending the day 117 runs behind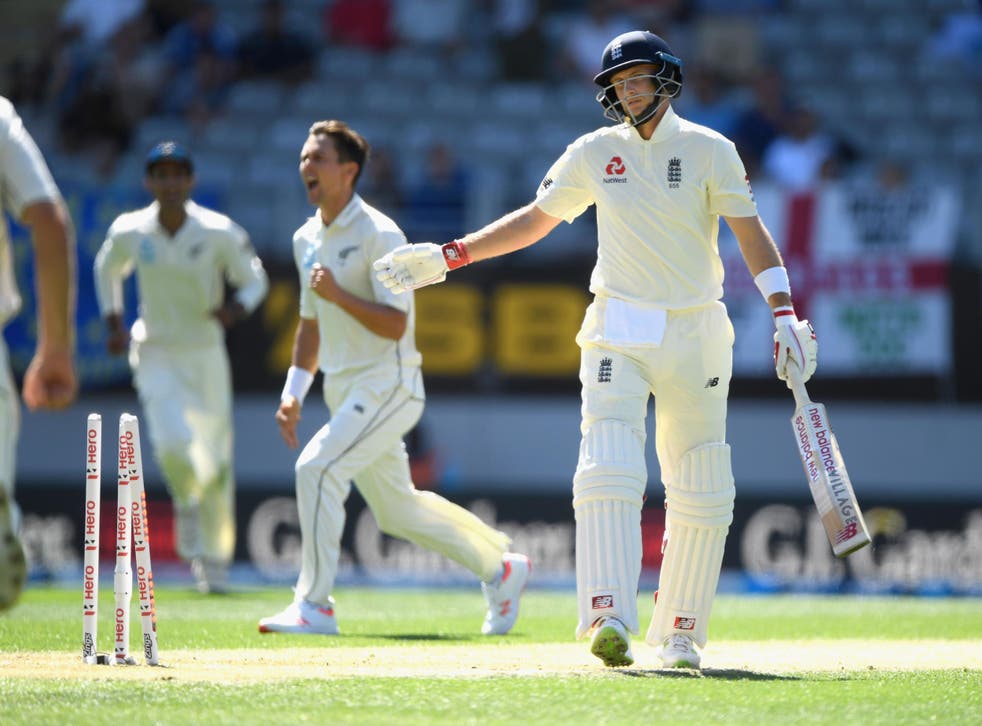 Trevor Bayliss admitted he was at a loss to explain England's shambolic collapse to 58 all out inside the first session of this opening Test against New Zealand.
This may have been the first day-night Test in this country but shocking batting by Joe Root's team in bright sunlight ensured there was daylight between the teams by the time the hosts reached the close on 175 for three, a lead of 117.
England were blown away in just 94 minutes as Trent Boult took a career-best 6-32 and Tim Southee followed up with four wickets.
New Zealand vs England First Test - in pictures

Show all 17
Asked to explain the batting horror show, England's coach said: "I can't, it was a very poor effort today – it wasn't good enough. I thought New Zealand bowled extremely well and we batted equally as badly."
Bayliss also admitted he was embarrassed by the collapse, saying: "Certainly and I probably wasn't the only one in the England change-room either. As I said, it's certainly not good enough."
England, humbled 4-0 in Australia as they lost the Ashes earlier this winter, have failed to win any of their past 11 overseas Tests and will surely not prevail in this one either.
As coach, Bayliss knows he is ultimately responsible for results and the Australian admitted: "Certainly, it hurts from that point of view. That'll be up to you guys I suppose [whether he is sacked], what you want to write. But, look, whenever you don't do well it does hurt. So, all we can do is take it on the chin, work out what we can do better and go back and work as possibly hard as we can at it."
Bayliss was also frank when questioned as to whether this performance represented rock bottom for England during what has been a nightmare Test winter so far.
"On the scoreboard certainly – 58, that's obviously well below par," he said. "I thought we made a lot of mistakes today.
"It's definitely frustrating that's for sure. We'll have to sit down and have a good chat about it. Is it a mental approach, is it something in our preparation? Are we good enough at working out how to play when we do lose wickets?
"Someone sneezes and the rest of the guys catch a cold don't they? Everyone was making the same type of mistakes – feet not moving properly, decision making not as it normally is.
"That's the way it happens. We've been on the other side of scores like that and it's euphoria. This is the opposite."
England dropped No3 batsman James Vince for this match and moved Joe Root one place up the order as returning all-rounder Ben Stokes was unable to bowl because of a back injury.
Did those changes affect the team? "When you have a day like today it's easy to say yes I suppose," said Bayliss. "I don't think so. I think we've got the best team we can pick from England here."
The limited build-up Root and his players had for this series – just a pair of two-day warm-up matches - has been suggested as one excuse for this display.
"I don't think so," said Bayliss. "Look, if it was the perfect build-up, it might have been nice to play another game or so but that's just the way it is in international cricket these days."
Register for free to continue reading
Registration is a free and easy way to support our truly independent journalism
By registering, you will also enjoy limited access to Premium articles, exclusive newsletters, commenting, and virtual events with our leading journalists
Already have an account? sign in
Register for free to continue reading
Registration is a free and easy way to support our truly independent journalism
By registering, you will also enjoy limited access to Premium articles, exclusive newsletters, commenting, and virtual events with our leading journalists
Already have an account? sign in
Join our new commenting forum
Join thought-provoking conversations, follow other Independent readers and see their replies