Trevor Bayliss to strip Jonny Bairstow of wicketkeeping duties to focus on 'world-class' batting
The England management have been pondering for a while whether the burden of keeping is curbing Bairstow's development as potentially one of the most prolific batsmen of his generation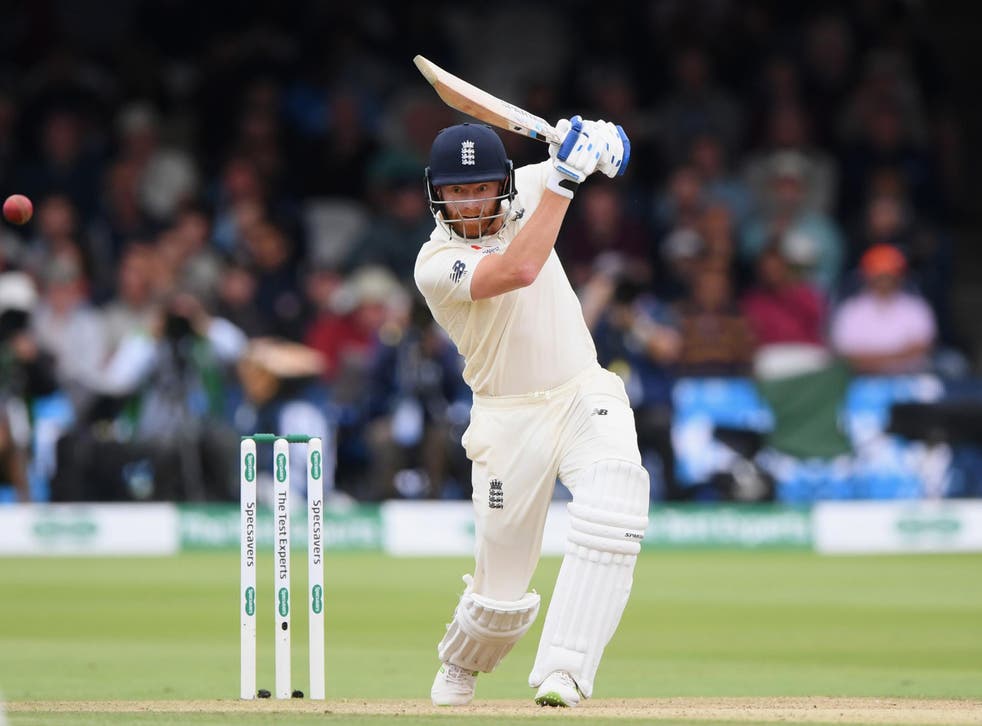 England coach Trevor Bayliss has given his strongest indication yet that Jonny Bairstow may be stripped of the wicket-keeping gloves in order to help him fulfil his potential as a batsman. Jos Buttler is almost certain to keep wicket in next week's fourth Test against India at Southampton after Bairstow fractured his left middle finger at Trent Bridge this week, with Bairstow either missing or playing as a batsman only. But despite Bairstow's clear preference to play as a keeper-batsman, Bayliss refused to guarantee that he would be restored to the position when his finger healed.
England's current batting ills have seen Bairstow move up the order to No5, and Bayliss even sees him as a potential No4 in future. But Buttler's century at Trent Bridge after taking the gloves from Bairstow have given England a dilemma, with Bairstow averaging significantly more in the first innings of the game (59.5), than in the second (33.5), after he has spent an innings in the field keeping wicket.
And although Bairstow's keeping has improved markedly since taking the gloves full-time in late 2015, the England management have been pondering for a while whether the burden of keeping, with its mental and physical strain and hours of specialist practice, is curbing Bairstow's development as potentially one of the most prolific batsmen of his generation. In addition, Bairstow without the gloves is perhaps the best and most athletic outfielder England have.
Complicating the issue is the fact that Bairstow has said publicly and privately that he is opposed to playing as a specialist batsman, and Bayliss admitted that a delicate conversation may need to take place at some point. "That'll be the hard thing, trying to convince Jonny," he said. "That will be a decision that is taken from the team point of view. He is a world-class batter. We know that. One of the difficult things might be convincing Jonny of that.
"If that was the way we went, it would certainly be a deep conversation. Jonny's a reasonable bloke. If that's the way we wanted to go… in the long run, he wants to play Test cricket. We know he wants to keep, but there would be a lot of explaining and chatting. Is there a fear that taking the gloves away might affect Bairstow's batting? That might be his fear, it's certainly not our fear."
The recall of James Vince for the fourth Test is another acknowledgement that England are still searching for the right balance in their top four. Either Vince or Bairstow is likely to bat at No4 in Southampton, with the young Surrey batsman Ollie Pope dropping to No5 after failing to pass 28 in any of his three Test innings so far. Bayliss admitted that while Pope had showed signs of promise in his two Test matches, he had been batted a little higher than was ideal.
"He's batted no higher than No6 for Surrey, so it was a big ask to come into international cricket and bat No4," Bayliss said. "But the short times he's been at the crease that he might be a good international cricketer. We would have probably liked to have started him off a bit lower, but the hole was at No4. Obviously, Jonny is an option there as well."
Register for free to continue reading
Registration is a free and easy way to support our truly independent journalism
By registering, you will also enjoy limited access to Premium articles, exclusive newsletters, commenting, and virtual events with our leading journalists
Already have an account? sign in
Register for free to continue reading
Registration is a free and easy way to support our truly independent journalism
By registering, you will also enjoy limited access to Premium articles, exclusive newsletters, commenting, and virtual events with our leading journalists
Already have an account? sign in
Join our new commenting forum
Join thought-provoking conversations, follow other Independent readers and see their replies