England's batsmen in a spin again as India seize control of fourth Test
England were bowled out for 205 after failing to take advantage of winning the toss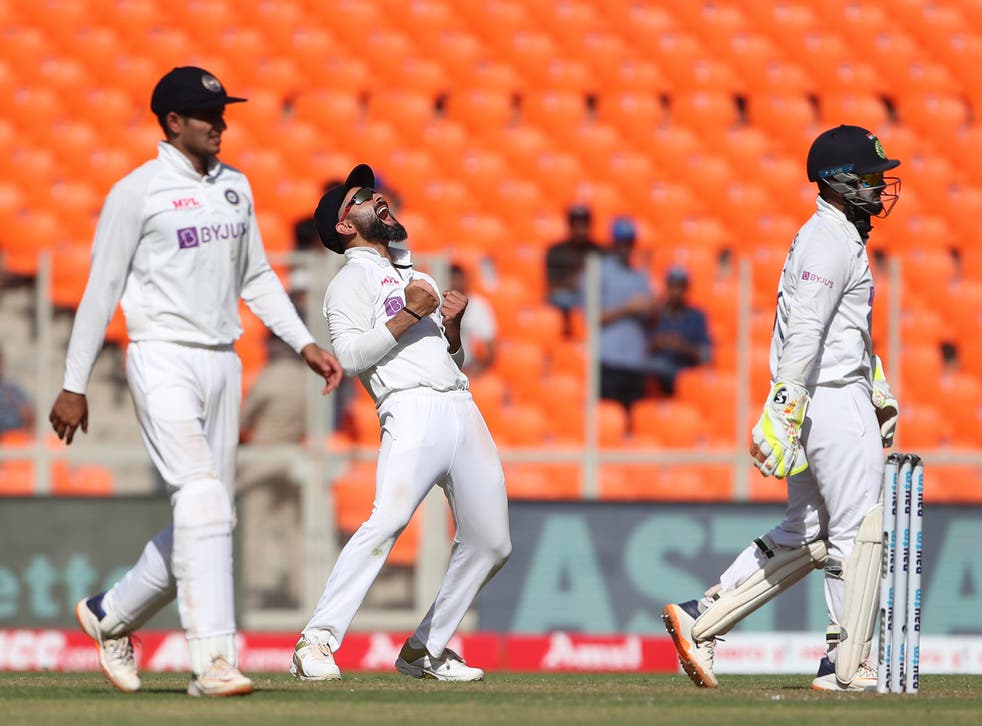 They say the most challenging part of playing in series where you've taken as many blows as England have over the last fortnight is believing you still have a chance. A degree of kidology is encouraged: convincing all, but mostly yourselves, that the only thing that matters is what lies ahead, not what came before.
But instead, on day one of a final Test they need to win to square a series 2-2, here came a refresher of the mistakes they've been making ever since that first win. Familiar errors in line and judgement saw the tourists crumble to 205 all out, allowing India an early sighter of a pitch playing true. So much so that the early loss of Shubman Gill does not feel a great tax on what is to come. Right now, they are 24 for one when they should still be waiting their turn.
England had made the right noises leading up to the match. Losing a Test match in two days was always going to do funny things to English minds in and out of the bubble. Barring a couple of social media lapses, the internal thinking was insulated from a lot of the galaxy brain takes on the periphery. Publicly at least, clarity was a regular theme of all media engagements. 
And yet, the XI read like a massive over-correction of last week's errors. Four seamers cut down to two if we generously consider Ben Stokes, who has only bowled 15 overs across four innings this series, as Jofra Archer and Stuart Broad were stood down. One frontline spinner bolstered to two with the addition of Dom Bess, if we unfairly put aside Joe Root's five for eight. Dan Lawrence, a batsman with three caps at first drop or five shoe-horned in at seven.
It felt a bit like getting in a cycling accident and returning to the road on a unicycle wearing two helmets. Lo and behold, England crashed again. 
Don't let the eight wickets to spinners fool you, or even really the undoubted class of Axar Patel's four for 68 and Ravichandran Ashwin's three for 47. They got first dibs on the best batting pitch available to them since the first Test in Chennai and wasted it.
Dom Sibley was bowled through the gate. Zak Crawley misread length on the charge, getting caught at mid off. Ollie Pope, caught fortuitously via a deflection off his pad, failed to advance enough down the track to adequately get to the pitch of the ball for more meaningful contact. Ben Foakes's tentative prod outside off stump, feet rooted behind the line, was catching practice for Ajinkya Rahane at first slip. Lawrence was stumped charging on a whim. 
Compounding visiting miseries were the dismissals of Root (five) and Jonny Bairstow (28) via the same means they thought they could do without. Mohammad Siraj, tagging in for the injured Jasprit Bumrah, routinely broke 90mph and made use of the lavish movement on offer. Both batsmen hurried, trapped on the crease and forcing wider reassessment. The first of them cut England to 30 for three one ball after the first drinks break; the second four overs after lunch bring a partnership of 48 that ended up being the most productive of the lot. 
Therein lay the biggest gripe. Because there were moments when England were set. Perhaps not outrightly in control against a diligent Indian attack, but by no means swimming against the tide as they have been for most of the last two defeats. The fourth-wicket stand of 48 was followed by 43 and 45 for the fifth and sixth. 
Stokes was the main player for the first two, dials of judgement and positivity perfectly set to take his side beyond the previous two collective efforts of 81 and 112. Virat Kohli perhaps let him off the hook early by holding back the introduction of Ashwin until the 20th over. 
The off spinner has accounted for Stokes 11 times in 22 meetings. When 23 came around, the left-hander was already set on 17. Two balls in, he slinked down the pitch to cart Ashwin over his head for six. 
A mightier, meatier six, slog-swept off Washington Sundar, took Stokes to 46, before Patel was reverse swept for four to confirm a 24th Test fifty from 114 deliveries. Unfortunately, he only made it to 55, falling LBW to an arm-ball from Sundar that was intended to spin the other way. 
Stokes knew he was dead in front of stumps, making the long way back to the changing room before the scoreboard had changed to 121 for five. Pope ran after his partner to urge a review, only to be waved away. It was an apt metaphor for the desperation at that moment and a nod to what was to follow. Stokes was the first of the final six batsmen to fall for just 84 more runs - 46 of those from insurance policy Lawrence. At least they guessed that right. And they lasted 60 overs for the first time since reaching the 191st over in their opening 578, seemingly three years and four teams ago. Maybe it wasn't all so bad?
It was, by the way. Just as the innings was coming to an end, the England management confirmed Stokes was unsettled by the stomach bug that has coursed through the camp, in every sense. There was also news of Jofra Archer struggling with his right elbow, a regular complaint over the last 12 months which ruled him out of selection on Wednesday. 
Thus the onus, as ever, was on James Anderson, and the 38-year-old struck with the third ball of India's innings to get rid of Shubman Gill for a duck. Stokes, opening the bowling for the first time in his career, managed two overs before nature made an unscheduled call. 
Rohit Sharma and Cheteshwar Pujara saw things through to stumps with relative ease. The deficit now just 181 and thus plenty of reason to believe a sizeable first-innings lead is there for the taking. Yet again, England's bowlers need to do overtime when their batsmen should really still be working. 
Join our new commenting forum
Join thought-provoking conversations, follow other Independent readers and see their replies