James Anderson shines to inspire England victory over India in first Test
The tourists delivered on the final day of an absorbing Test match to go ahead 1-0 in the series after a 227-run victory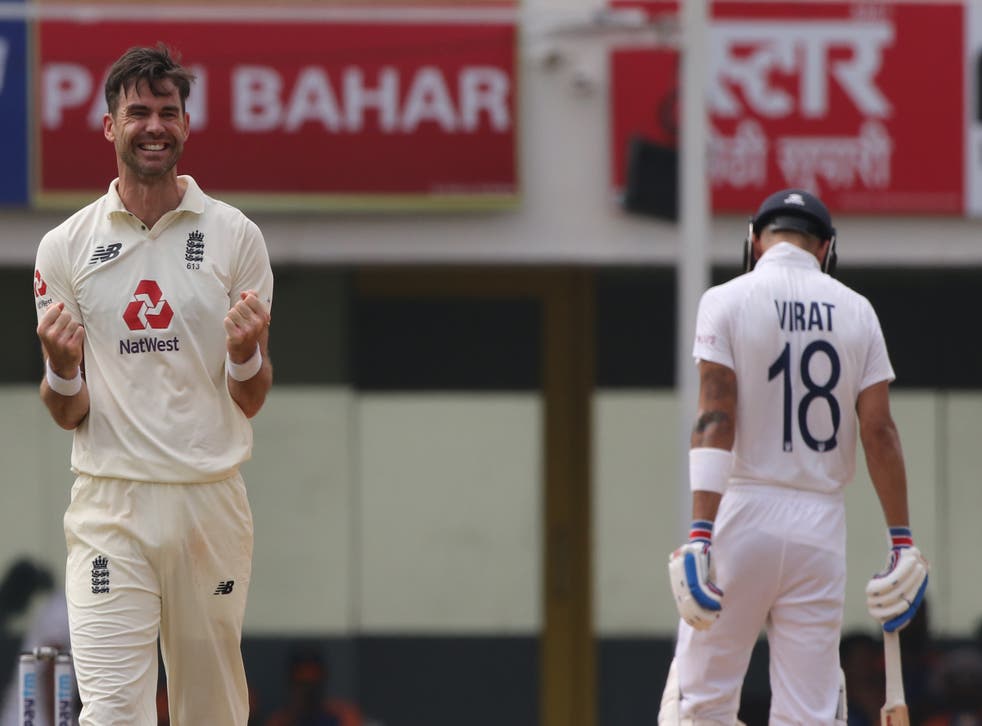 Wins in India do not come easy. They have lost just once in the last 35 home Tests, so for England to best them in Chennai by 227 runs can be no fluke.
Nor can it merely be the product of ad hoc excellence. Such a victory, arguably the finest of Joe Root's time in charge, has been a mix of short, medium and long-term work and planning. Of ruthlessness over the last five days, clarity over the last year when they began their run of away victories in South Africa that now stretches to six. And, for the passage that burst this day wide open before lunch, three decades in the making.
Since the mid-1990s, England have gradually accumulated knowledge around reverse swing in Asia. What began as basic trial and error, such as Darren Gough thinking sweat from your back was best because it was "heavier", has developed into databases in the hard drives and minds of every ECB branded laptop and cricketer. To the extent that those on the field can now identify when a red ball is ripe for reverse on looks alone. 
The Dukes, for example, tends to go at 30 overs. The Kookaburra, generally, between 40 and 50. And the older version of the Sanspareils Greenlands was 10 to 15. During a warm-up match in Ahmedabad on the famous 2-1 tour in 2012, England managed to get it going as early as the ninth.
With this newest version of the SG ball, and protocols around Covid-19 prohibiting the use of saliva, that period has been adjusted to 20 to 30. So when it came to 27 overs of India's second innings, after Jack Leach had accounted for Cheteshwar Pujara, the first of the nine wickets they needed, England had the ball how they wanted it. Three decades of fine-tuning maintenance, execution and consideration had culminated to this moment. Then came the easiest decision of the lot: to give it to the man who has been mastering this and many other crafts for the last 20 years.
In the space of five deliveries, James Anderson had cartwheeled the off stumps of Shubman Gill (50) and Ajinkya Rahane (nought) with devastating late movement into an A5-size patch just in front of both right-handers. Sixteen balls later, southpaw Rishabh Pant was undone by similar movement to skew a catch to Root at cover. 
READ MORE: 'The hardest craft': The perception and curse of being an England spinner
With that, India's top-order were decimated, Anderson's genius spell of five overs, three for six, setting England on their way to go 1-0 up in this four-match series. Much like this game-turning spell, it was the fruition of years of success and failure under Root. Now 11 unbeaten in a row, we can probably park talk of the latter.
Here was England's first success in India since December 2012, one which gave them their 2-1 lead in that series. There is a long way to go in this one, especially now against a wounded India. But they have put themselves in prime position for just the second win here since 1984/85. 
If you want a measure of Jimmy's effectiveness these conditions, beyond an average of 30.09 thanks to a remarkable three for 17 overall, try this one on for size: since his debut in May 2003, India have lost 10 at home, and he's played in four of them.
Chennai was far from all him, of course. Without Leach's four for 76, taking him to 50 career wickets, India might have wriggled out of a game that was never in their possession. The left-arm spinner emerged from a mauling by Pant to take two to finish off India's first innings for 337, handing the tourists a 241 lead on the morning of day four. He returned that evening to bowl Rohit Sharma past his outside edge for the first of the 10 fourth innings dismissals required. 
The snaring of Pujara was another prime scalp. There is no finer repeller at the crease than the 33-year old, providing the backbone for India's success in Australia with 77 off 205 in their 131 overs of resistance at Sydney, and 56 off 211 in their 97-over chase of 328. So when drift onto middle and leg flummoxed someone of such principle, catching an edge through to first slip (Ben Stokes) seven overs into day five, he was off and running once more. 
While Dom Bess saw off Washington Sundar before lunch, it was all on Leach for the middle session. Ravichandran Ashwin's bravery after facing up to a barrage of aggressive bumpers from Jofra Archer went unrewarded, undone by bounce to give Buttler a second grab of the day. The wicketkeeper would miss one off his lifelong friend when Shabaz Nadeem cut low onto his knee. Luckily the deflection found its way to Rory Burns at gully, who palmed the rebound up before taking Leach's fourth. 
A third eventually came to Buttler when Bumrah edged Archer behind to bring the match to a close, a full session and a half to spare. With it died all talk of English conservatism on day four. Perhaps they could have shown more willing. As it turns out, they knew exactly what they were doing. 
Such control over five days meant they did not have to concern themselves with Virat Kohli. The India captain struck a quite magnificent 72 for a 52nd score above fifty in this format. It took a grubber from Stokes to remove him, off stump displaced once more. The game almost came to a premature end later on when the bail dropped to the floor without being prompted. Off peg, much like India, irrevocably rattled.
And so, here is another feather in the cap of Joe Root. He is now level with Michael Vaughan's 26 wins thanks to six on the trot in Asia. England are now also top of the World Test Championship.
It helped that he won the toss, but what followed was no formality. Opening the bowling with Leach, bringing on Anderson at the right time and even holding firm in a third innings that did not quite go according to plan. While many lost their heads over a declaration, he kept his. There was also the small matter of his 218 in England's first innings of 578 that set this all up in his 100th Test.
At the risk of being a bit too England, there is plenty of time for this to unravel. The second Test begins in Chennai again in just three days time and with players due for rotation, starting with Buttler who returns home on Wednesday and will not play in the remaining three Tests. Anderson, now on 611 Test wickets, might have been pencilled in to swap out for Stuart Broad.
Perhaps, though, it is worth suppressing that ingrained pessimism. This is a side very assured of its worth and ironclad in its belief. Amid all the praise, they deserve a great deal of trust, too. 
Join our new commenting forum
Join thought-provoking conversations, follow other Independent readers and see their replies