The Independent's journalism is supported by our readers. When you purchase through links on our site, we may earn commission.
England vs India: Cloud of Azeem Rafiq's story can give way to bright light in third Test
The England international last year accused Yorkshire of institutional racism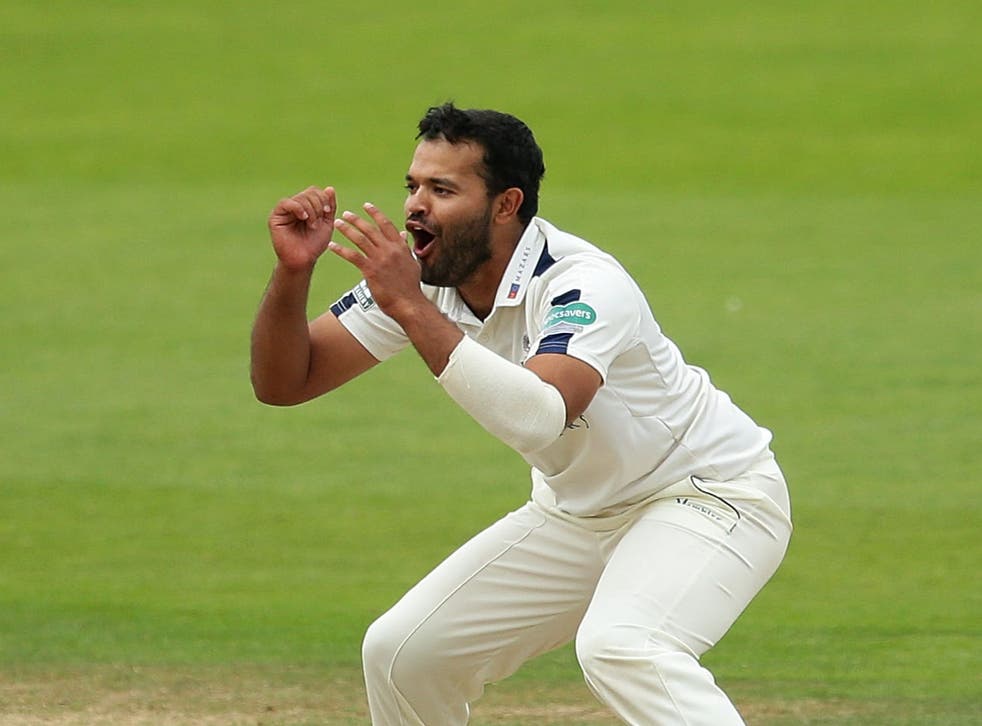 When Joe Root flicks the coin for the toss on Wednesday and Virat Kohli makes his call, the winner will decide whether to open the third LV= Insurance Test with bat or ball depending on what sits above in the Headingley sky. But the most significant cloud will be one they don't see. One that will have no bearing on whether England squares the series or if India maintain or better their 1-0 lead. And yet it is one that cannot be ignored.
It was here, at the home of Yorkshire County Cricket Club, where Azeem Rafiq played the majority of a professional career that, over the last 12 months, has been distilled to its most toxic parts. Last year, Rafiq accused the club of institutional racism.
The inquiry that followed uncovered evidence that upholds several of the allegations made by Rafiq. That includes, as reported last week by ESPNcricinfo, statements from multiple Asian players confirmed regular use of the word "p***" and a teammate regularly using the "N" word. The report produced after the investigation contains the names of those guilty of what Yorkshire admits was "inappropriate behaviour" towards Rafiq.
Given how long it has taken to get to this point, even such a tame acknowledgment of such a severe matter ranks as a success. There are legal sticking points that cannot be avoided, which speaks of the scale of the findings and those associated with various wrongdoings towards Rafiq and others. Make no mistake, this report is one of the most seismic to be produced in English cricket. One that should – and no doubt will – shake the establishment to its foundations. Despite being the reason it was commissioned, Rafiq has not seen it.
Last week, the England and Wales Cricket Board (ECB) put in a formal request for Yorkshire to share the report but are still waiting. On Monday, Root used his captain's press conference to speak of his own pain seeing "a former teammate and friend" hurting as Rafiq is. And before the start of play on Wednesday, both sets of players will line up before the start of play at Headingley to share in a moment of unity to show that cricket is a sport for everybody. Well-meaning yet ham-fisted, and at least 10 years too late. But a nod to what is festering beyond the field.
Maybe this is entirely the wrong framing. That, actually, Rafiq's situation with Yorkshire is not a cloud but a spotlight that, from Wednesday, will be enhanced by the bright lights of Test cricket. After a false start, the ruthless brilliance of India's final-day victory at Lord's has led to the home side tearing apart a side that had been in the works for almost two years. The world will be watching.
The Independent understands that Sky Sports will address the issue on air, though the exact nature of any discussion is uncertain, in part because of the legal dexterity needed to give this matter the prominence and volume it deserves. Sky has not been afraid to grasp the nettle when it comes to race. Plenty, not just Rafiq, hope they will do similar.
Then there is broader media coverage, which comes during Test match week. Had the report reached Yorkshire at any other time than in the biggest gap between matches, or if the venue of this Test was Kia Oval or Emirates Old Trafford, nowhere near as many broadcasters and outlets would have their sights set on Headingley, let alone be in attendance. Perhaps even this publication.
Minorities lucky enough to get their hands on tickets will walk through the gates with a degree of discomfort knowing what the club has been accused of, from racism itself to the allegations of vague attempts at covering it up. Those attending for work, including those who take the field, certainly will.
It is important not to separate fate and circumstance from Rafiq's ordeal. It took a pandemic to create time and conversation space to talk about how English cricket has dealt with race, and thus gave Rafiq the assurance that someone might listen.
Had Taha Hashim of Wisden Cricket Monthly not set up an interview with Rafiq to discuss his tea shop business, who knows how this story gets off the ground? Had Hashim been of a different background – he is British Pakistani – maybe Rafiq would not have felt comfortable telling his story to someone unfamiliar with the abuse he was detailing.
Rafiq was then able to talk openly on the matter, with James Buttler of The Cricket Badger podcast following up the story before ESPNcricinfo's George Dobell first wrote about Rafiq's experiences of racism at the start of September 2020. It was kept relevant for long enough to become a "thing" and, then, with Dobell and ESPNcricinfo's profile, was raised to a level where it could not be ignored. It is a damning indictment of the way things get done in this country that the above reads like "strategy".
Throughout, though, Rafiq has been the standout constant, central to what could be the biggest reckoning in English cricket. And it is important when celebrating his courage to recognise the torture of the last 12 months.
He is doing this because he wants to make a difference. But he is also doing this because the only way to find peace from the torment is to go through a process that has him constantly reliving the pain.
He has opened his scars to all who have asked to see them, and even wider those who still don't believe him. He had remained active on Twitter during the process before he announced he was taking a break from social media on Saturday after an argument with former Yorkshire chairman Steve Denison.
During early correspondence between the lawyers of both parties, it was suggested some aspects of his past would come up if things went on. Rafiq was unperturbed. Transparency, he felt, was key.
A settlement in excess of £100,000 was reportedly turned down because of the stipulation he would have to sign a non-disclosure agreement. Those numbers usually make the problem go away. Or indeed stalling – a tactic employed by many bigger, moneyed parties on the wrong end of these processes to drag things out as long as possible and drain the accuser of resources, energy, and hope. Rafiq's spirit, though, remains undimmed. And in a perverse way, Yorkshire might reflect that they were right to make someone of such steel their youngest ever captain in 2012 at the age of 21.
But he is only human, and the mental toll on himself and his loved ones continues. This is why it is vital this Test is vital for English cricket. Beyond Root's men squaring the series, it will act as a vessel for Rafiq's story and awareness of existing institutional racism in the game, whether it wants to or not.
It could be that after five days this series is exactly where it was before it started. And it is likely we will have no more clarity on the outcomes of the report, Yorkshire no closer to answering the allegations of abuse suffered by one of their own under their watch.
Rafiq may come no closer to justice, no nearer to getting on with a life that, at 30, still has much to come. But for five days at least, it will not be solely on him to keep the narrative going.
We adore cricket for carrying the virtues of life, and in turn Test cricket for possessing the capacity to tell stories of those lives. And right now, there is none more important to tell than this one.
Join our new commenting forum
Join thought-provoking conversations, follow other Independent readers and see their replies