England out of the Cricket World Cup 2015: Latest humiliation stems from malaise at the top
Bangladesh 275-7 (50 0vers) England 260 all-out (50 overs)
Stephen Brenkley
Monday 09 March 2015 18:44 Comments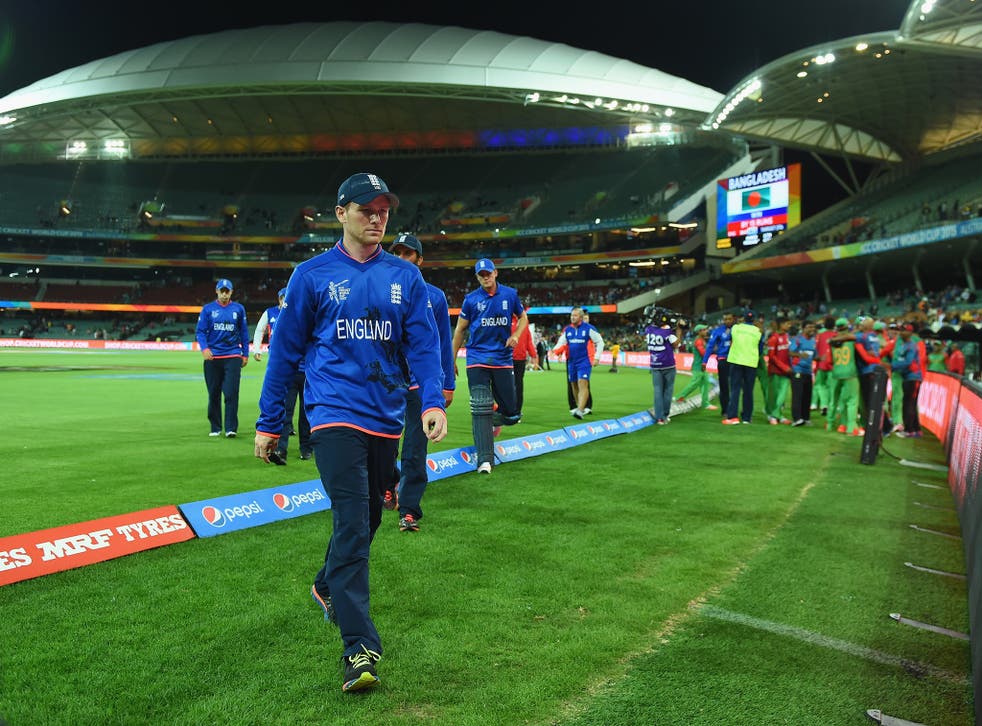 England had six unhindered months to prepare thoroughly for the 11th World Cup. It took them a little more than three weeks, or five matches, to fail almost completely.
By their own recent standards of calamity in the tournament it was fairly high up the scale, if only because this time they did not come in as though the event was an afterthought suddenly thrust on them. This time there were plans, there was a strategy.
Instead they were perpetually off the pace, as if they were playing a one-day game that went out of style years ago compared to an energetic, muscular brand favoured and mastered by others. England seemed so out of date that it would not have been entirely surprising had they shown up in heavy cream flannels and woollen sweaters.
The final defeat, by 15 runs, to Bangladesh, which confirmed their elimination, has understandably raised questions about several key men attached to the team, most notably Peter Moores, the head coach, and Paul Downton, the managing director of the England and Wales Cricket Board who appointed him. If Moores were to go it would make Downton's role seem untenable. They would seem to come as a package.
"I have every faith in Peter Moores," Downton said after yesterday's defeat. "Part of the reason for appointing Peter Moores was he is a very experienced coach. Whoever took this job was going to have a really difficult job. We're very early into an appointment."
The weakness of that position is that this is Moores' second time in charge of the team. He was deposed by England early in 2009, along with the captain of the time, Kevin Pietersen. It was to Moores' immense credit that he went with dignity, never at any point criticising Pietersen or his employers. He is an exceptionally decent man.
In an unprecedented move in international sport, Moores was rehired when Andy Flower resigned last year. Downton hailed him as the outstanding coach of his generation, and indeed, as the only man to lead two different counties to the Championship title, it is clear he has something.
But one of the necessities of second chances whether in jobs, marriages or do-it-yourself is that you have to get it right quickly. Moores' England have achieved distinctly little. In the one-day arena, they have lost series at home to Sri Lanka and to India and then away to Sri Lanka. The disaster culminated with this World Cup.
Much has been made about the way in which England came back to defeat India in the Test series at home last summer after losing to them at Lord's. That itself followed a series loss to Sri Lanka. Well as England sometimes played it was not hard to discern that India did not care much about what was happening.
Moores continues to believe in himself as a coach and insists he would like to stay on. He wants to leave a legacy. Downton has talked about his vision for the future without being entirely convincing that it contains much else besides nebulous ideas. He is another affable man but he must recognise by now that onlookers are beginning to see the 20 or so years he spent out of the game as something in the City might not quite be an asset.
The most concerning aspect for someone who qualifies as a seasoned observer of English cricketing matters is the air of apathy, which has barely bordered resignation, that has accompanied these defeats. In the Eighties and Nineties when England were often hopeless there remained an affection for the team. They might be underachieving nincompoops but they were our underachieving nincompoops.
There are indications that this is now simply not the case. Too many people have ceased to care. It has been brought about partly by the dash for the cash on offer from satellite television and, despite the almost uniform excellence of the coverage, the concern that people have to make a specific date to watch.
The ECB, the body that is supposed to be running the show, looks to be all over the place. It has drifted along and in the good times of not so long ago fecklessly assumed that would continue. The point was made that systems were in place to ensure that. Now the ECB is reeling from a sixth consecutive paltry return in the World Cup.
For the second time, in successive tournaments, England have lost to Bangladesh, paupers by comparison in terms of funding and talent. It was a simple equation that England faced yesterday: win the match and qualification for the quarter-finals and, theoretically, the winning of the trophy itself was still attainable.
At the interval, it looked as though that theory was still intact. England bowled adequately as Mohammad Mahmudullah made a beautifully controlled maiden one-day international hundred and a target of 276 on a splendid pitch was clearly attainable.
The start was promising but there followed a series of blunders which suggested that they were being overwhelmed by the occasion. Batsman after batsman devised a shot that he should not have done and engineered it badly.
The player is ultimately to blame for that but the men helping the preparations are also culpable. Nothing harms a messenger more than his message going undelivered but if it is delivered and misunderstood thereby lies disaster. Disaster is what occurred.
--
England in numbers
3 - Times England have failed to progress beyond the group stage in last six World Cups
3 - Bangladesh have beaten England three times in their last four ODI meetings
1 - England have just one win at this World Cup, over Scotland
78.66 - Broad's average at the World Cup – highest of any England bowler. He has taken just three wickets
245 - England's average score at the World Cup
2 - Only Moeen Ali and Jos Buttler have scored at more than a run a ball
4 - Ducks by Morgan in 2015, the second most for any England player in one year
Register for free to continue reading
Registration is a free and easy way to support our truly independent journalism
By registering, you will also enjoy limited access to Premium articles, exclusive newsletters, commenting, and virtual events with our leading journalists
Already have an account? sign in
Join our new commenting forum
Join thought-provoking conversations, follow other Independent readers and see their replies