England v India: Murali Vijay heads tourist's new breed hungry for action after long wait
This series may be only one day old but he has already made his mark, scoring his first Test hundred on foreign soil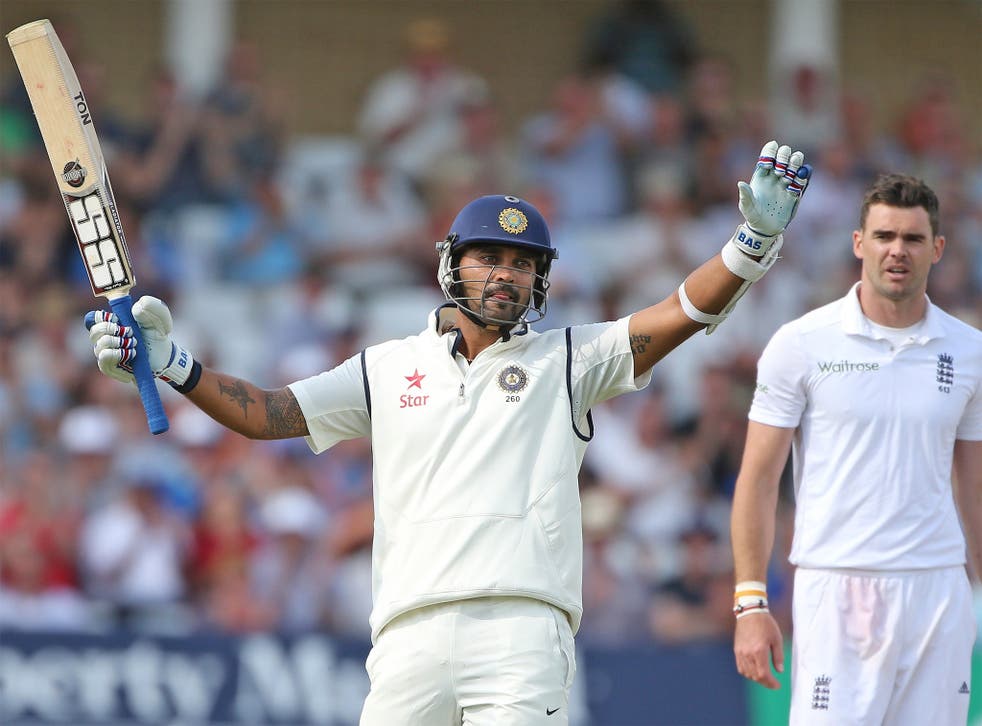 To snare India's star batsmen for a combined total of 39 runs was a fine effort from England. Unfortunately for Alastair Cook, there is far more to this Indian batting line-up than Virat Kohli and Cheteshwar Pujara.
Kohli is India's next superstar while Pujara averaged 58.9 from his nine Tests prior to this one and looks the heir to Rahul Dravid. Get those two quickly, the theory went, and England would have India on the ropes.
Even on a Trent Bridge pitch where the ball bounced less than a medicine ball in a muddy field, England might have fancied their chances when they snagged the "Big Two" shortly after lunch. With the ball starting to reverse, Pujara chipped Jimmy Anderson to short midwicket before Kohli was tempted to play at one he should have left by Stuart Board, and was caught at second slip.
England were bowling far better than they had done during the morning session and, had this been 2011, India would probably have folded. That side were whitewashed 4-0 by an England team at their peak. Indeed, those Indians, containing Dravid, Sachin Tendulkar and V V S Laxman, reached 300 only once in eight innings.
While his compatriots were being walloped three years ago, Murali Vijay was not even in the squad. India brought back the experience of Virender Sehwag and Gautam Gambhir, neither of whom had an impact. This series may be only one day old but already Vijay has made his mark, scoring his first Test hundred outside India.
He had the ideal start for a batsman on his first tour of a country. England captain Cook declined to post a third man, Anderson's line was awry in his first over and Vijay collected three fours, two to the vacant area and one clipped through midwicket. In no time, he had reached 25 and thereafter he was composed and elegant, making the most of conditions that were far more similar to the subcontinent than to those we associate with this country.
Vijay was 55 not out at lunch but as the bowling improved, so he was able to adjust his game. England tried to tempt him into an unwise stroke but he did not succumb. When they brought on Liam Plunkett to test out Vijay's technique against the short ball, he was up to the task – as, of course, he should have been on such a lifeless track.
After reaching 99 with one of the best strokes of his innings – an on-drive off Broad timed as elegantly as a Roger Federer backhand – Vijay's runs dried up briefly. Thirteen dot balls came and went but his temperament did not waver as he dropped his hands and swayed away from Plunkett's bouncers.
Although the 100th run was taken a little skittishly with a shot played too close to the fielder at midwicket, Vijay deserved his good fortune. At the other end, his captain, M S Dhoni, enjoyed the sight of his opening batsman settling immediately into cricket in England.
The sense on the last tour was that, apart from Dravid, many of India's greats lacked the hunger for a demanding series. This is not quite the youthful side some would have us believe – Vijay is 30, his opening partner Shikhar Dhawan 28, Pujara 26 and Kohli 25 – but enforced patience over a number of years has made them ravenous to succeed.
Fine players all, these men have had to bide their time at Test level. When your path is blocked by cricketers of the class of Tendulkar, Dravid, Laxman and Virender Sehwag, there is not a great deal you can do.
India might not prevail on this tour. Their record outside their own country is appalling and, vulnerable as England are, they should have confidence about their prospects. One thing seems certain, though: if India do lose this series, it will not be due to a lack of commitment.
Shot, ball and moment of the day
Shot of the day
In the first over of the match there were three successive fours off Jimmy Anderson by Murali Vijay, which seemed scarcely credible. Two were angled through third man but the third was whipped with elegant wristiness through midwicket. It was an early reminder that India are here.
Ball of the day
Liam Plunkett, England's fastest bowler by far, could barely flog anything from a docile surface, but coming round the wicket he managed to discomfit India. He coerced Ajinkya Rahane into a pull, which bizarrely came off the toe of the bat to Alastair Cook at silly point.
Moment of the day
England have dropped far too many catches lately, hard and easy, to make the taking of 20 opposition wickets fiendishly complex. But Ian Bell took a ripsnorter at short mid-on, flinging himself full length to his right in the second over after lunch to dispatch Cheteshwar Pujara.
Stephen Brenkley
Register for free to continue reading
Registration is a free and easy way to support our truly independent journalism
By registering, you will also enjoy limited access to Premium articles, exclusive newsletters, commenting, and virtual events with our leading journalists
Already have an account? sign in
Register for free to continue reading
Registration is a free and easy way to support our truly independent journalism
By registering, you will also enjoy limited access to Premium articles, exclusive newsletters, commenting, and virtual events with our leading journalists
Already have an account? sign in
Join our new commenting forum
Join thought-provoking conversations, follow other Independent readers and see their replies