England v Sri Lanka: It's Ali (W)G
The unmissable Moeen Ali says he will be representing more than England when he plays at Lord's on Thursday
Stephen Brenkley
Saturday 07 June 2014 17:52 Comments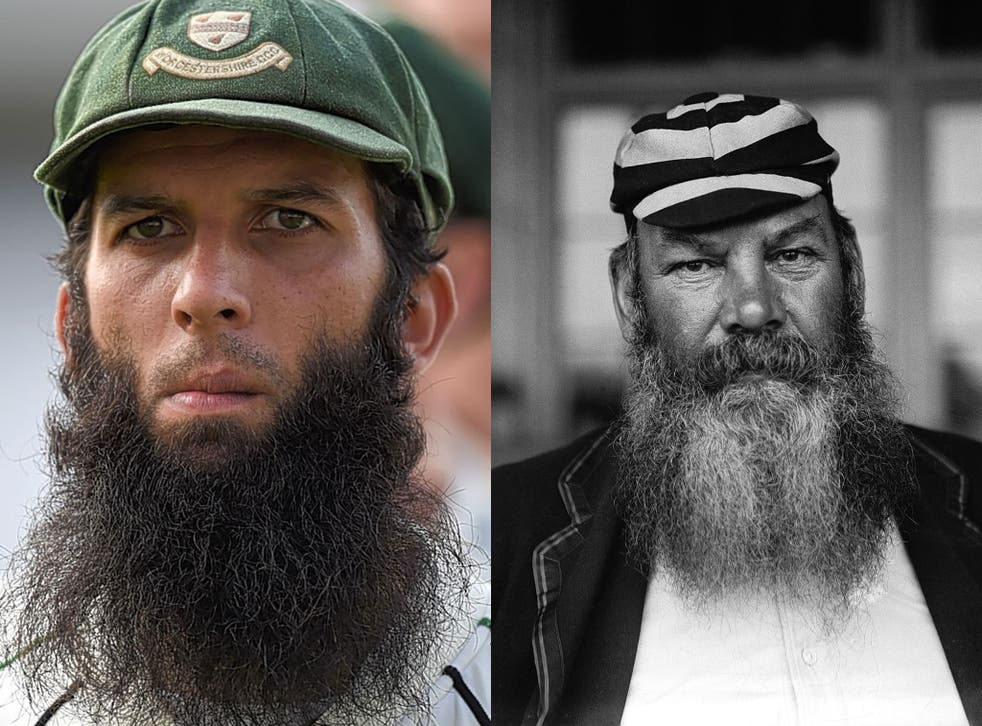 When Moeen Ali walks through the Long Room at Lord's on Thursday he will invite comparisons with the most illustrious English cricketer of all. The old place has not seen a longer beard on an England Test player since WG Grace last appeared there in 1896.
The good doctor changed the way the game was played and was one of the most famous men in the country. Moeen cannot perhaps compete with that, but his selection may be deeply influential.
The beard is the first feature you notice about him and he has made no secret of the fact that it is there for a reason. "I wear the beard as a label," he said. "I want people to know I am a Muslim and I want people to know I am representing the Muslim faith.
"I want to show that you can practise your faith and still play cricket to a high level. Yes, I see myself as a role model. And as a role model, I have to behave in a certain way. Do I see it as a mission? Yes, I do."
Moeen was speaking in an excellent interview on the Cricinfo website last year before England came calling. He has since played three one-day internationals on the Caribbean tour in March and was part of the ill-fated World Twenty20 squad in Bangladesh. There was nothing remarkable – a top score 55 – but he looked composed and competent, casually elegant.
His appearance at Lord's will be the first time that many have set eyes on him. Moeen has been picked, a touch riskily, as a batting all-rounder who will provide the team's primary spin option. Other Muslims have appeared for England, including Moeen's cousin Kabir Ali, but none has so been so overtly determined to bridge any perceived gap between Islam and the rest of British society, or to wear his beard with pride.
After serving an early apprenticeship with Warwickshire, where he never quite broke through, Moeen moved to Worcestershire where he has found a welcome environment of which he cannot speak too highly. It is mutual. David Leatherdale, the county's chief executive, said: "Moeen is Moeen, cricket wise or culture wise.
"He is a very down to earth guy. Cricket is very much his focus. As an individual he's quite laid back. His faith is key to him and he talks about it quite a lot. It's something that goes under the radar. In his world it is just something he does. He has his own little space at the ground. It doubles up as another space but if he wants to go away and pray he can do on match days."
Moeen is hugely popular at the county – "in the dressing room he is fantastic and he can't do enough for the club," said Leatherdale, and the admiration is wholly reciprocated. From the moment he became part of the England squad he pointed out the help and advice he had received from the county, and individuals such as coach Steve Rhodes, the veteran spin adviser, Norman Gifford, and Saeed Ajmal, the magnificent Pakistan spinner who first joined Worecstershire in 2011 and imparted much wisdom, including, it is said, the secrets of the doosra.
It is as a cricketer that Moeen will be judged and on which his number of Test caps will depend. His family is steeped in the game. His father and Kabir's father are twins and when Kabir was born, the first action of his father, Shabir, was gently to stroke a cricket ball across the new arrival's forehead. The families lived in inner city Birmingham but a net was erected in the back garden.
Much, perhaps too much, may be expected of Moeen. England will be depending on a four man pace attack against Sri Lanka in the first Test at Lord's, to take the bulk of the wickets but Moeen's off spin may be a necessary component late in the match.
"He can do it," said Leatherdale. "His control is excellent compared to three or four years ago as he would be the first to admit but it may be purely that he has done a lot of bowling in the last 18 months. To become an all-rounder is never easy."
Sri Lanka will be tough opponents for a new, partly experimental England team. After their tumultuous winter, England will have two other new caps, the opening batsman, Sam Robson, and the fast bowler, Chris Jordan. It is perhaps a true measure of a multi-cultural society that Robson is an Australian (with an English mother) who came here at 18, Jordan is a Barbadian who came to England on scholarship to Dulwich School at 16 and that Moeen is of Asian origin, who was born here, his grandfather having emigrated from Kashmir.
"Cricket has never been part of those exclusions you see in other areas," said Leatherdale. "If you look around the country, the cricketers of Asian background are starting to come through. If people look up to Moeen as a specific individual that drives them on to achieve the kind of things that Moeen has it has got to be beneficial for cricket as a whole. If you're talking about it goes wider than somebody playing cricket, he sees it doing what he does and hopes that people see that."
Register for free to continue reading
Registration is a free and easy way to support our truly independent journalism
By registering, you will also enjoy limited access to Premium articles, exclusive newsletters, commenting, and virtual events with our leading journalists
Already have an account? sign in
Join our new commenting forum
Join thought-provoking conversations, follow other Independent readers and see their replies