England vs Australia report: James Taylor century keeps hopes alive
England won by 93 runs at Old Trafford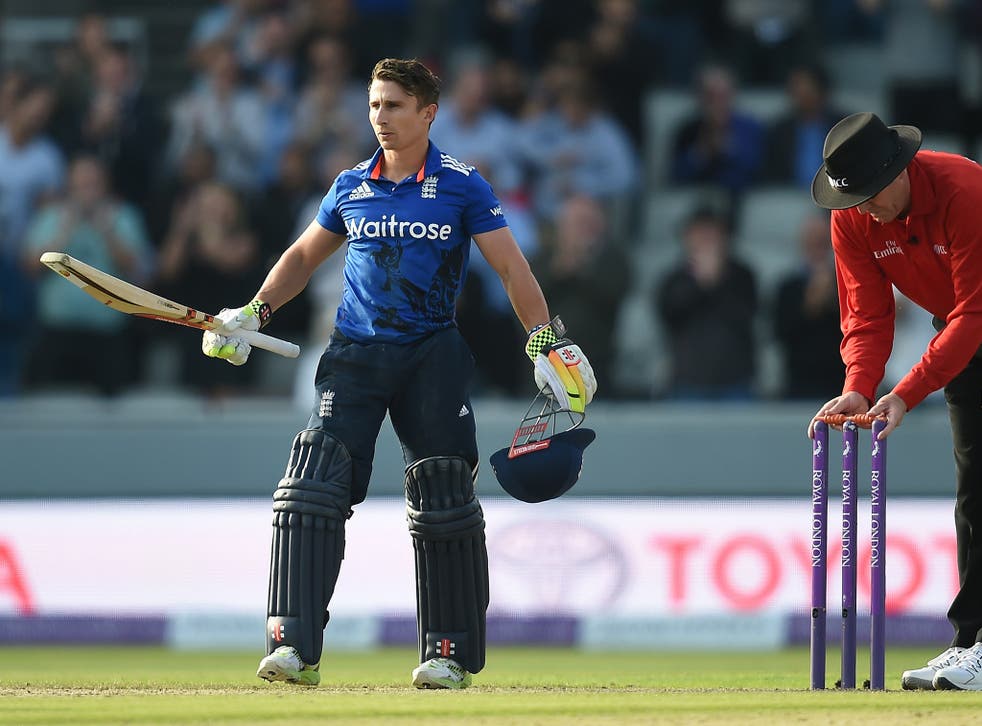 James Taylor's maiden international hundred was decisive as England trounced Australia by 93 runs at Old Trafford to stay in with a chance of winning the Royal London Series.
Taylor (101) was one of three batsmen to top 50 in England's 300 for eight, and then spinners Adil Rashid and Moeen Ali rose to the challenge for combined figures of five for 73 in helpful conditions.
Aaron Finch's half-century got Australia's reply off to a feasible start under lights, but wickets began to fall en route to 207 all out with six overs unused as England reduced the series arrears to 2-1 with two to play.
Opener Jason Roy (63) and Eoin Morgan (62) - in a stand of 119 with Taylor - were the other major contributors after England chose to bat first on an initially cloudy but soon much brighter afternoon.
Taylor had to work hard, coming of age with three figures in his 21st one-day international - a 112-ball hundred which contained 46 runs in singles and just five fours.
It was Roy who put the pace to the home innings and Taylor then took over with much scurrying and placement as England , who had chased vainly in the first two matches, reached 300 for the first time in the series.
Alex Hales could never get going at the top of the order before clipping a catch to midwicket in Pat Cummins' first over.
But Roy batted beautifully, unfurling a stream of boundaries including four in one over from Mitchell Starc, and it was his first false shot that cost him.
He passed 50 in just 34 balls and thought he had spotted another boundary option off ODI debutant Ashton Agar but just failed to put enough into the shot to chip cover, where Glenn Maxwell jumped high to hold a juggling catch.
Both Morgan and Taylor had a little fortune, the captain most notably when he should have been stumped off Agar on 15 and his partner surviving an lbw appeal by Maxwell on 41 which would have been overturned had Australia chanced DRS.
Taylor did not count a boundary until he square-drove the 53rd ball he faced from James Pattinson, and had just that four to his name in his first 50.
Morgan got to his half-century more quickly, from just 46 balls, as the third-wicket pair provided a perfect platform of 181 for two at 30 overs.
Thereafter, England stalled as the apparent possibility of 350 or above faded dramatically and four wickets - including two run-outs - fell for the addition of 64 runs in the last 10 overs.
Taylor nonetheless managed to complete his century, with a scrambled single off Cummins, before he was last out in the final over mistiming the expensive Starc to mid-off.
The jury was out as to the value of his innings until Australia batted.
By dusk, though, it was already clear the diminutive number three had served England well enough.
Joe Burns was first to go, mis-hitting Steven Finn to mid-off.
England's beanpole bowler then made the most of his 6ft 7in height in the field with an athletic dive to his right at midwicket to take an outstanding one-handed catch off Rashid to see off Steve Smith.
But it was when Rashid got Finch with a fine piece of bowling, drawing the mistimed big hit down the ground to long-on, that the balance began to lurch England's way.
Finch had timed the ball wonderfully for much of his 53-ball 50, but Rashid and Moeen were a handful for all in tandem on a turning pitch.
Maxwell had just hit Moeen for successive fours when he tried a second reverse-sweep but got a toe-end edge collected by wicketkeeper Jonny Bairstow running round towards gully.
Then George Bailey was a little too close to the ball as he advanced to a full-toss and hit Moeen straight into the hands of deep midwicket.
By the time Rashid and then Moeen were finished, Australia had no realistic prospect of wrapping up the series early here.
Liam Plunkett (three for 60) hastened the end with late wickets, six going for 44, and Smith's team therefore face a trip over the Pennines with work still to do in Leeds on Friday.
PA
Join our new commenting forum
Join thought-provoking conversations, follow other Independent readers and see their replies