Quietly confident Australia ready to get back to what they do best
175 days after an Australian team last took the field, Adam Collins sees a side ready to show what they can do against their oldest enemy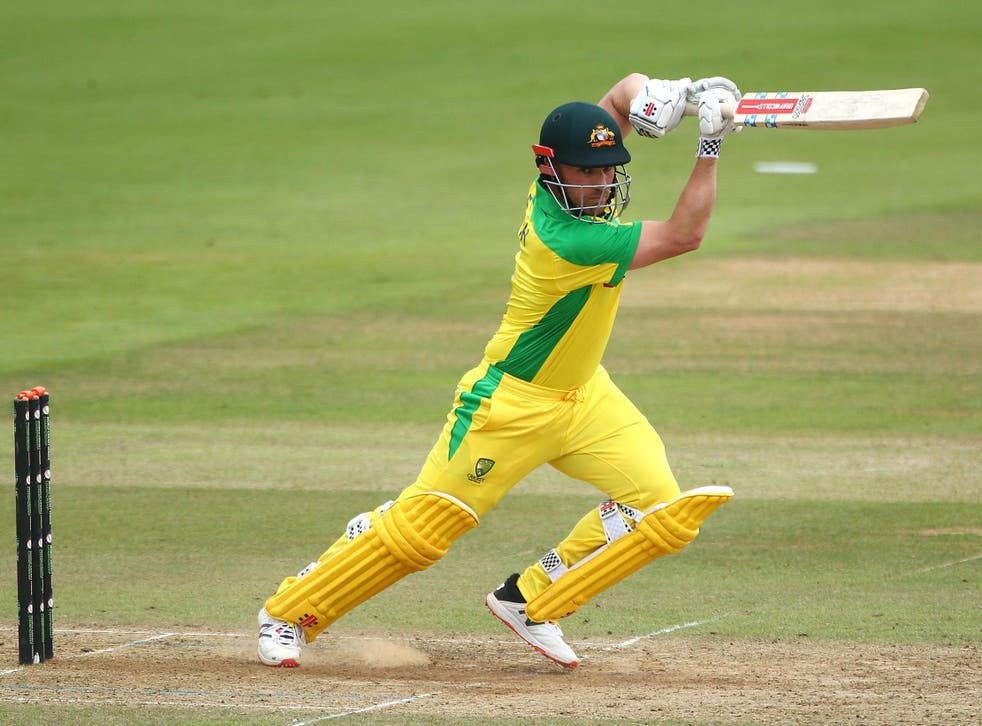 Seven years ago, to the week, it was here in Southampton where Aaron Finch announced himself as one of the most imposing T20 players in the world, annihilating the hosts with an innings of 156 from just 63 deliveries. It was a record at the time (which he then broke himself in Harare five years later) clearing the rope an outrageous 14 times. But the win that night, the first for Australia in any cricket for 200 days, was an outlier. Back then, a T20 was typically tacked onto a 50-over series, played, at best, a handful of times a year by the Australians.
It's a different story now for both the captain and the team he leads. That night in 2013 was the first time Finch reached three figures for Australia, which he has now achieved on 17 further occasions. And now, at age 33, he is in charge of a short-form side that has finally reached the number one ranking for the first time. Despite the fact that when this three-game series begins on Friday it will be 175 days since an Australian team has taken the field, the timing could not be better to take on an opposition who showed how to engineer a wholesale change in fortunes across a World Cup cycle, as they did before lifting the 50-over trophy last year.
For England, as documented in Nick Hoult and Steve James' excellent book Morgan's Men, they systematically set about reforming their one-day international cricket by taking the long view to the 2019 tournament after being embarrassed in 2015. The model was built with little left to chance in terms of carefully analysing the component parts of a champion team, line by line. A hyper-aggressive mindset was implemented to underpin this, encouraging an environment where bold cricket would never be criticised.
For Australia in T20s, there are similarities to this, with Finch the all-powerful exemplar. Going back to the summer of 2017-18, the building blocks were put in place with a view to winning the next World Cup, on home soil, in 2020. With more fixtures in the schedule, they quietly went about having their best year in the format in 2018, even after sandpaper and all the rest. That continued into 2019, winning six out of six at home against Pakistan then Sri Lanka, indeed, thrashing both of the tourists. Before Covid, they also won in South Africa.
Sure, the fillip of a home tournament is off the agenda for at least two years after Indian powerbrokers decided that they would host the repurposed tournament next year, but that doesn't concern Finch. "We're really comfortable that we've got a squad we can play in a number of different conditions and against different oppositions," he said. "We've played two spinners for quite a while in Australia and overseas; we feel like we've got some good death options, good new ball options and our batting has been pretty settled for quite a while."
Nor is he worried that the most recent time they turned out against England in a white-ball match, last year's World Cup semi-final, they were smashed. "I can guarantee we aren't holding any scars," he insists, adding that the long-term approach they have taken to the format underpins a quiet confidence this week. "We've done the planning in T20s over the last couple of years. Probably what the Covid-19 break did was give us a bit of a chance to sit back and look at everything as a whole and dissect that, rather than just moving from series to series where you almost focus on results. So, to take the results out, sit back and assess."
In the 50-over format of the game, two years ago it was in England where Australia reached their nadir. Without their banned leadership duo and still suffering from the trauma of what went down in that Cape Town dressing room, such was the leadership vacuum that Tim Paine was given the one-day captaincy as little more than a caretaker. But that's different now too, the dressing room robust enough under Finch that Alex Carey has been liberated of his vice-captaincy duties, so to allow Pat Cummins to do it alone across all the formats. It speaks to an internal conviction that wasn't there before; a belief that job titles don't make leaders.
As to the team that will cross the rope behind Finch and Cummins, it's a healthy situation to be when Marnus Labuschagne – who made a ton in just 51 balls in the final warm-up game – hasn't done enough to get a start. As the captain explained: "We're pretty settled on the way we structure up our T20 side at the moment though. So, he played nicely the other day, but he might have to wait a little bit longer in T20 cricket." It's likely to be the same for the recalled and in form Marcus Stoinis, who needs to dislodge a senior player to make the cut.
But above all else, for these tourists, they are just happy to at last be back doing what they do. "Hopefully we can let the cricket do the talking," he said, addressing the myriad off-field concerns administrators have been dealing with. "The one thing that has been really exciting has been coming over here and just letting go of everything else and digging into training and focusing on the game." Simple pleasures at a time of unparalleled discombobulation. Whether you like or loathe this Australian team, that's something everyone can identify with.
Join our new commenting forum
Join thought-provoking conversations, follow other Independent readers and see their replies